Yale Permanent Lifting Magnet TPM 2.0
With a 2 tonne lifting capacity the Yale Permanent Lifting Magnet TPM 2.0 is great for lifting heavier sheet materials.
Brand::

YALE

Product Code:

Yale TPM 2.0 Permanent Lifting Magnet

Availability:

In Stock
About the Yale Permanent Lifting Magnet TPM 2.0
The largest in the range the TPM2.0 has a maximum WLL for flat materials of 2000kg. Although cylindrical objects can be accommodated.
Capable of lifting flat and cylindrical materials up to 3500mm in length.
The plate/pack thickness required to achieve the maximum WLL is 55mm.
For cylindrical materials of between 200-400mm in diameter, the maximum WLL will be reduced to 1000kg
A serious lifting magnet with many capabilities.
These magnets enable large lifting forces at low dead weights; they require no power supply and will only leave minor magnetic residue on the material after use.
The TPM magnet will not unintentionally de-magnetize thanks to the safety lock on the hand lever. You should however ensure the surface of the material to be lifted is in the appropriate condition for optimal and safe connection.
Other Magnetic Lifters
We have a wide range of magnetic lifting equipment suitable for industrial use. This one is from the range of permanent magnets, but we also have a range of re-chargeable battery operated magnets available as well as a number of plate grabs and claws.
Should you need more help or information simple call us on 01384 76961.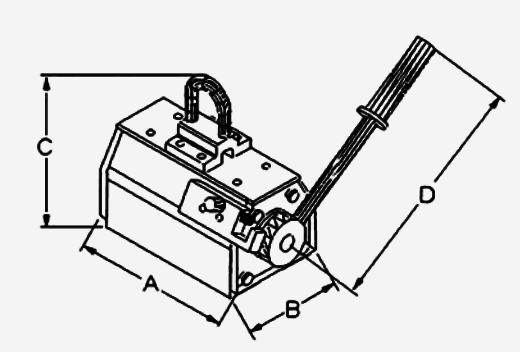 Model

Dimensions

 

 

A mm

B mm

C mm

D mm

TPM 0.1

122

69

185

160

TPM 0.3

192

95

225

250

TPM 0.5

232

120

270

250

TPM 0.8

302

154

320

450

TPM 1

332

154

320

450

TPM 2

392

196

420

450
Model

Flat material

 

Round material

 

Tear off force (KG)

Weight (KG)

 

 

Maximum capacity WLL (KG)

Minimum thickness to obtain max WLL (mm)

Maximum length of material (mm)

 

Maximum capacity WLL (KG)

Diameter (mm)

Maximum length of material (mm)

 

 

 

TPM 0.1

100

15

2000

50

200-300

2000

300

6

TPM 0.3

300

19

2500

150

200-300

2500

900

15.5

TPM 0.5

500

25

3000

250

200-300

3000

1500

29.5

TPM 0.8

800

35

3500

400

200-300

3500

2400

53

TPM 1

1000

40

3500

500

200-300

3500

3000

60

TPM 2

2000

55

3500

1000

200-400

3500

6000

126