Yale CPV 20-4 Electric Hoist
Brand::

YALE

Product Code:

Yale CPV 20-4 Electric Hoist

Availability:

In Stock
Call 01384 76961 for price.
Features of the Yale CPV 20-4 Electric Hoist to consider
Aside from the 2000kg load limit that this electric hoist boasts, it is worth noting a number of other design benefits that it can provide operators. Firstly the twin chainfall design ensures reliability and strength. Secondly the 4 metres per minute lifting speed is quick without being unmanageable. Thirdly the clever braking system eliminates the likelihood of drops occurring, even if there is a failure of some other component.
The final think to think about with respect to this hoist is that it has been put together in a way that prevents damage being done during lifting operations. Chiefly its IP-rated motor and control pendant will be unaffected by dusty, moist environments, prolonging its lifespan in comparison with less comprehensively constructed lifting equipment.
Extras to add
You could pair this Yale hoist with one of our bespoke lifting gantries, allowing its full potential to be realised. You could also select alternative hoists from Demag and a host of other big brands if the CPV 20-4 is not the right option for you.
Getting in touch with us
If you decide to send us your details in an email or ask a question directly over the phone by calling 01384 76961, the Lifting Gear Direct team will take care of your hoist needs in a friendly, professional manner.
Model
CPV 20-4
A, mm
528
A1, mm
234
A2 (Size I), mm
564
A2 (Size II), mm
644
A2 (Size III), mm
734
A2 (Size IV), mm
934
B, mm
37
B1, mm
20
C, mm
40
C1, mm
45
C2, mm
154
D, mm
26
D1, mm 
15
E, mm 
326
G, mm 
173
G1 (Size I), mm
208
G1 (Size II), mm
208
G1 (Size III), mm
208
G1 (Size IV), mm 
208
H, mm
154
H2, mm
186
K (CPV), mm
285
K (CPVF), mm
285
M (Size I), mm 
209
M (Size II), mm
209
M (Size III), mm 
209
M (Size IV),mm 
209
N

?

, mm 

274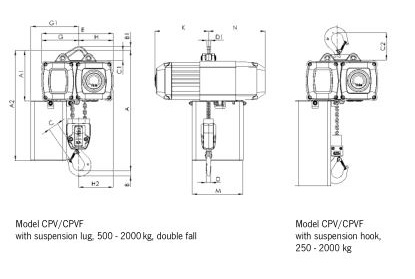 | | | | | | | | | |
| --- | --- | --- | --- | --- | --- | --- | --- | --- |
| Model | Capacity in kg/number of chain falls | Chain dimensions d x p (mm) | Classification FEM/ISO | Lifting speed main lift m/min | Lifting speed fine lift m/min | Hoist Motor (kW) | Motor Rating ED% | Weight suspension lug (KG) |
| CPV 20-4 | 2000/2 | 7.1 x 20.5 | 1Am/M4 | 4 |   | 1.5 | 50 | 63 |