Yale HTG Geared Travel Trolley
This is the geared travel beam trolley from leading brand
Yale
. It can be adjusted to fit a range of beam sizes and the working load limit range goes right up to 20000kg.
Brand::

YALE

Product Code:

Yale HTG Geared Travel Trolley

Availability:

In Stock
Call 01384 76961 for price.
There is now 2 new models available which have SWL of 30000 & 50000kg. It is great for precise positioning and well known for its easiness to traverse the length of the beam, thanks to the machined steel wheels which have encased, pre-lubricated bearings.
Key Features of the Yale HTG Geared Travel Trolley
The HTG provides easy traversing of the trolley via the geared chaining device.
Easily adjustable by turning the clevis load bar to suit the beam width (within the models range)

Positive central positioning of the hoist, no wandering to the right or left.

Machined steel wheels which incorporate lubricated ball bearings to ensure smooth movement.

Locking devices available as an optional extra.

12 models available, 5 versions for type 'A' (smaller beam widths) with WLL from 500kg up to 5000kg and 7 versions for type 'B' (larger beam widths) with WLL from 500kg up to 20000kg.

Can be used with a maximum beam profile incline of 14%.

Precise positioning.

Suitable for use with almost any hoisting device.
The chain supplied with the HTG is suitable for up to 3 metres height of lift, however it's easy to add a longer chain with a small additional cost per extra metre.
Other Beam Attachments
We have a great range of beam attachments to choose from here at Lifting Gear Direct, so whether you need a straight forward beam clamp a push trolley a geared trolley or an electric powered trolley then you have come to the right place. Give us a call on 01384 76961 for more information about any beam attachment. We can also supply any type of hoisting equipment to match your chosen trolley as well as slings and shackles to connect your load.
Model

HTG 500-A

HTG 1000-A

HTG 2000-A

HTG 3000-A

HTG 5000-A

HTG 500-B

HTG 1000-B

HTG 2000-B

HTG 3000-B

HTG 5000-B

HTG 8000-B

HTG 10000-B

HTG 15000-B

HTG 20000-B

A,mm

77

82.5

98.5

114

132.5

92

97.5

113.5

129

147.5

276

276

270

270

B,mm

/

/

/

/

/

/

/

/

/

/

52

52

70

70

D,mm

16

17

22

22

33

16

17

22

26

33

30

30

35

35

D1,mm

25

30

40

40

60

25

30

40

48

60

80

80

110

110

D2,mm

30

35

47

47

70

30

35

47

58

70

114

114

155

155

F (HTG), mm

91.5

91.5

90.5

90.5

149.5

91.5

91.5

90.5

107.5

149.5

113

113

113

113

F1,mm

46

46

46

46

45.5

46

46

46

46

45.5

77

77

/

/

H1,mm

30.5

30.5

30.5

30.5

30

45.5

45.5

45.5

45

45

45

45

45

45

I (HTG), mm

76.5

76.5

98

98

148.5

76.5

76.5

98

132.5

148.5

170

170

170

170

L,mm

260

260

310

310

450

260

260

310

390

450

430

430

870

870

L1,mm

130

130

150

150

209

130

130

150

180

209

200

200

200

200

L2,mm

/

/

/

/

/

/

/

/

/

/

/

/

115

115

O,mm

60

60

80

80

125

60

60

80

112

125

150

150

150

150

P (HTG), mm

110

110

110

110

110

110

110

110

110

110

163

163

163

163

P1,mm

168

168

168

168

168

168

168

168

168

168

193

193

/

/

P2,mm

146

150

155

155

167.5

187

187

189.5

191.5

191.5

/

/

/

/

T,mm

/

/

/

/

/

/

/

/

/

/

270

270

270

270

L3,mm

346

346

396

396

556

346

346

396

476

556

536

536

976

976

P3,mm

 

194

194

194

194

195

194

194

194

195

195

/

/

/

/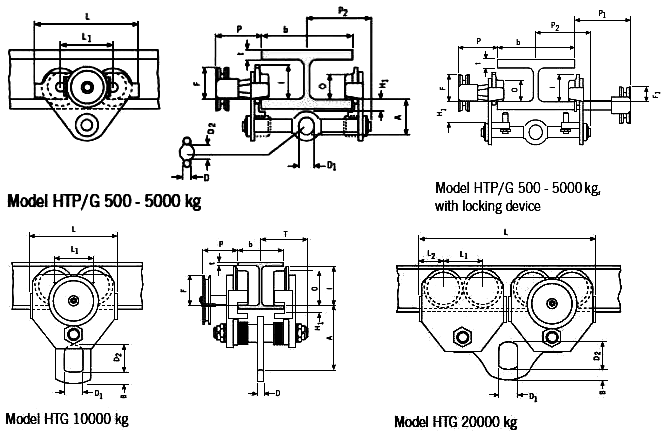 Capacity (WLL) KG

Beam width mm

 

Weight KG

Capacity (WLL) KG

Beam width mm

 

Weight KG

Type A

Type B

500

50-220

9.7

500

160-300

12.6

1000

50-220

11.2

1000

160-300

14.1

2000

66-220

18

2000

160-300

21.3

3000

74-220

35.4

3000

180-300

39.2

5000

90-220

51.8

5000

180-300

56

/

/

/

10000

125-310

104

/

/

/

20000

125-310

230