Yale CTP Integral Travel Trolley Beam Clamp
The Yale CTP Integral Travel Trolley Beam Clamp offers an alternative to standard push or geared travel trollies and standard beam clamps.
Brand::

YALE

Product Code:

Yale CTP Integral Travel Trolley Beam Clamp

Availability:

In Stock
Key Features of the Yale CTP Integral Trolley Beam Clamp
The CTP is suitable for fixing to any beam and the subsequent attachment of a hoist, pulley and/or load; this is due to the fact that the CTP integral travel trolley beam clamp is 2 in 1, a clamp and push trolley combined.
5 models available with safe working load limits from 1000kg up to 3000kg.
Models available to suit various beam widths.
Galvanised, corrosion resistant snap-pin stops and spindle.
Easy to adjust to suit the beam by rotating the main spindle.
Additional locking lever for added safety.
Zinc plated threaded spindle and clevis for extra corrosion protection.
Fitting and using the CTP Beam Clamp & Trolley
This beam clamp with attached trolley is quite easy to attach to a beam. Firstly you need to open up the trolley clamp by turning the spindle counter clockwise. Next you should fit the trolley over the beam flanges, resting one side on a flange. Now turn the spindle clockwise to pull the trolley in until the wheels on the opposite side come to rest on the flange, once in the correct position you must lock in place by turning the locking lever on the spindle clockwise. The trolley clamp is now ready for use.
Always ensure the load is suspended on the central, thinner part of the supporting pin and that it hangs vertically. Side pulling is not permitted. Remember to check for faults prior to each use and ensure it moves smoothly across the beam. Test and inspect all lifting equipment on a regular basis to comply with LOLER regulations.
More Beam Attachments
There are many more beam attachments available from Lifting Gear Direct including standard beam clamps and a range of beam trolleys with prices that start from just over £43 for a basic push travel option. Geared travel trolleys and electric powered trolleys are also available, the choice is yours.
Contact the team should you require more info or advice. 01384 76961 is the number to call.
Model

CTP 1-A

CTP 2-A

CTP 2-B

CTP 3-A

CTP 3-B

A,mm

82-109

106-155

136-191

128-171

150-212

D,mm

26

42

42

50

50

E,mm

22

20

20

22

22

H1,mm

20

24

24

30.5

30.5

I,mm

53

71.5

71.5

95.5

95.5

L,mm

160

260

260

310

310

L1,mm

75

130

130

150

150

M,mm

M12

M18

M18

M24

M24

O,mm

46

60

60

80

80

P,mm

153

205

255

220

280

T,mm

105

139

189

155

215

tmax,mm

 

15

25

25

25

25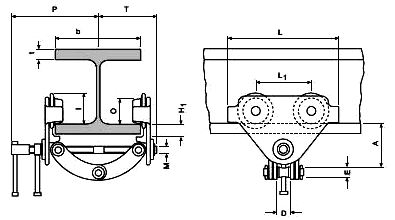 Model

Capacity KG

Beam flange width b mm

 

Curve radius min. m

 

Weight KG

 

CTP 1-A

1000

60-150

0.6

2.5

CTP 2-A

2000

75-200

0.9

9.9

CTP 2-B

2000

200-300

0.9

10.3

CTP 3-A

3000

75-200

1.15

17.5

CTP 3-B

3000

200-320

1.15

19.5