Green Pin Dynamo Eye Bolt - Din580 Metric
Made to meet DIN standards, these green pin dynamo eye bolts are rated for lifting duties that run the gamut from light to heavy-duty.

Our expansive eyebolt range includes lots of similarly compelling options, but few lifting accessories can match these units in terms of strength and reliability. You can find out more about these eye bolts here, or harness our contact info to ask for more details.
Why the Green Pin Dynamo Eye Bolt – Din580 Metric ?
As has already been mentioned, these eyebolts are hugely varied in terms of the working load limit they bring to the table. The smallest is rated for handling just 70 kilos of weight, while its most sizable counterpart is safe to use with loads of up to 16 tonnes.
This breadth of performance potential should ensure that our green pin dynamo eye bolts are able to satisfy the needs of almost every customer. It is also worth noting that these particular anchor points come with a metric thread form, as opposed to the Whitworth thread bolts that are found elsewhere. This ties in with the DIN 580 standardisation, which goes hand in hand with the EC declaration of conformity that covers these eyebolts.
Our other Lifting Tackle options
If you do not need the additional load-lugging power that the green pin bolt brings to the table, then our standard metric thread dynamo eyebolt will be worth checking out. If you are looking to handle loads that are applied at an angle, rather than vertically, then our collared eyebolts will fit the bill.
This is just a tiny taste of the full range of lifting equipment & accessories we stock. You can also find pulleys and rope to make manual handling a breeze, sturdy snatch blocks for heavier loads and swivel eye bolts for the ultimate in versatility.
Still Uncertain?
You can get the latest information and advice on all our lifting accessories and equipment when you call Lifting Gear Direct on 01384 76961. Reaching our team is also easy via email, so head to our contact page to find out how to get in touch digitally, as well as via other, more traditional methods. With our guidance you are sure to get a better understanding of eyebolts and much more.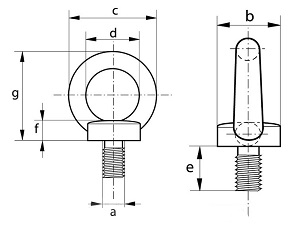 | | | | | | | | | |
| --- | --- | --- | --- | --- | --- | --- | --- | --- |
| Working Load Limit | Diameter Thread | Diameter Base | Diameter Eye Outside | Diameter Eye Inside | Length | Thickness Base | Height | Weight Per 100 Pcs |
| tonnes | a mm | b mm | c mm | d mm | e mm | f mm | g mm | kg |
| 0.07 | 6 | 20 | 36 | 20 | 3 | 6 | 36 | 6 |
| 0.14* | 8 | 20 | 36 | 20 | 13 | 6 | 36 | 6 |
| 0.23 | 10 | 25 | 45 | 25 | 17 | 8 | 45 | 10.3 |
| 0.34 | 12 | 30 | 54 | 30 | 20.5 | 10 | 53 | 17.7 |
| 0.49* | 14 | 35 | 63 | 35 | 27 | 12 | 60 | 27.7 |
| 0.7 | 16 | 35 | 63 | 35 | 27 | 12 | 62 | 28 |
| 0.90* | 18 | 40 | 72 | 40 | 30 | 14 | 71 | 40.5 |
| 1.2 | 20 | 40 | 72 | 40 | 30 | 14 | 71 | 42.4 |
| 1.50* | 22 | 45 | 81 | 45 | 35 | 14 | 80 | 67.3 |
| 1.8 | 24 | 50 | 90 | 50 | 36 | 18 | 90 | 83.4 |
| 2.50* | 27 | 50 | 90 | 50 | 36 | 18 | 90 | 122 |
| 3.2 | 30 | 65 | 108 | 60 | 45 | 22 | 109 | 166 |
| 4.3 | 33 | 65 | 108 | 60 | 45 | 22 | 110 | 216 |
| 4.6 | 36 | 75 | 126 | 70 | 54 | 26 | 128 | 265 |
| 6.1 | 39 | 75 | 126 | 70 | 54 | 26 | 130 | 334 |
| 6.3 | 42 | 85 | 144 | 80 | 63 | 30 | 147 | 403 |
| 8 | 45 | 85 | 144 | 80 | 63 | 30 | 150 | 521 |
| 8.6 | 48 | 100 | 166 | 90 | 68 | 35 | 168 | 632 |
| 11.5 | 56 | 110 | 184 | 100 | 78 | 38 | 187 | 880 |
| 16 | 64 | 120 | 206 | 110 | 90 | 42 | 208 | 1240 |