GT PML Permanent Magnet Lifter
The GT PML permanent magnet lifter series offers 4 models with lifting capacities from 100kg up to 1000kg.
Brand::

George Taylor

Product Code:

GT PML

Availability:

In Stock
Call 01384 76961 for price.
This lifter is especially well suited to handling flat sheets of metals such as steel, but is also capable of working with cylinders of magnetic material for added convenience and practicality. It is just one of the many permanent lifting magnets we stock, none of which require power to operate.
Using the GT PML Permanent Magnet Lifter
This product is an easy to operate by turning the magnetic forces on or off via the lever, which incorporates a locking key for extra safety.
Unlike our battery magnet lifters, there is no need to hook up the GT PML to a power supply to get it up and running. This keeps things simple, makes it easier to set up and use, while also allowing for a degree of portability and flexibility you might not expect. It also means that this model is not especially heavy in its own right, with the most compact of the range weighing in at just 3kg. Even the largest of its siblings is only 125kg all in.
The only downside to the permanent magnet design is that it cannot offer the same heavy duty lifting capabilities as a powered magnet, which is something to think about before you make a decision.
Practical Benefits
The magnets incorporate a 'V' recess in the bottom plate to enable the lifting of cylindrical objects as well as the usual flat steel plate. This might include things like metal poles and beams which are too heavy to move manually.
The GT PML represents a cost-efficient way of lifting magnetic materials as no power is needed; it also has a safety factor of 3.5x. This should allow you to use it confidently, just as you would a standard hoist which secures loads using traditional restraint systems.
Other Permanent Lifting Magnets to Consider
If the GT PML has caught your eye but it is not quite what you are looking for, then there are lots of rival products that might be a better option.
The Eclipse Ultralift LM, for example, provides excellent all-round performance as well as load capacities of up to two tonnes for flat steel sheets.
The Ultralift TP from the same manufacturer is a little more specialised, with its low profile design making it light and dextrous enough to select thin plate metals of just 5mm thick.
Need help with Lifting Magnets?
Look no further than the LGD team, who can be reached with an email sent from our response form, or a call to 01384 76961. They can provide extra information on products like the GT PML permanent magnet lifter, give you a competitive quote or deliver friendly advice if you are new to the concept of lifting equipment.
| | | | | | |
| --- | --- | --- | --- | --- | --- |
| Model | Plate Capacity | L | W | H | I |
|   | (kgs) | (mm) | (mm) | (mm) | (mm) |
| PML-1 | 100 | 92 | 64 | 70 | 142 |
| PML-3 | 300 | 165 | 88 | 96 | 176 |
| PML-6 | 600 | 236 | 118 | 120 | 219 |
| PML-10 | 1000 | 264 | 168 | 168 | 266 |
| PML-20 | 2000 | 378 | 230 | 217 | 462 |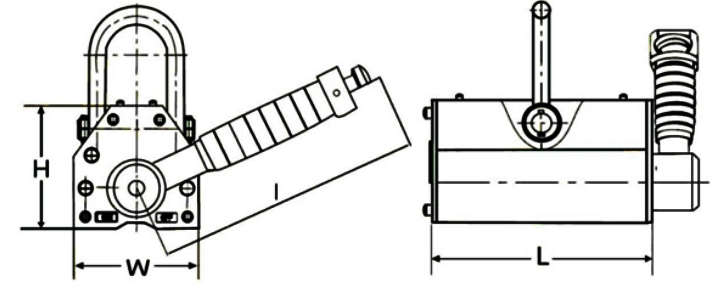 Model

Plate Capacity

Cylindrical Capacity

Tear-Off Force

Working Temperature

Net Weight

 

(kgs)

(kgs)

(kgs)

(Degrees C)

(kgs)

PML-1

100

30

350

-40 to +80

3

PML-3

300

100

1050

-40 to +80

10

PML-6

600

200

2100

-40 to +80

24

PML-10

1000

300

3500

-40 to +80

50

 

PML-20

2000

600

7000

-40 to +80

125