IMER Gantry Frame
This is a counterbalanced gantry framework for supporting a gantry hoist.
Brand::

IMER

Product Code:

IMER Gantry Frame

Availability:

In Stock
Call 01384 76961 for price.
About the Imer Gantry Frame
If you need to use a hoist on a roof top or floor space where there is nowhere to attach a hoist securely then this gantry frame together with a gantry hoist could be your solution. If scaffolding is available then a scaffold hoist may be a better option.
The simply designed framework by Imer is a sturdy piece of kit which is easy to put together. There are 3 main parts which are 2 'A' frames and a runway beam; there are also 2 poles for bracing out the bottom section of the 'A' frames for additional support. A bottom kick plate / base board will sit at the bottom or the front frame. Ballast boxes are then added to the rear frame in order to provide a counter balance to the hoist and the load it is lifting at the front end of the runway. The ballast boxes can be filled with anything weighty that will not leak out or evaporate such as water; sand, bricks or building debris are common choices.
The frame comes in a range of sizes; 300kg, 500kg & 1000kg the largest model has an additional forward end supporting frame to take the extra weight and balance out the extra forces applied across the gantry. The 1000kg may only be available for non-EU countries at the moment.
This Imer gantry frame is suitable for use with all the listed Imer gantry hoists with the exception of the new Airone hoist.
Other Accessories
Imer offer many other accessories to further enhance gantry hoists & scaffold hoists; because these hoists are typically used by builders the range includes many items for transporting materials such as wheelbarrows, buckets and bucket carriers and brick carrying baskets. Lifting Gear Direct can also supply other lifting equipment you may need to complete your lifting task. Lifting slings can be made to your requirements thanks to in house facilities and there is a wide range of hooks and shackles to choose from.
Calling LGD
01384 76961 is the number you need if you need to talk to us here at Lifting Gear Direct, we will answer any questions you may have regarding any of our products.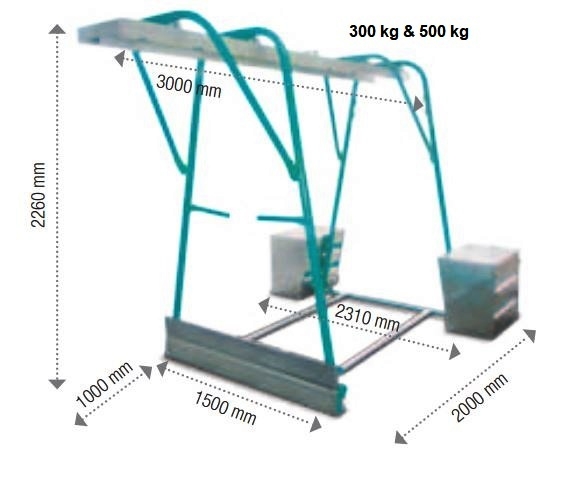 E1

E2

Max capacity

  KG

300

500

Weight KG

/

/

Width mm

2270

2280

Length mm

3270

3270

Height mm

 

2240

2280