Demag DC-Com Electric Hoist
The Demag DC-Com electric hoist is an ideal everyday hoisting device with high operational reliability.
The efficient DC-Com electric chain hoist ensures high productivity whilst satisfying the user's safety requirements.
Brand::

DEMAG

Product Code:

demag-dc-com-electric-hoist

Availability:

In Stock
Call 01384 76961 for price.
With lifting capacities available up to 2000kg this is a complete hoisting system without the need to add extras, the key features are included as standard.

Installation of this electric chain hoist is pretty simple and can be carried out in minimum time with the minimum of fuss.
Its competitive price point makes it especially appealing for buyers who need a straightforward yet effective lifting hoist.
KEY FEATURES INCLUDE:
24volt contactor
4 hook path (standard)
Elapsed operating time counter
FEM classification 1Am & 2m
Auto cut out slip clutch
2 hoist speeds
FEM class from 2m to 4m = 1600 – 6300 hours of operation.
Maintenance free gearbox for up to 10 years
There are many other benefits of the Demag DC Com electric hoist including a choice of control cable length which is also height adjustable so that the control pendant can be easily adjusted (no need for re-wiring) with the excess cable being stored under the service cover.
Demag Electric Lifting Hoist Maintenance & Reliability

The hoist motor is rated class F for insulation and IP55 for the chain hoist and travel drive enclosure. The motor is in the form of a cylinder-rotor and includes a fan and separate DC brake beneath the cover. The DC-com is a service friendly electric hoist, well designed for long service life, high safety and reduced wear.
It is also an affordable option for buyers who need a lifting hoist that will not break the bank. It can tackle a range of lifting tasks, where light to mid-weight loads need to be manoeuvred efficiently. Excellent build quality and reliability are to be expected from Demag, which is a respected brand that customers trust.
Safety of the Demag DC Com Electric Hoist
The Demag DC Com electric chain hoist boasts some excellent safety features to ensure safety at all times. Integrated speed sensors monitor the slip clutch, brake and motor; there is no continuous slipping with this hoist! The brake on the DC-Com hoist is located before the slip clutch; this stops the load sinking whilst the unit is stopped. The automatic brake system is applied if the control system fails. The brakes do not need to be adjusted and are low wearing due to the regenerative braking system.
Top safety functions include:
Emergency stop
Upper & lower limit switches
Overload protection (as of 1t)
For travelling hoists to EN15011
Travel limiters (left & Right)
Emergency stop
For tandem operation with 3 hoist units + tandem box
Interlocking of the units
Invest in Quality Hoists for Your Business
Should this hoist not meet your needs then take a look at our other Demag electric hoists, or hoists from another brand name. If you need help choosing the right lifting hoist, call Lifting Gear Direct on 01384 76961 or contact us online for help and advice. Our helpful team is waiting to hear from you!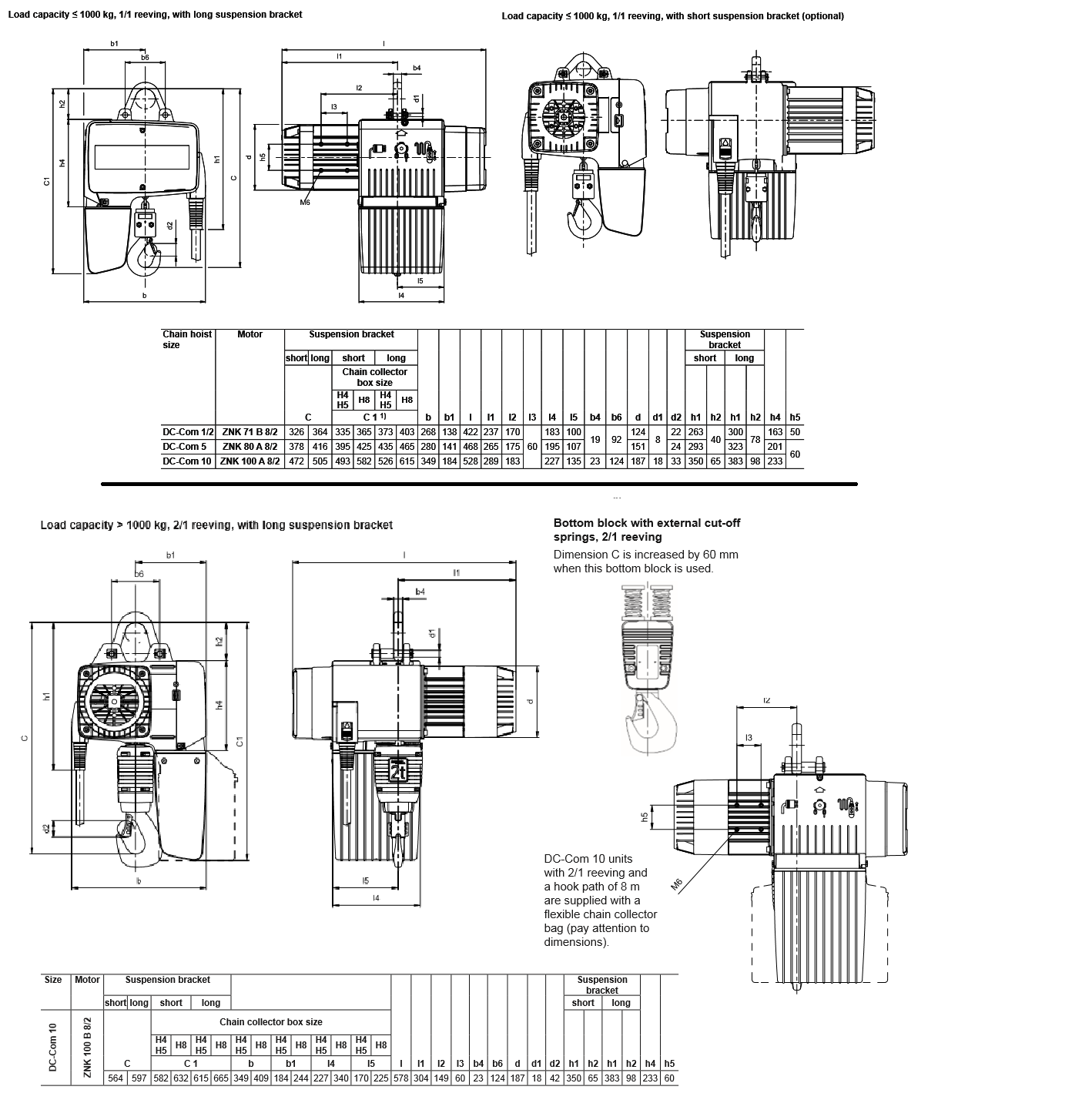 Load capacity (KG)

Chain hoist type

Reeving

Hoist speed [m/min]

             

CDF (%)

Hook path (m)

Group of mechanisms FEM/ISO

 

 

 

at 50Hz

at 60Hz

 

 

 

80

DC-Com 1

1/1

8.0/2.0

9.6/2.4

40/20

4, 5 and 8

3m/M6

100/125

2m/M5

160

DC-Com 2

6.0/1.5

7.2/1.8

25/15

 2m/M5

200/250

1Am/M4

315

DC-Com 5

4.5/1.1

5.4/1.3

2m/M5

400/500

1Am/M4

630

DC-Com 10

4.0/1.0

4.8/1.2

2m/M5

800/1,000

1Am/M4

1,250

2/1

2m/M5

1,600/2,000

1Am/M4