Stahl ST Electric Hoist
The
Stahl electric hoist range
now revolves around one hoisting unit the ST hoist. Because it has been designed in a modular format the Stahl ST electric hoist can be configured in many ways in order to suit different types of lifting operations.
The ST hoisting system can be configured for use in wind turbines, have ATEX rating, be configured as a dual hoist or as a big bag handling hoist and more, the options are vast. Read on for more details.
The Standard Stahl ST electric Hoist Features
The standard Stahl St hoists are available in a wide range of lifting capacities, beginning at 125kg and going up to 6300kg. They boast two lifting speeds as standard and have FEM classification.
These hoists are compact so that available space can be utilised to maximum potential.
Probably the biggest benefit of the Stahl ST electric hoist is the suspension. The patented design ensures the highest safety levels due to the direct suspension on the cast iron chain guide, this ensures the that the load is supported directly where it engages.
The lower wear on the chain is ensured by the wear resistant chain sprocket and optimised return sheaves. The chain guide is also enclosed and self lubricating.
Only high quality components are used ensure excellent motor and brake systems. High duty cycle motors with fan cooling come as standard. Two hoist speeds permit precise positioning and single speed or four pole versions are available.
The asbestos free brake system requires little maintenance thanks to the completely enclosed electro-magnetic disc brake with oversized braking torque.
Overload protection on the ST hoist comes in the form of a slip clutch which is positioned in the oil cooled gear, and is easy to adjust from the outside.
There are a range of control options for the Stahl ST electric hoist including a more standard type pendant control, a remote radio controller or an RMI remote control (radioMOVEit remote control).
Other options available include SMC multi controller or SSC cumulative load control; Operational hoist limit switch; steel chain guides; bypass brake; vibration damper; load display and a slipping clutch test device. Contact us if you require more information on these optional extras.
Suspension & Trolley systems for the ST electric hoist system
The Stahl ST has many options available when it comes to suspension and trolley systems. You can choose from rigid mounting, hook suspension or eye suspension. Hook suspension is the usual standard. Foot mounting options are also achievable.
Trolley options include a standard push travel type; DUE articulated for travelling around bends or electrically powered trolleys. The electric trolley comes as either a standard headroom, short headroom or extra short headroom options. (see images ). This is due to the hoist being fitted in different positions on the trolley systems.
Advice and Quotations made simple
If you would like to discuss any aspect of this or any other hoisting system or your lifting needs in general then contact the team at Lifting Gear Direct for help. We can supply electric hoists from all top brand names as well as offering servicing, repairs and inspections.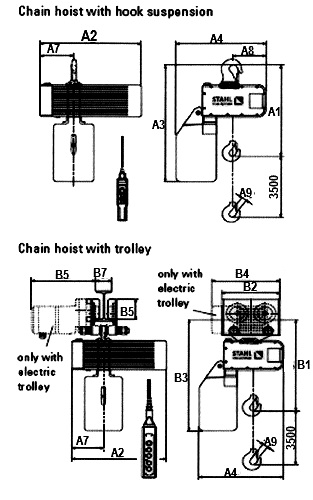 KG

250

500

1000

2000

3200

5000

6300

2 hoisting speed

m/min

8/2

4/1

4/1

4/1

4/1

3.2/0.75

3.2/0.75 

Chain falls

 

1

2

2

2

2

2

2

Type

 

ST 0502

ST 0502

ST 1005

ST 2010

ST 3016

ST 5025

ST 6032

Output

kW

0.4/0.1

0.4/0.1

0.8/0.2

1.5/0.37

2.3/0.57

3.0/0.76

3.8/0.9

Duty cycle

 

% ED

50

50

60

60

60

60

50

Dimensions

 

 

 

 

 

 

 

 

 

Chain hoist with hook suspension

 

A1

367

428

432

547

575

697

697

A2

238

238

402

496

496

522

522

A3

385

385

514

590

677

664

664

A4

281

281

352

398

393

466

466

A7

145

145

135

181

181

206

206

A8

153

153

133

158

158

154

154

A9

20

26

24

29

33

41

41

Chain hoist with trolley

 

B1

413

474

437

545

586

707

707

B2

164

164

242

302

310

480

480

B3

425

425

519

589

689

672

672

B4

/

/

/

330

338

480

480

B5

62

62

96

102

113

149

149

B6

/

/

/

289

341*

403*

403*

B7

42...180

42...180

58...300

66...300

66...300

82...300

82...300

Weights

 

 

 

 

 

 

 

 

 

With hook suspension

 

16

18

41

75

82

136

150

With trolley

 

24

26

53

110

130

201

215

* The travel motor is mounted on the opposite side

 
Capacity

FEM

m/min

Type

Motor data

Chain collectors for greater lifting heights

kW

%ED

c/h

Hoist type

Single fall

Two fall

Material

125

3m (M6)

8/2

ST 0501-8/2

1/1

0.2/0.05

35/15

240/480

ST05

7

3.5

Plastic

2m (M5)

16/4

ST 0501-16/4

1/1

0.4/0.1

35/15

120/240

15

7.5

Steel

250

1Am (M4)

8

ST 0502-8

1/1

0.4

40

240

ST10

12

6

Plastic

8/2

ST 0502-8/2

1/1

0.4/0.1

35/15

120/240

25

12.5

Textile

500

1Am (M4)

4

ST 0502-8

2/1

0.4

40

240

ST20

8

4

Plastic

4/1

ST 0502-8/2

2/1

0.4/0.1

35/15

120/240

16

8

Textile

8

ST 1005-8

1/1

0.8

60

360

22

11

Textile

8/2

ST 1005-8/2

1/1

0.8/0.2

40/20

120/240

ST32

6

3

Plastic

1000

1Am (M4)

4

ST 1005-8

2/1

0.8

60

360

12

6

Textile

4/1

ST 1005-8/2

2/1

0.8/0.2

40/20

120/240

20

10

Textile

2m (M5)

8

ST 2010-8

1/1

1.5

60

360

ST30

6

3

Plastic

8/2

ST 2010-8/2

1/1

1.5/0.37

40/20

120/240

10

5

Textile

1600

1Bm (M3)

8

ST 3016-8

1/1

2.3

60

360

20

10

Textile

8/2

ST 3016-8/2

1/1

2.3/0.57

40/20

120/240

ST50

8

4

Textile

8/2

ST 3216-8/2

1/1

2.4/0.6

40/20

120/240

12

6

Textile

2000

2m (M5)

4

ST 2010-8

2/1

1.5

60

360

30

15

Steel

4/1

ST 2010-8/2

2/1

1.5/0.37

40/20

120/240

2500

1Am (M4)

6.3/1.5

ST 5025-6/1

1/1

3.0/0.76

40/20

120/240

8/2

ST 5025-8/2

1/1

3.8/0.9

33/17

100/200

3200

1Bm (M3)

4

ST 3016-8

2/1

2.3

60

360

4/1

ST 3016-8/2

2/1

2.3/0.57

40/20

120/240

2m (M5)

4/1

ST 3216-8/2

2/1

2.4/0.6

40/20

120/240

5000

1Am (M4)

3.2/0.75

ST 5025-6/1

2/1

3.0/0.76

40/20

120/240

4/1

ST 5025-8/2

2/1

3.8/0.9

33/17

100/200
OPTIONS
Standard

Options

Ambient Temperature

-20

°c up to +40°c

to +50

°c

Protection to IEC/EN 60529

IP55

IP66

Paint

Colour

Greyish black/yellow-green RAL 7021/6018

All other colours from RAL colour chart

DFT

80

μm

120

μm to 240μm

Paint

Polyurethane topcoat

Epoxy-resin base (240

μm)

Control Pendants

STH 1 control pendant with emergency stop palm button

Radio remote control in push button or joystick version

Moveit one-hand control switch

Control

Contactor control including main contactor

For crane manufacturers, contactor control without transformer and without crane switch contactor

Direct control (ST05-ST20)

Hoist motor control

Pole-changing

Frequency controlled

Travel motor control

50Hz

20 m/min

2.5/10 m/min and 5/20 m/min

60Hz

25 m/min

3.2/12.5 m/min and 6.3/25 m/min pole-changing or frequency controlled

Motor supply voltage

50Hz/60Hz

380-415V ST05 also 380-400V or 415V

All voltages possible

Chain

Grade 8 to DIN 5684

Galvanised

Stainless steel chain, off-standard chain (hardened)

Safety Factor

>5.0

/

Chain Guide

Grey cast iron EN GJS

Sandwich chain guide made of hardened spring steel plates

Chain box

Plastic, textile

Sheet steel

Load lifting elements

Load hook in bottom hook block

Thread bar, VAGH safety load hook

Galvanised load hook

Limit switches

/

Emergency hoist limit switch (gear limit switch)

Travel limit switch

/

For up to four switching functions- pre and end limiting in both directions of travel, carriage spacing

Overload cut-off

Slipping Clutch

Load sensor

Signal transmitter

/

Horn, flashing light

Visualisation

/

SLD large-format load display, display in control pendant, readable on PC

Data exchange

/

with PC

Cumulative load controller

/

SSC

Temperature control of travel motors

/

Ptc thermistors

Mechanical safety devices

/

Wheel arrestors

Guide rollers for wide flange widths dependent on trolley type

Guide rollers for narrow flange widths

Support rollers for trolleys

/

Hoist brake

Monodisc spring-loaded brake with asbestos-free brake linings

Manual release of hoist brake

Bypass brake, double brake

Data recording

/

Operating hours counter

Panel box

Plastic (Terluran 969 T)

ST10-ST60 sheet steel (S 235 JR)