Bucket Carriers for Hoists
Available for carrying either two or four round plastic type buckets these bucket carriers are made from stainless steel. Lifting loaded buckets has never been so easy for builders with this great piece of kit.
Brand::

IMER

Product Code:

Bucket Carriers

Availability:

In Stock
Call 01384 76961 for price.
Why use Bucket Carriers?
Bucket carriers can be a very useful accessory on a construction site. The majority of builders will use plastic buckets to transport mortar, sand, cement and water to the location where it is required. Often this can much harder than it needs to be; carrying a fully loaded bucket up ladders and scaffolding can be hard work and hazardous due to the fact that you will only have one free hand for climbing up. Also only one bucket at a time can be transported.
Our range of bucket carriers can not only take away the hard work, they will alleviate the risk of accidents and injuries. What's more these carriers can carry more than one bucket at a time, we have two models available one which can carry 2 buckets and one which can carry up to 4 buckets.
Bucket Carriers for Hoists
The bucket carrier is easily attached to a scaffold hoist or gantry hoist via the central carrying frame, this central position also helps to keep the buckets level. For the best stability it is wise to even the playing field by ensuring all holders are loaded with similar weights, this will minimise tipping and losing some of its contents.
The bucket carrier for 2 buckets has a maximum capacity of 70 kg and the 4 bucket carrier can handle loads up to 150 kg. You can find the dimensions and weights of the carriers in the table below.
Other Accessories for Scaffold Hoists
We are able to supply a great range of accessories which are commonly used with scaffold and gantry hoists; so if you need to transport a load of bricks, try our brick basket. Want to lift a wheelbarrow? Try our wheelbarrow chain sling; we can also supply a completely liftable wheelbarrow. Peruse our full range of builders hoist accessories to find out more. We can also supply any type of sling and loose tackle such as shackles to suit your needs, all at great every day low prices.
Call Us Today
Need to place an order or ask a question? All you have to do is dial 01384 76961 and talk to our team, we are always ready to help. You can also email us on our contact us page right here.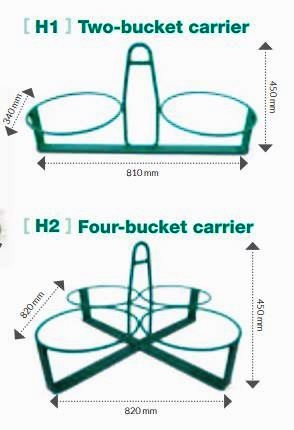 H1

H2

Max capacity

  KG

70

150

Weight KG

4/8

3

Width mm

340

820

Length mm

810

820

Height mm

 

450

450