Subsea Lever Hoist Tiger SS11
This ratchet lever hoist from Tiger is a well developed subsea lever hoist for use in multi-immersion subsea operations.
Brand::

Tiger

Product Code:

Tiger SS11 Subsea Lever Hoist

Availability:

In Stock
Call 01384 76961 for price.
About the Tiger SS11 Subsea Lever Hoist
Tested and verified above international standards the SS11 subsea lever hoist can be used in salt water multiple immersion operations, providing the usage procedures are strictly adhered to, these are found in the immersion manual supplied with the hoist. Testing has been completed beyond the ASTM B117 environment condition requirements with over 1300 hours of continuous exposure to a generated test programme in subsea environments. The SS11 meets and exceeds all necessary requirements. For this reason you can be sure of a quality lever hoist which is capable of multiple lifting tasks whilst immersed in sea water.
K
ey Features of the SS11 Subsea Ratchet Lever Hoist
There are 7 models in the range of subsea lever hoists with safe working lifting capacities ranging from 0.8 to 20 tonne. The patented quad cam pawl brake provides optimum safety by ensuring there is always one pawl engaged. If a pawl spring fails, the load will still be held securely and the brake will still be operational. The brake operates with a unique inertia driven torsion switch brake; together with the auto-engaging free-wheeling device which engages at the slightest resistance you can be assured of maximum safety. The marine friction discs are bonded and free of asbestos, perfect for subsea use. An eight part multi-start thread pinion shaft is used to further increase the brake reaction times; rotational brake engagement works together with the load sheave direction, therefore giving high brake ratios of up to 50% when compared to a hoist with a 4 point pinion thread.
The special brake system on the SS11 offers light load failure protection with a 2 step process which puts the hoist into neutral when under load at 2% of the rated capacity. This gives high efficiency whilst ensuring high safety levels and easiness of use for the user.
These lever hoists come with safety latched top and bottom hooks although these can be changed out for a range of other connectors (see image). The hooks use the 'EZ' check system for easy checking for previous overloading.
Key points at a glance
· Available with slip clutch overload protection
· Twin cam pawl design (new, patented)
· 1 piece construction pinion gears
· Lifts, holds & lowers at 2% of rated capacity, therefore there are no light load failures.
· No need for preload tension to activate the ratchet mechanism.
· Safe to utilise in horizontal and inverted positions.
· Unique dual brake system.
· Drop forged, heat treated alloy hooks with wide openings and a heavy duty safety latch.
· Chain stripper to guide chain safely on or off load sheave without jamming.
Additional lifting equipment
Lifting Gear Direct can also supply a range of other subsea lifting equipment including subsea ROV release lifting shackles and other branded subsea lever hoists and standard ratchet lever hoists. We also offer stainless steel equipment such as stainless shackles, chain and components and eyebolts.
Contacting us
Whether you need more information, advice or a simple quote, you can email your details here or call us on 01384 76961 where a member of our team will be happy to help.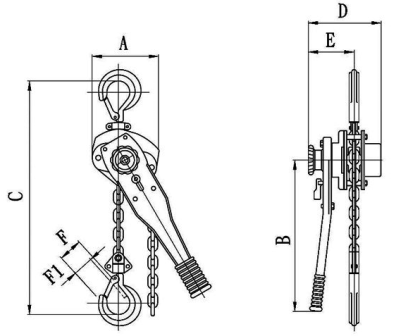 Capacity (tonne)
Dimensions (mm)
 
A
B
C
D
E
F1
F2
0.8
128
240
275
158
99
28
45
1.5
154
360
320
172
104
34
51
3
182
360
400
195
108
36
56
6
242
360
570
195
108
49
70
10
370
360
630
195
108
54
87
15
566
370
840
195
108
59
81
20
470
370
1050
251
161
81
110
Capacity (tonnes)
Effort (KG)
Load chain 
Standard HOL (m)
Mass KG @ Std HOL
 
 
Diameter (mm)
No of falls 
 
 
0.8
23

Ø

6.3

1
3
9
1.5
26

Ø

7.1

1
3
12.6
3
38

Ø

10

1
3
22
6
40

Ø

10

2
3
34.5
10
47

Ø

10

3
3
55
15
44

Ø

10

5
3
128
20
43

Ø

10

6
3
174