Tiger TLH Lever Hoist
This compact and lightweight ratchet lever hoist from Tiger is a rugged device suitable for lifting, pulling and tensioning applications and with a great lifting capacity range going from 0.25 tonne up to 10 tonne, the application possibilities are vast.
Brand::

Tiger

Product Code:

Tiger TLH Lever Hoist

Availability:

In Stock
Call 01384 76961 for price.
About the Tiger TLH Industrial Lever Hoist
Ideal for industrial applications the TLH lever hoist is a robust device, thanks to the pressed steel design; The handle/lever the gear casing and the brake cover are all high quality pressed steel and give the hoist high resistance to impact damage. The exterior is finished in a powder coating for good corrosion protection
Drop forged, heat treated hooks are used for the anchor hook and load hook. They are fitted with a heavy duty latch which is spring loaded and fully engages into the recessed nose of the hook for maximum load security.
End stops are located on the chain for easier chain positioning whilst in the free chaining mode. The end stop can also hold just over 2 x rated capacity.
High gear ratio ensures this lever hoist is easy to use with minimal effort required. Operation is smooth thanks to the precisely machined triple spur gears. The safety brake on the industrial TLH ratchet lever hoist has a twin pawl design and engages instantaneously when operation stops, the load will be securely held. With a 360 degree rotation, the handle makes light work of operating the lever hoist.
This industrial ratchet lever hoist has recessed forgings which give total protection to the load chain. There are anchor bolts on all bottom hooks and models with multi-fall hooks have a protected load sheave.
Tiger TLH Lever Hoist at a glance
· Handle, brake cover & gear case made from pressed steel.
· Impact resistant gearbox housing.
· High gear ratios, to keep physical effort to a minimum.
· Single handed free-wheeling operation.
· One piece pinion gears.
· Heat treated drop forged alloy hooks.
· 360° handle rotation.
· Short stroke & low lever pulling effort.
Other Lifting Gear
Whatever your lifting requirements, Lifting Gear Direct is the place to come to. As well as lever hoists we also supply, repair and inspect all other types of hoisting equipment, lifting slings, loose tackle like shackles and much more. Our range of bespoke crane systems are well respected in the industry and out own Jib cranes and Mobile gantry systems are made to order to your requirements.
Call the team on 01384 76961 for any information you may need or a quick quotation.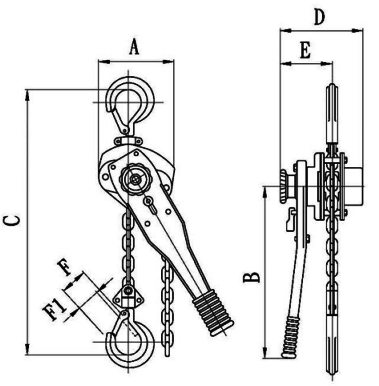 Product Code

Capacity (tonne)

Dimensions (mm)

 

 

A

B

C

D

E

F

F1

 

LH-0025

0.25

60

156

245

82

63

26

22

LH-0050

0.5

75

276

270

100

75

29

25

LH-0075

0.75

128

240

275

158

99

33

28

LH-0150

1.5

154

360

320

172

104

38

34

LH-0300

3

182

360

400

195

108

40

35

LH-0600

6

242

360

570

195

108

54

50

LH-1000

10

370

360

630

195

108

60

54
Product Code

Capacity (tonne)

Effort (kg)

Load Chain

Standard HOL (m)

Mass Kg @ std HOL

 

 

 

Diameter (mm)

No. of falls

 

 

LH-0025

0.25

30

Ø4.0

1

1

2.2

LH-0050

0.5

34

Ø5.0

1

1

3.5

LH-0075

0.75

23

Ø6.3

1

1.5

7.4

LH-0150

1.5

26

Ø7.1

1

1.5

10.1

LH-0300

3

38

Ø10.0

1

1.5

18.2

LH-0600

6

40

Ø10.0

2

1.5

29.3

LH-1000

10

47

Ø10.0

3

1.5

46