Yale UNO Plus Atex Rated Lever Hoist
This ratchet lever hoist is essentially the same as the
standard Uno lever hoist
but has the benefit of being
ATEX
rated. Ideal for use in hazardous conditions.
Brand::

YALE

Product Code:

Yale UNO Plus Atex Rated Lever Hoist

Availability:

In Stock
Call 01384 76961 for price.
About the Yale ATEX Uno Plus Ratchet Lever Hoist
The ATEX Uno plus lever hoist is suitable for use in environments where there is an explosion hazard.
This basic protection means certain materials must be incorporated into the hoist to prevent sparks from occurring and triggering explosions. Explosion protection means the ability to prevent the occurrence of an explosive mixture (i.e. where two elements coming together can create an explosion) and also the ability to eliminate potential sources of ignition ( i.e. sparks).
There are a few various categories, zones and groups that ATEX ratings are broken down into, these show where they may or may not be used and what protection they have. The information will be marked on any ATEX rated product with a range of coded letters and numbers after the ATEX logo.
The Uno plus has the basic level of explosion protection - Ɛꭓ - only II 3 GD c IIB T4 which means for non-mining purposes; category 3 – normal safety; protection from gas and dust particles; design safety explosion group IIB and temperatures up to 135 degrees C.
Key Features
Improved bearings and optimized gearing together with the short lever ensure minimal effort is required for operation. Free chaining device is included as standard and chain guides prevent chain jamming. Both hooks have safety catches for optimum safety.
The steel hand wheel comes as standard and the automatic screw & disc brake have corrosion protection.
The ATEX Uno Plus lever hoist is available in lifting capacities up to 6000kg. Don't need the ATEX rating! Check out our other ratchet lever hoists from the top manufacturers.
More ATEX Products from Lifting Gear Direct
We can supply a range of ATEX rated equipment for use in hazardous areas, the range includes chain blocks and trolley systems. For more information or to get a quote simply phone 01384 76961 or email us on the contact page.
| | | | | | | | | | | | |
| --- | --- | --- | --- | --- | --- | --- | --- | --- | --- | --- | --- |
| Model | A min, mm | B mm | C mm | D mm | E mm | F mm | G mm | H mm | J mm | K mm | L mm |
| UNOplus ATEX 750 | 340 | 22 | 26 | 16 | 250 | 150 | 70 | 80 | 150 | 60 | 90 |
| UNOplus ATEX 1500 | 410 | 28 | 32 | 21 | 330 | 170 | 80 | 90 | 180 | 80 | 100 |
| UNOplus ATEX 3000 | 510 | 36 | 40 | 27 | 380 | 220 | 100 | 120 | 210 | 90 | 120 |
| UNOplus ATEX 6000 | 690 | 45 | 44 | 33 | 380 | 220 | 100 | 120 | 210 | 90 | 120 |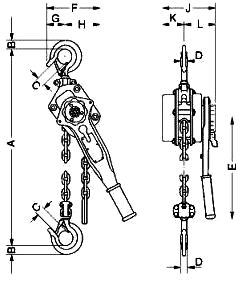 | | | | | | | |
| --- | --- | --- | --- | --- | --- | --- |
| Model | Capacity (KG) | Number of chain falls | Chain dimensions dxp (mm) | Lift with one full lever turn (mm) | Handle pull at WLL (daN) | Weight at standard lift (1.5m) KG |
| UNOplus ATEX 750 | 750 | 1 | 6x18 | 20 | 20 | 7.2 |
| UNOplus ATEX 1500 | 1500 | 1 | 8x24 | 22 | 35 | 12.5 |
| UNOplus ATEX 3000 | 3000 | 1 | 10x30 | 17 | 40 | 21.5 |
| UNOplus ATEX 6000 | 6000 | 2 | 10x30 | 9 | 40 | 32 |