Minifor Hoist TR30S
Buy the Minifor hoist TR30S with extra rope if required from Lifting Gear Direct today.
Call 01384 76961 for price.
About the Minifor Hoist TR30S
The minifor TR30S is available in 3 voltages; 110v, 230v & 400v. You can use any length of the special minifor rope to enable unlimited lifting and pulling spans.
Higher working speeds than the standard TR30 at 13 metres per minute.
Excellent weight to power ratio.
Aluminium alloy housing for sturdyness.
Unlimited lengths of 6.5mm diameter wire rope available.
Spring loaded cable reelers may be added at factory.
The motor incorporates a brake for added safety.
Upper and lower adjustable end stops.
Swivel suspension hook and carry handle included.
Push button control box. Radio control as optional extra
Emergency stop button.
Sheaves can be used to create extra pulling power.
IP55 rated
More Wire Rope Devices
The Minifor hoist is a great piece of kit and ideal for transporting. Should you need a more robust device for heavy duty industrial settings then we have a selection of electric wire rope hoists on offer with low headroom and crab unit options and more.
For other fixed wire rope devices you may want to consider a wire rope winch, these are available with various mounting options and are suitable for a wide range of tasks. For highly portable wire rope devices, take a look at our cable pullers and Tirfor winches. Perfect for many types of pulling, tensioning and lifting tasks in any direction.
STANDARD HOIST        
Model

WLL

Speed

Dimensions mm

 

Weight (KG)

 

Direct KG

Sheaved KG

 

Direct m/min

Sheaved m/min

A

B

C

D

E

F

G

H

I

J

K

L

M

 

TR30S

300

600

13

6.5

430

20

212

642

224

181

90

20

20

347

492

302

15

31
  WITH RADIO CONTROL            
Model

WLL

Speed

Dimensions mm

 

Weight (KG)

 

Direct KG

Sheaved KG

 

Direct m/min

Sheaved m/min

A

B

C

D

E

F

G

H

I

J

K

L

M

N

O

P

Q

 

TR30S

300

600

13

6.5

430

20

212

642

355

224

194

90

20

20

347

492

302

15

160

68

35

33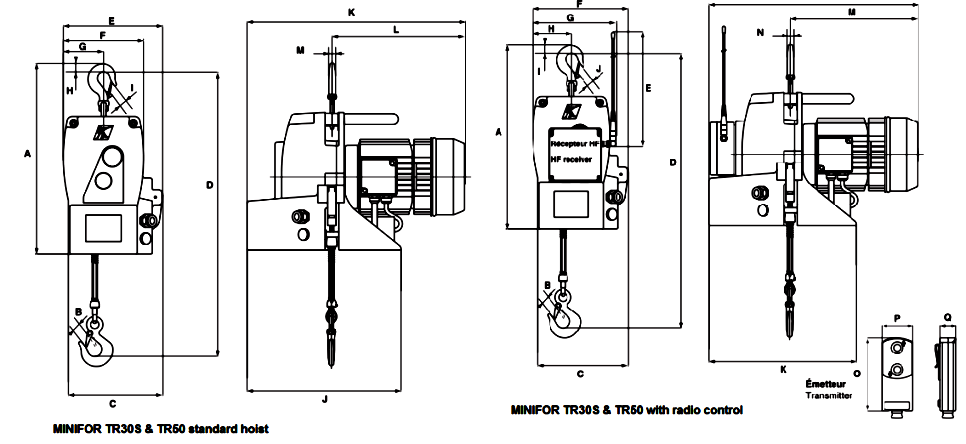 Model

WLL

Speed m/min

Volt

Hoist Weight

 

Dimensions mm

 

TR30S

300

13

110

32

495/425/225

TR30S

300

13

230

32

495/425/225

TR30S

300

13

400

28

495/425/225