Minifor HoistTR10
The Minifor hoist TR10 is available in 2 different models, a 110volt and a 230volt.
Call 01384 76961 for price.
About the Minifor Hoist TR10
Compact and lightweight the Minifor TR10 is ideal for lifting and pulling loads. Because you can use unlimited lengths of wire rope you can lift to great height and pull at great lengths. Its easy to use and sheaving kits can be used to increase the capacity if required.
They have a safe working load limit of 100kgs.
Choice of power supply, 110v or 230v.
Lifting speeds of up to 15 metres per minute.
Aluminium alloy housing.
Brake system incorporated in the motor and with adjustable lower & upper end stops for added safety.
Built in carry handle and a swivel suspension hook.
Also available with a spring loaded cable reeler which needs to be factory fitted.
6.5mm wire rope, which can be any length.
Push button control box. Radio control as optional extra
Emergency stop button.
Integrated drum reelers can be factory fitted for rope lengths of 20m, 27m and 40m. (dependant on the lifting capacity)
Conform to machinery directive 2006/42/CE & EN 292 standard. IP55 rated.
Other Wire Rope Hoists
Lifting Gear Direct can supply other Minifor models including the TR30 and TR50 as well as the TR125SY. We can supply the specific wire rope that must be used with these hoists too.
Alongside these Minifors we also have a good selection of other types of electric wire rope hoists suitable for rigorous industrial settings. Other types of lifting and pulling equipment which use wire rope include wire rope winches and wire rope cable pullers / Tirfors.
Contact the team at LGD if you need any more assistance.
MINIFOR TR30 STANDARD HOIST ONLY                                                                                   
Model

WLL

Speed

Dimensions mm

 

Weight (KG)

 

Direct KG

Sheaved KG

 

Direct m/min

Sheaved m/min

A

B

C

D

E

F

G

H

I

J

K

L

 Weight

TR10

100

200

15

7.5

427

20

140

631

209

112

20

20

324

356

114

15

20 kg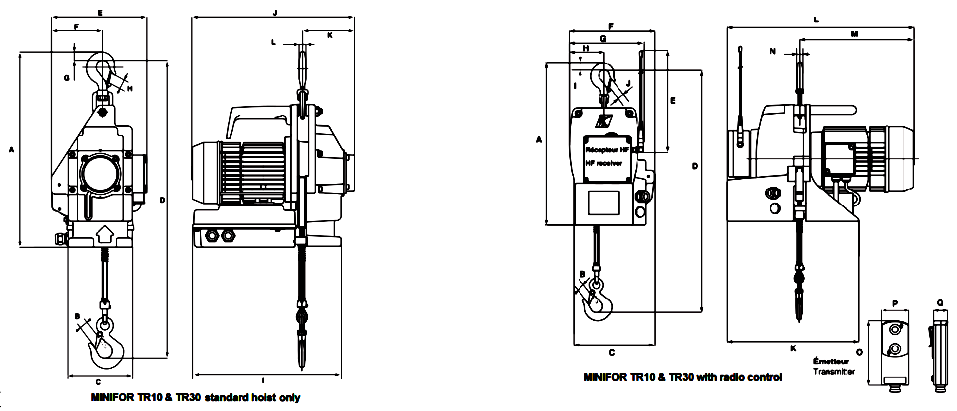 TR10 & TR30 WITH RADIO CONTROL 7 REELER

Model

WLL

Speed

Dimensions mm

 

Weight (KG)

 

Direct KG

Sheaved KG

 

Direct m/min

Sheaved m/min

A

B

C

D

E

F

G

H

I

J

K

L

M

N

O

P

Q

20m reeler

27m reeler

40m reeler

TR10

100

200

15

7.5

419

355

20

140

722

379

230

133

20

20

507

582

267

15

160

68

35

33

39

51

TR30

300

600

5

2.5

419

355

20

140

722

379

230

133

20

20

507

582

267

15

160

68

35

33

39

51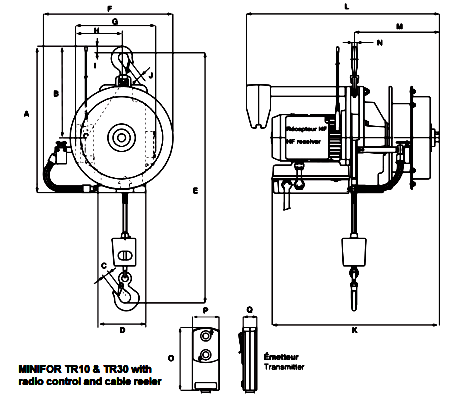 Model

 

WLL

Speed m/min

Volt

Hoist Weight

 

Dimensions mm

 

TR10

100

15

110

32

355/420/180

TR10

100

15

230

21

355/420/180
Model

 

WLL

Speed m/min

Volt

Hoist Weight

Dimensions mm

 

Minifor with spring loaded reeler for 20m wire rope- wire rope not included

 

TR10

100

15

230

30

475/415/350

Minifor with spring loaded reeler for 27m wire rope- wire rope not included

 

TR10

100

15

230

30

510/415/350

Minifor cable with 40m reeler- wire rope not included

 

TR10

100

15

230

51

622/415/418