Minifor Hoist TR50
The Minifor hoist TR50 is available in 3 voltages, 110V, 230V & 400V, the TR50 is a versatile, portable electric hoist.
Call 01384 76961 for price.
About the Minifor Hoist TR50
Using a Minifor hoist is easy thanks to it being compact and light. You can use any length of minifor specific wire rope to enable unlimited lifting height and pulling lengths. All thanks to the self clamping drive mechanism to pull through the rope.
The clamping action on the rope is proportional to the load, with spring clamps on the feed rollers to hold the rope in position when unloaded.
WLL of up to 500kg and speeds of 7 metres per minute.
Sturdy aluminium housing with a carry handle.
Unlimited lengths of 6.5mm maxiflex wire rope.
Braking system incorporated into the motor.
Push button control box. Radio control as optional extra available.
Adjustable end stops, upper & lower.
Emergency stop button.
Rope reeler can be factory fitted on request for some rope lengths.
Other Wire Rope Lifting Equipment
If you are looking for other types of lifting devices that utilise wire rope them we can help. We supply wire rope electric hoist as well as wire rope winches, cable pullers and Tirfor winches. Wire rope and suitable fittings can also be supplied to your needs. Remember the Minifor must use the special wire rope to operate safely.
STANDARD HOIST        
Model

WLL

Speed

Dimensions mm

 

Weight (KG)

 

Direct KG

Sheaved KG

 

Direct m/min

Sheaved m/min

A

B

C

D

E

F

G

H

I

J

K

L

M

 

TR50

500

950

7

3.5

430

20

212

642

224

181

90

20

20

347

492

302

15

31
  WITH RADIO CONTROL            
Model

WLL

Speed

Dimensions mm

 

Weight (KG)

 

Direct KG

Sheaved KG

 

Direct m/min

Sheaved m/min

A

B

C

D

E

F

G

H

I

J

K

L

M

N

O

P

Q

 

TR50

500

950

7

3.5

430

20

212

642

355

224

194

90

20

20

347

492

302

15

160

68

35

33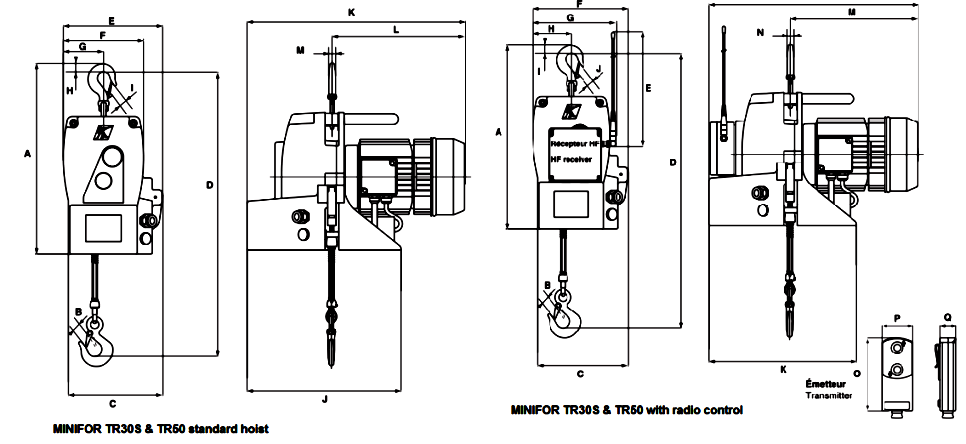 | | | | | | |
| --- | --- | --- | --- | --- | --- |
| Model | WLL | Speed m/min | Volt | Hoist Weight | Dimensions mm |
| TR50 | 500 | 7 | 110 | 32 | 495/425/225 |
| TR50 | 500 | 7 | 230 | 32 | 495/425/225 |
| TR50 | 500 | 7 | 400 | 28 | 495/425/225 |