Piling Shackles
Part of our
special shackle
line up, these piling shackles are a popular choice in the construction sector thanks to their unique design. Purchase today from Lifting Gear Direct
We can supply piling shackles with load limits of between one and five tonnes. Check out the table of technical data below to get a better idea about the design and dimensions of these shackles.
Quick Overview of Piling Shackle Features
Fully tested & certified
Type A screw pin
long Dee shape
Produced from high tensile steel
Self coloured finish
Various sizes available in both metric and Imperial measurements
WLL of up to 5 tonnes available
MBL = 5x WLL
Design Benefits
Piling shackles are very much like a dee shackle though they have a much longer shank.
The longer shank is needed in order to anchor to a steel piling sheet some distance down from the top, a standard shackle is not long enough; for example on a standard 1 tonne dee shackle the inside length is around 49mm but on a piling shackle this measurement is 152mm long, as you can see there is quite a significant difference.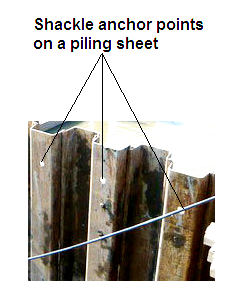 These piling shackles are commonly utilised on construction sites where piling is needed to stabilize ground levels.
Materials & Safety Perks
These piling shackles have a type 'A' screw pin and are manufactured from grade 4 high tensile steel with a self coloured finish as standard.
The safety factor of these piling shackles is 5:1, meaning the minimum breaking load equals five times the standard working load limit for the shackle. This is the minimum load they can take before breaking may occur in the event of overloading.
Load Limits & Conformity
Lifting Gear Direct is able to supply piling shackles with working load limits up to 5 tonne and with internal lengths up to 305mm long. EC declarations of conformity are always provided.
It is also possible to supply these piling shackles with a hot dip galvanized finish – on request.
This extra coating provides an impressive amount of protection, preventing corrosion over time and keeping the shackles looking good as new for longer.
Shackles of all Shapes & Sizes
Lifting shackles are one of our specialities here at LGD. For lifting and load bearing at an angle, our bow shackles are suitable. For even more durability and resilience, our stainless steel shackles fit the bill. Amongst our special shackles, you will find wide mouth shackles, ROV shackles and lots of other units.
Of course you may already have all the shackles and loose tackle you need, in which case our winches, hoists or wire rope products may be of interest.
Call us for quotes & general advice
Since we sell shackles to customers from across the country, we have a lot of experience with this type of product. If you are looking for a helping hand, or want a quote for piling shackles, then contact us for more details. We can be reached on 01384 76961, or you can email our team direct from our site.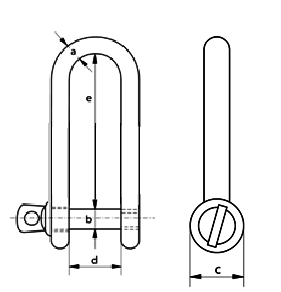 | | | | | | | |
| --- | --- | --- | --- | --- | --- | --- |
| Working Load Limit | Diameter Bow | Diameter Pin | Diameter Eye | Width Inside | Length Inside | Weight Each |
| tons | a mm | b mm | c mm | d mm | e mm | kg |
| 1 | 13 | 16 | 32 | 22 | 152 | 0.55 |
| 1.5 | 16 | 19 | 38 | 32 | 203 | 0.95 |
| 2 | 19 | 22 | 45 | 38 | 203 | 1.64 |
| 3 | 22 | 25 | 50 | 45 | 254 | 2.29 |
| 3.75 | 25 | 28 | 57 | 50 | 254 | 3.4 |
| 5 | 28 | 32 | 64 | 54 | 305 | 5.05 |