Red Rooster Mini Air Hoist TCR-250 & TCR-500/2
The TCR-250 & TCR-500/2 is a mini air hoist with 1 or 2 chain falls respectively. It is compact and lightweight with aluminium housing.

Brand::

Red Rooster

Product Code:

Red Rooster TCR-250 & TCR-500/2

Availability:

In Stock
Call 01384 76961 for price.
The TCR 250 & TCR 500/2 are air hoists suitable for industrial applications as well as in marine environments. They are ideal for where high duty hoist is required or for harsh conditions.
Key Features of the Red Rooster Mini Air Hoist TCR
Toku rotary vane motor
epicycle gearbox
failsafe automatic internal disc brake
internal silencing down to 80dB(A)
mechanical lower & upper switches
alloy swivel hooks with safety catches
The load chain is 4 x 12mm and of EU manufacture to EN818-7
Epicycle gearbox
OPTIONS:
marine specs
chain collectors
air shut off valve
radio control
air service unit
ATEX specs
corrosion protection
festoon system
When you are installing these air hoists for the first time you must refer to the manufacturers instructions to ensure they are correctly installed. Maintenance procedures and regular checks must also be carried out according to the manufacturer.
Air supplies must be checked for the correct pressure and all hoses and connections checked before each use to ensure safe operation.
More Hoist Options
There are other hoisting options you could consider if you decide that this is not the right product for you. There are many other air hoists available from Lifting Gear Direct as well as a vast range of electric powered hoists should they suit your needs better than an air powered hoist. We also have a range of wire rope hoists available.
Don't forget we also supply lifting slings and shackles to complete your lifting operation if you need them.
Get in touch if you need any help.
Model

A mm

B mm

C mm

D mm

E mm

F mm

G mm

H

Ø mm

I mm

J mm

TCR-250

310

105

69

22

112

140

15

35

22

20

TCR-500/2

360

118

83

35

112

140

15

36

22

20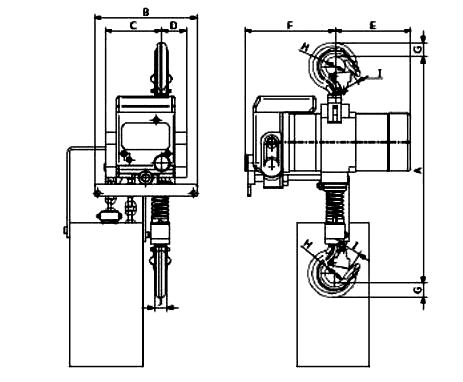 Model

WLL (KG)

Lifting speed with load

Lifting speed without load

Lowering speed with load

 

TCR-250

250

9.3 m/min

19.0 m/min

17.9 m/min

TCR-500/2

500

4.6 m/min

9.5 m/min

9 m/min

 

Air consumption lifting

Air consumption lowering

Air connection

Minimum hose dia

TCR-250

13 l/sec

15 l/sec

1/2" BSP

1/2" hose

TCR-500/2

13 l/sec

15 l/sec

1/2" BSP

1/2" hose

 

Chain falls

Working pressure

Weight with 3m HOL

 

Additional metre HOL

 

TCR-250

1

6 bar

7KG

0.35KG

TCR-500/2

2

6 bar

9KG

0.7KG