Red Rooster TCR-1000 & TCR-2000/2 Air Hoist
The two models shown here are the TCR-1000 with 1 chain fall and the TCR-2000/2 with 2 chain falls with 1000kg and 2000kg WLL respectively.

Brand::

Red Rooster

Product Code:

Red Rooster TCR-1000 & TCR-2000/2

Availability:

In Stock
Call 01384 76961 for price.
The TCR air hoist series are ideal for both industrial type settings as well as in marine environments. In fact they are great for many high duty tasks and for use in harsher conditions. Complying with EU machinery directives and CE marked you can be assured of a quality hoist.
Key Features of the Red Rooster TCR-1000 & TCR-2000/2 Air Hoist
Toku rotary vane motor & epicycle gearbox

mechanical upper & lower limit switches

alloy safety swivel hooks

automatic load limiter - adjustable

robust cast steel housing

auto. internal disc brake - failsafe

load chain - 7 x 21mm (EU manufacture)
OPTIONS:
Atex or Marine specifications

corrosion protection

special paint systems

main air shut off

festoon systems

air service units
More Air Hoists & Other Hoist Options
On the Lifting Gear Direct website you will find many other air hoists from Red Rooster as well as JDN and Yale. They will have a variety of features and options so check them out to before ordering to make sure you get the best hoist for your needs.
Obviously you will require an air supply for this type of hoisting device, so if this is not available then browse our collection of quality electric hoists instead. Different power ranges are available including single and three phase supply. We are also able to supply supplementary lifting gear such as slings and shackles to enable you to complete your set up from one shop.
Call the team on 01384 76961 if you need more information or advice.
Model

A mm

B mm

C mm

D mm

E mm

F mm

G mm

H

Ø mm

I mm

J mm

TCR-1000

485

212

116

40

156

186

29

40

29

25

TCR-2000/2

595

212

143

50

156

186

37

45

29

30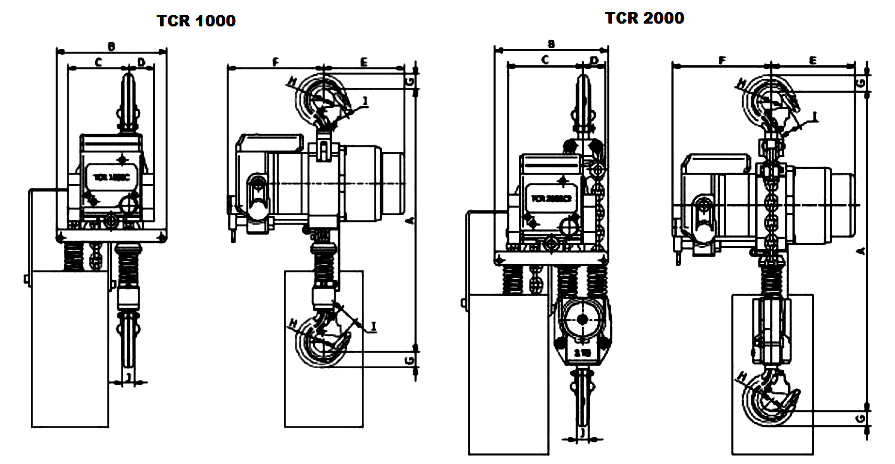 Model

WLL (KG)

Lifting speed with load

Lifting speed without load

Lowering speed with load

 

TCR-1000

1000

6.0 m/min

11.3 m/min

10.3 m/min

TCR-2000/2

2000

3.0 m/min

5.7 m/min

5.2 m/min

 

Air consumption lifting

Air consumption lowering

Air connection

Minimum hose dia

TCR-1000

25 l/sec

28 l/sec

1/2" BSP

1/2" hose

TCR-2000/2

25 l/sec

30 l/sec

1/2" BSP

1/2" hose

 

Chain falls

Working pressure

Weight with 3m HOL

 

Additional metre HOL

 

TCR-1000

1

6 bar

34KG

1.1KG

TCR-2000/2

2

6 bar

39.7KG

2.2KG