RUD VLBG Plus Swivel Eye Bolt
The RUD VLBG Plus Swivel Eye Bolt can be used in multiple pulling directions. It is ideal for use in lifting and lashing applications.
Brand::

RUD

Product Code:

RUD-VLBG-plus-Swivel-Eye-Bolt

Availability:

In Stock
About the RUD VLBG Plus Swivel Eye Bolt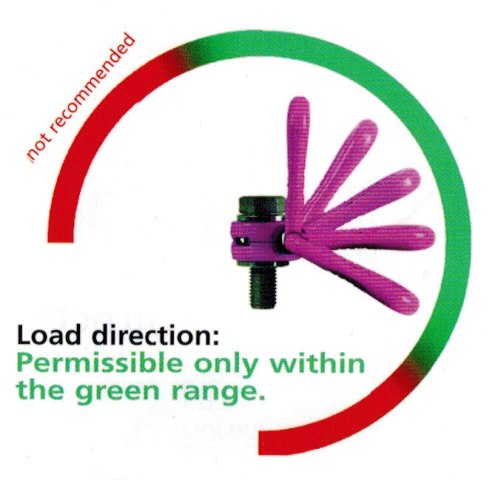 The RUD VLBG plus Swivel Eye Bolt rotates a full 360 degrees and adjusts to the pull direction. The lifting ring can also pivot through 180 degrees however please pay attention to the instructions as some angles are not recommended for lifting applications.
The full working load limit is obtainable in all recommended directions.
Bolt is held captive within the body though it can be exchanged.
This swivel eye bolt can be used at maximum lifting capacity in temperatures from -40 up to +100 degrees. It may be used up to a maximum of 350 degrees though with reductions to the SWL, always refer to instructions.
The drill hole where this is to be fitted must be the correct size for the thread to ensure a correct fit. If this is to be used for 1 use then hand tightening the bolt with a spanner will suffice. For longer term use a torque wrench must be used according to manufacturers instructions. Always ensure free rotation and pivoting of the parts prior to use.
More Lifting Points and Associated Equipment
As we are a lifting equipment store we can supply most types of lifting equipment. Lifting Gear Direct have an extensive product range including many types of lifting points like these swivel eye bolts. We also have standard eye bolts in different thread types and SWL as well as shackles and lifting slings which are commonly used with this type of lifting gear. Hoisting devices are also readily available, you might like a chain block for simple lifting or perhaps an electric hoist for a more powerful lift.
The choices are endless at our one stop shop. Call LGD today if you need help or advice. You can use the add to cart/buy now function if you know what you need or use the rapid enquiry form for quotations on multiple products. Our team are always happy to help.
| | | | | | | | | | | | | | | | | | | | | | |
| --- | --- | --- | --- | --- | --- | --- | --- | --- | --- | --- | --- | --- | --- | --- | --- | --- | --- | --- | --- | --- | --- |
| Type | WLL (t) | Weight (KG) | A | B max. | C | D | E | F | G | H stand. | H max. | J | K | L stand. | L max. | M | N | SW | ISK | T | Torque |
| VLBG 0.63t M8 | 0.63 | 0.3 | 30 | 54 | 34 | 35 | 40 | 12 | 29 | 11 | 76 | 75 | 45 | 40 | 105 | 8 | 32 | 13 | 5 | 75 | 30Nm |
| VLBG 0.9t M10 | 0.9 | 0.32 | 30 | 54 | 34 | 24 | 39 | 12 | 29 | 15 | 96 | 75 | 45 | 44 | 125 | 10 | 32 | 17 | 6 | 75 | 60Nm |
| VLBG 1.35 M12 | 1.35 | 0.33 | 32 | 54 | 34 | 26 | 38 | 12 | 29 | 18 | 116 | 75 | 45 | 47 | 145 | 12 | 32 | 19 | 8 | 75 | 150Nm |
| VLBG 1.2t M14  | 1.2 | 0.52 | 33 | 56 | 36 | 30 | 39 | 13.5 | 36 | 24 | 34 | 86 | 47 | 60 | 70 | 14 | 38 | 24 | 10 | 85 | 150Nm |
| VLBG 2t M16 | 2 | 0.55 | 33 | 56 | 36 | 30 | 39 | 13.5 | 36 | 22 | 149 | 86 | 47 | 58 | 185 | 16 | 38 | 24 | 10 | 85 | 150Nm |
| VLBG 2t M18 | 2 | 1.5 | 50 | 82 | 54 | 45 | 50 | 16.5 | 43 | 37 | 222 | 130 | 78 | 80 | 90 | 18 | 48 | 30 | 12 | 110 | 200Nm |
| VLBG 3.5t M20 | 3.5 | 1.3 | 50 | 82 | 54 | 45 | 55 | 16.5 | 43 | 32 | 187 | 113 | 64 | 75 | 230 | 20 | 48 | 30 | 12 | 110 | 400Nm |
| VLBG 4.5t M24 | 4.5 | 1.5 | 50 | 82 | 54 | 45 | 67 | 18 | 43 | 37 | 222 | 130 | 78 | 80 | 265 | 24 | 48 | 36 | 14 | 125 | 760Nm |
| VLBG 6.7t M30 | 6.7 | 3.3 | 60 | 103 | 65 | 60 | 67 | 22.5 | 61 | 49 | 279 | 151 | 80 | 110 | 340 | 30 | 67 | 46 | 17 | 147 | 1000Nm |
| VLBG 8t M36 | 8 | 3.4 | 77 | 122 | 82 | 70 | 97 | 26.5 | 77 | 63 | 223 | 205 | 110 | 140 | 300 | 36 | 87 | 55 | 22 | 197 | 800Nm |
| VLBG 10t M42 | 10 | 6.7 | 77 | 122 | 82 | 70 | 94 | 26.5 | 77 | 73 | 273 | 205 | 110 | 150 | 350 | 42 | 70 | 65 | 24 | 197 | 1000Nm |
| VLBG 15t M42 | 15 | 11.2 | 95 | 156 | 100 | 85 | 109 | 36 | 87 | 63 | 413 | 230 | 130 | 150 | 500 | 42 | 100 | 65 | 24* | 222 | 1500Nm |
| VLBG 20t M48 | 20 | 11.6 | 95 | 156 | 100 | 95 | 105 | 36 | 87 | 73 | 303 | 230 | 130 | 160 | 350 | 48 | 100 | 75 | 27 | 222 | 2000Nm |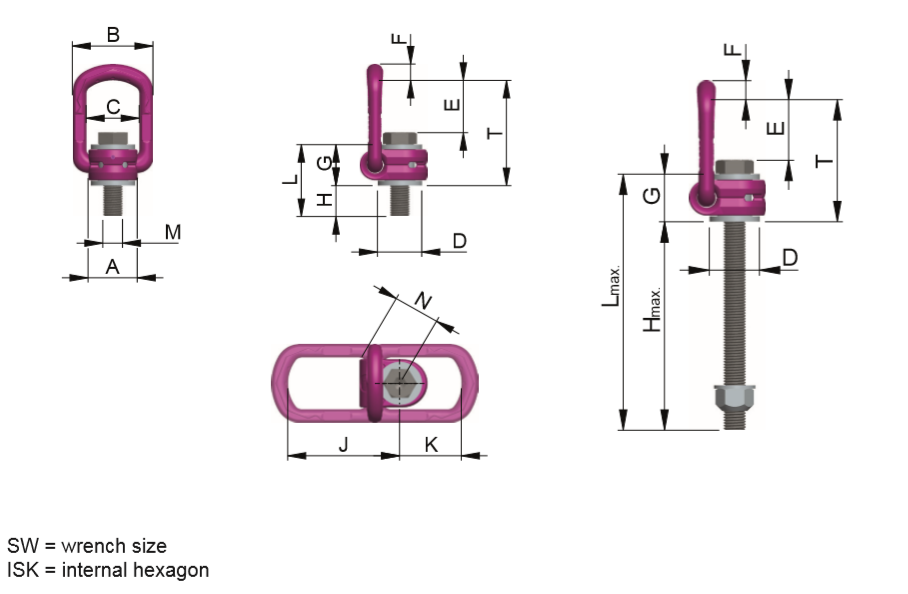 Method of Lift

 

 
 
 
 

 

 
 

 

 
 

Number of legs

1

1

2

2

2

2

2

3 & 4

3 & 4

3 & 4

Angle of inclination <

β

0

°

90

°

0

°

90

°

0-45

°

45-60

°

unsymm.

0-45

°

45-60

°

unsymm.

 

Factor

1

1

2

2

1.4

1

1

2.1

1.5

1

Type

Thread

WLL in metric tons, bolted and adjusted to the direction of pull

 

VLBG 0.63t
M8
0.63
0.63
1.26
1.26
0.88
0.63
0.63
1.3
0.94
0.63
VLBG 0.9t
M10
0.9
0.9
1.8
1.8
1.26
0.9
0
1.9
1.35
0.9
VLBG  1.35t
M12
1.35
1.35
2.7
2.7
1.9
1.35
1.35
2.8
2
1.35
VLBG 1.2t
M14
1.2
1.2
2.4
2.4
1.7
1.2
1.2
2.5
1.8
1.2
VLBG 2t
M16
2
2
4
4
2.8
2
2
4.2
3
2
VLBG 2t
M18
2
2
4
4
2.8
2
2
4.2
3
2
VLBG 3.5t
M20
3.5
3.5
7
7
4.9
3.5
3.5
7.35
5.25
3.5
VLBG 4.5t
M24
4.5
4.5
9
9
6.3
4.5
4.5
9.5
6.75
4.5
VLBG 6.7t
M30
6.7
6.7
13.4
13.4
9.4
6.7
6.7
14
10
6.7
VLBG 8t
M36
8
8
16
16
11.2
8
8
16.8
12
8
VLBG 10t
M42
10
10
20
20
14
10
10
21
15
10
VLBG 15t
M42
15
15
30
30
21
15
15
31.5
22.5
15
VLBG 20t
M48
20
20
40
40
28
20
20
42
30
20