Small Bow Shackle
This standard small bow shackle has a type A screw pin, both the body and pin of the shackle are made from high tensile steel to EN14 or equal.
Small Bow Shackle Options
Lifting Gear Direct can supply these small bow shackles with two different finishes - either self coloured or hot dip galvanised. EC conformity declaration certification is supplied. Galvanisation creates a bit of extra protection and will improve the lifespan of each shackle. We also sell stainless steel shackles, which may be a relevant investment depending on your needs.
Selecting lifting products which are built to last will give you confidence when you add them to an existing assembly, or combine them with other new kit if starting from scratch.
Using this type of Shackle
These small bow shackles may be loaded from an angle but the working load limit will need to be reduced according to the angle of the pulling force, please refer to the table on the main bow shackles page.
If the dimensions of these shackles are not fit for your intended use, then we also offer large bow shackles which are a little more versatile and have a higher maximum load limit.
Our range of small bow shackles include working load limits ranging from 0.5t up to 12.5t with relative size increments of the components through the models. The table below provides all the necessary dimensions you should require.
Safety specs & other Options
With a 5:1 safety factor - MBL = 5x WLL you can be assured of a high quality product. The working load limit of any lifting equipment should be taken into account, since this will be relevant when you look to comply with regulations on lifting safety.
Our full line up of lifting accessories and loose tackle is bursting with brilliant products that are all manufactured and curated with the same care as our shackle range. From pulleys to eye bolts, you have a whole host of options to choose on our site.
For other equipment options, including hoists, cranes and everything in between, look no further than LGD.
Lifting Shackle Tips & Quotes
If you need a bit of a helping hand to get started with your search for the right lifting shackle, the LGD team is on your side. We can be reached when you call 01384 76961, or via our rapid response page where you can email us for advice or a quote.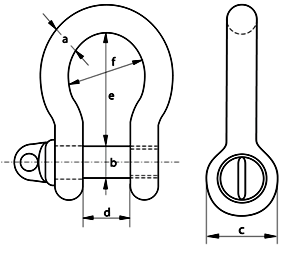 | | | | | | | | |
| --- | --- | --- | --- | --- | --- | --- | --- |
| Working Load Limit | Diameter Bow | Diameter Pin | Diameter Eye | Inside Width | Inside Length | Width Bow | Weight Each |
| tons | a inch | b inch | c inch | d inch | e inch | f inch | kg |
| 0.5 | 3/8 | 1/2 | 1 | 5/8 | 1.1/2 | 7/8 | 0.18 |
| 1 | 1/2 | 5/8 | 1.1/4 | 7/8 | 2 | 1.1/8 | 0.34 |
| 1.5 | 5/8 | 3/4 | 1.1/2 | 1.1/8 | 2.1/2 | 1.1/2 | 0.62 |
| 2 | 3/4 | 7/8 | 1.3/4 | 1.3/8 | 3 | 1.3/4 | 1.05 |
| 3 | 7/8 | 1 | 2 | 1.1/2 | 3.1/2 | 2 | 1.63 |
| 4 | 1 | 1.1/8 | 2.1/4 | 1.3/4 | 4 | 2.3/8 | 2.28 |
| 5 | 1.1/8 | 1.1/4 | 2.1/2 | 2 | 4.1/2 | 2.5/8 | 3.2 |
| 6.25 | 1.1/4 | 1.3/8 | 2.3/4 | 2.1/4 | 5 | 3 | 4.54 |
| 7.5 | 1.3/8 | 1.1/2 | 3 | 2.3/8 | 5.1/2 | 3.1/4 | 5.74 |
| 9.25 | 1.1/2 | 1.3/4 | 3.1/2 | 3.5/8 | 6 | 3.1/2 | 8.51 |
| 10.5 | 1.5/8 | 1.7/8 | 3.3/4 | 2.7/8 | 6.1/2 | 3.7/8 | 11.23 |
| 12.5 | 1.3/4 | 2 | 4 | 3.1/8 | 7 | 4.1/8 | 13.47 |
| 13 | 1.7/8 | 2.1/8 | 4.1/4 | 3.5/8 | 8.3/7 | 5.1/8 | 17.03 |