Stainless Steel Eye Nuts - Metric Tested
Add our metric thread stainless steel eye nuts to your lifting equipment assembly and benefit from the comprehensive load testing that they have undergone, allowing you to work with confidence and in complete safety.

Not all of our lifting accessories are rated to manage specific loads, nor equipped with the advantages of stainless steel. This gives these eye nuts the edge over their untested counterparts. With practical merits and intrinsic good looks, these anchor points provide a double dose of appeal.
Durable and Sturdy
As well as being load tested, these metric thread stainless steel eye nuts are also supplied with an EC declaration of conformity, which is the certificate you need to guarantee that the manufacturer has complied with various international directives when producing this part. That way you can trust that each nut will meet the rated working load limits of between 70kg and 1.8 tonnes that are on offer.
The durability is a little more ethereal as a concept, but basically comes down to the fact that stainless steel will not corrode in environments where moisture is present. The rain can lash down and the sea can rise up, but these eye bolts will show no signs of rust. It is not immune to all types of corrosion, but it does a good job of ensuring an extended lifespan compared with alternative add-ons.
Amazing Lifting Accessories
When it comes to eye bolts, eye nuts and bownuts, you will have a tough time finding a site that offers more product varieties than we do at Lifting Gear Direct. As well as our stainless steel anchor points, you can find metric and BWS thread eye nuts of various sizes. If you then require lifting equipment to combine with these fixtures, we can help. From hoists to winches, we have all your needs covered.
Quotes & Ordering your Stainless Steel Eye Nuts - metric Tested
Even if you have not yet worked out which lifting products are the best option for you, it is sensible to get in touch with our team to talk things through. They can provide quotes, answer questions and give friendly advice when you call 01384 76961. Enter your details here if you would rather communicate quickly and conveniently with LGD via email.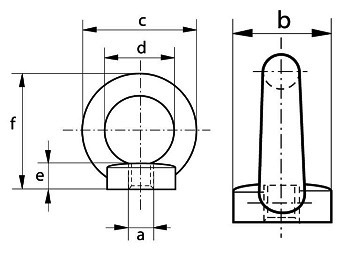 | | | | | | | | |
| --- | --- | --- | --- | --- | --- | --- | --- |
| Working Load Limit | Diameter Thread | Diameter Base | Diameter Eye Outside | Diameter Eye Inside | Tness Base | Height | Weight Per 100 Pieces |
| tonnes | a mm | b mm | c mm | d mm | e mm | f mm | kg |
| 0.07 | 6 | 20 | 36 | 20 | 8.5 | 36 | 5.2 |
| 0.14 | 8 | 20 | 36 | 20 | 8.5 | 36 | 5.2 |
| 0.23 | 10 | 25 | 45 | 25 | 10 | 45 | 9.4 |
| 0.34 | 12 | 30 | 54 | 30 | 11 | 53 | 16 |
| 0.7 | 16 | 35 | 63 | 35 | 13 | 62 | 24 |
| 1.2 | 20 | 40 | 72 | 40 | 16 | 71 | 35.2 |
| 1.8 | 24 | 50 | 90 | 50 | 20 | 90 | 70.6 |