Stainless Steel Eye Nuts - Metric Untested
On most of our lifting equipment and accessory product pages, you will find a table of technical data detailing working load limits, along with other important specifications.

Call 01384 76961 for price.
In the case of these metric thread stainless steel eye nuts, there is no information on the load-bearing capabilities. This is because they are not tested for this purpose, so should not be used for lifting. Instead they are an inexpensive yet durable anchor point that will make more sense from an aesthetic perspective than a lifting one.
Important Considerations for Stainless Steel Eye Nuts – Metric Untested
Since these metric thread eye nuts are untested, they should serve as a decorative addition to projects where lifting is not involved, as we have already discussed. But they are more than just valuable because of their looks; they also bring with them the benefits of stainless steel itself.
If there is even the small chance that the eye nuts you require will be exposed to water, whether in the form of rain, sea spray or other forms of airborne moisture, it makes sense to chose these stainless steel units. They will not rust over as quickly as untreated forms of steel and will therefore last for longer, whether indoors or out.
Meanwhile the metric thread form they can accommodate makes them highly compatible, since this is the most widely used thread. Even without load testing carried out, these eye nuts have lots of perks to provide buyers.
Practical Alternatives
Delve into our range of eye bolts, eye nuts and bow nuts and you will find that many units do come with official load limits that they are guaranteed to fulfil. This includes our fully tested metric stainless steel eye nuts, which are essentially stable mates to this range and can handle loads of up to 1.8 tonnes with ease.
For angular load-bearing purposes, our collared eye bolts will more than make the grade. There are even units with reevable egg links fitted on the eye for added convenience and usability.
Making the call
To speak with one of the Lifting Gear Direct sales team members, give us a ring on 01384 76961. You can get general advice, a competitive quote or other types of assistance when you email us as well.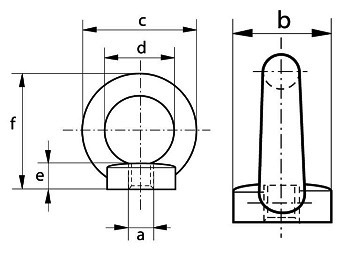 | | | | | | | |
| --- | --- | --- | --- | --- | --- | --- |
| Diameter Thread | Diameter Base | Diameter Eye Outside | Diameter Eye Inside | Tness Base | Height | Weight Per 100 Pieces |
| a mm | b mm | c mm | d mm | e mm | f mm | kg |
| 6 | 20 | 36 | 20 | 8.5 | 36 | 5.2 |
| 8 | 20 | 36 | 20 | 8.5 | 36 | 5.2 |
| 10 | 25 | 45 | 25 | 10 | 45 | 9.4 |
| 12 | 30 | 54 | 30 | 11 | 53 | 16 |
| 16 | 35 | 63 | 35 | 13 | 62 | 24 |
| 20 | 40 | 72 | 40 | 16 | 71 | 35.2 |
| 24 | 50 | 90 | 50 | 20 | 90 | 70.6 |