Stainless Steel Long Shank Eye Bolt with Nut & Washer - Untested
The bright, polished finish of this stainless steel long shank eye bolt with nut & washer makes it stand out alongside duller lifting accessories.

Brand::

Lifting Gear Direct (LGD)

Product Code:

Stainless Steel Long Shank Eye Bolt with N&W - Untested

Availability:

In Stock
Although it has not been tested for load-handling purposes, it does come packaged with a nut and a washer, so it is ready to use straight away and does not need to be combined with anything else to create a sturdy anchor point. So long as you are not looking to lift anything, this eye bolt will be a brilliant ally.
Sticking to Stainless Steel
The appeal of stainless steel is twofold; first it is an eye-catching material that has aesthetic properties worth talking about, second it will rebuff corrosion and survive in a range of industrial and commercial settings.
Stainless Steel Long Shank Eye Bolt With Nut & Washer - Untested
Since these eye bolts are not load tested, lifting is off the cards. We supply long shank dynamo eye bolts that do come with working load limits, so if this is a must-have for you then you do not need to compromise safety by picking these untested examples.
In spite of not being tested, you can still see all of the other technical details relating to these long shank stainless steel eye bolts with nut and washer included below. Looking at the dimensions will let you pick between the range with ease.
Comparing Lifting Accessories
The thing about our lifting equipment line up that is impossible to ignore is how expansive and all-encompassing it is. As well as our stainless steel eye bolts, you can find different collared eye bolts, bownuts and a seemingly never-ending supply of other great products right here.
If you are looking to put together an entire lifting assembly, that is also straightforward. Lifting Gear Direct can manufacture crane and gantry systems including Jib cranes that are built from the ground up for your unique circumstances. All you need to do is think about what you need, compare the products on our site and get in touch with us.
LGD Contact Details
A lot of prospective customers prefer to email LGD when first making contact, as this is a convenient and unobtrusive way to ask a question or get a quote. You can also give us a call on 01384 76961 if you are a fan of using the phone and want to talk to someone who is an expert in all things lifting gear related.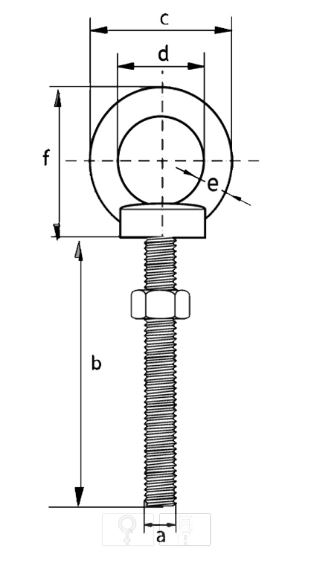 | | | | | | | |
| --- | --- | --- | --- | --- | --- | --- |
| Diameter Thread | Length Thread | Diameter Eye Outside | Diameter Eye Inside | Thickness Eye | Height | Weight Per 100 Pieces |
| a mm | b mm | c mm | d mm | e mm | f mm | kg |
| 6 | 80 | 26 | 16 | 5 | 30 | 3 |
| 8 | 100 | 31 | 19 | 6 | 36 | 7 |
| 10 | 100 | 41 | 25 | 8 | 40 | 13 |
| 12 | 120 | 47 | 27 | 10 | 45 | 24 |