Stainless Steel Dropforged Eye Bolt - Tested
Tested to ensure that they can safely lug loads from A to B, our stainless steel dropforged eye bolts are a reliable lifting option that will blow the competition out of the water in terms of looks alone.

When you factor in the other advantages of stainless steel, they will become even more appealing. With a multitude of different specifications available in this stainless steel eye bolt range, finding the right lifting accessory has never been simpler.
Big on Features - Stainless Steel Dropforged eye bolt
The design of our stainless steel dropforged eye bolt is consistent with other products of this kind, meaning you can use it for tasks where working load limits need to be observed and safe lifting practices are of paramount importance. The capacities offered by this range change according to the dimensions. The tiniest has an inner eye diameter of just two centimetres and is only rated to work with loads of up to 70kg. The most gargantuan has a 4.6 tonne working load limit.
This should give you an idea of what can be achieved using these eye bolts, although if you need more details you can browse the table of technical data further down the page. If you still have unanswered questions, take a look at our contact details and get in touch.
More Perks to Consider
Stainless steel eye bolts which have been load tested and approved for use in lifting tasks have the edge over alternative products thanks to how hard-wearing this material is. The rain, the snow, the sleet and the sea itself will not cause corrosion to accumulate quickly. The reflective surface also has an innate aesthetic appeal, making these anchor points much easier on the eye than you might expect from something so practical.
Sure, you might prefer a collared eye bolt because of its angular load-handling capabilities, or you might choose a lifting shackle for its superior strength. Yet even with these alternatives taken into account, the stainless steel dropforged eye bolt is still a convincing choice in some scenarios.
Happy to help out
You can take your mind off the challenges of ordering the right type of lifting equipment when you call LGD on 01384 76961. You can also use our email form to ask about the eyebolts and other products we sell, or get a quote and find out how much you could save by shopping with us.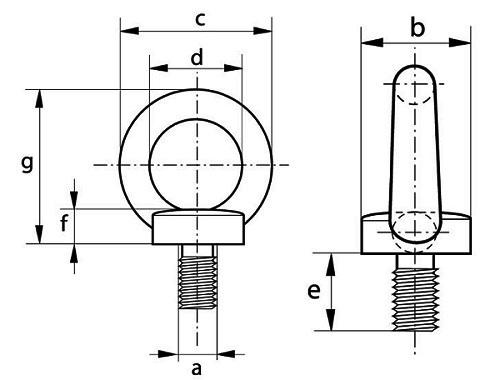 | | | | | | | | | |
| --- | --- | --- | --- | --- | --- | --- | --- | --- |
| Working Load Limit | Diameter Thread | Diameter Base | Diameter Eye Outside | Diameter Eye Inside | Length | Tness Base | Height | Weight Per 100 Pieces |
| tonnes | a mm | b mm | c mm | d mm | e mm | f mm | g mm | kg |
| 0.07 | 6 | 20 | 36 | 20 | 13 | 6 | 36 | 6 |
| 0.14* | 8 | 20 | 36 | 20 | 13 | 6 | 36 | 6 |
| 0.23 | 10 | 25 | 45 | 25 | 17 | 8 | 45 | 10.3 |
| 0.34 | 12 | 30 | 54 | 30 | 20.5 | 10 | 53 | 17.7 |
| 0.49 | 14 | 35 | 63 | 35 | 27 | 12 | 60 | 27.7 |
| 0.70* | 16 | 35 | 63 | 35 | 27 | 12 | 62 | 28 |
| 0.9 | 18 | 40 | 72 | 40 | 30 | 14 | 71 | 40.5 |
| 1.20* | 20 | 40 | 72 | 40 | 30 | 14 | 71 | 42.4 |
| 1.5 | 22 | 45 | 81 | 45 | 35 | 14 | 80 | 67.3 |
| 1.80* | 24 | 50 | 90 | 50 | 36 | 18 | 90 | 83.4 |
| 3.20* | 30 | 65 | 108 | 60 | 45 | 22 | 109 | 166 |
| 4.60* | 36 | 75 | 126 | 70 | 54 | 26 | 128 | 265 |