Stainless Steel Cast Eye Bolts - Not Tested
Call 01384 76961 for price.
While this does make them unsuitable for lifting duties, they are still extremely decorative thanks to their natural shine. They can therefore be used as basic anchor points in construction jobs and other settings, where having an official working load limit is not essential.
Tried & Untested
The inexpensive nature of these cast stainless steel eye bolts does come at a cost, which is of course based on the fact that they are untested, as already mentioned. Thankfully at Lifting Gear Direct we also stock dropforged stainless steel eye bolts which have been put through their paces and come with certified load capacities. This allows us to cater to customers of all kinds, whatever their needs and budgets.
Advantages of the Stainless steel cast eye bolts – not tested
While they may not be built for hauling loads, these eye bolts still leverage the basic perks of stainless steel as a material. Namely, they are able to prevent corrosion from getting a foothold for much longer than usual. This lets them withstand outdoor use with ease, making them simple to maintain as well as cheap to procure.
We can also vouch for their attractiveness, which is perhaps the main selling point after their durability. If you have plans to turn heads with some eye bolts on your next project, stainless steel units are an excellent choice.
Lifting Accessories Galore
The LGD site is packed with great lifting accessories, besides these stainless steel eye bolts. You can find collared eye bolts, lifting slings, load restraints and almost every other type of product imaginable in this marketplace. We can even build bespoke gantry systems to order, along with providing a host of inspection services for LOLER compliance.
Ask us about our Products
Click through to our contact page if you want to send us an email or find out about the other ways to get in touch with us. You can also call us on 01384 76961 and one of our friendly, formidably knowledgeable sales staff will sort you out with a quote. We are experts in lifting gear of all kinds, so do not hesitate to ring if you have a question.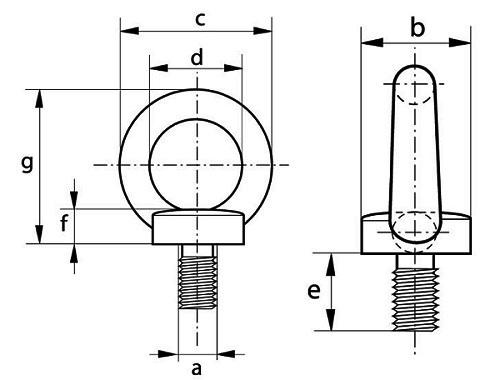 | | | | | | | | |
| --- | --- | --- | --- | --- | --- | --- | --- |
| Diameter Thread | Diameter Base | Diameter Eye Outside | Diameter Eye Inside | Length | Tness Base | Height | Weight Per 100 Pieces |
| a mm | b mm | c mm | d mm | e mm | f mm | g mm | kg |
| 6 | 20 | 36 | 20 | 13 | 6 | 36 | 3 |
| 8 | 20 | 36 | 20 | 13 | 6 | 36 | 6 |
| 10 | 25 | 45 | 25 | 17 | 8 | 45 | 10.3 |
| 12 | 30 | 54 | 30 | 20.5 | 10 | 53 | 17.7 |
| 16 | 35 | 63 | 35 | 27 | 12 | 62 | 28 |
| 20 | 40 | 72 | 40 | 30 | 14 | 71 | 45 |
| 24 | 45 | 90 | 45 | 36 | 18 | 90 | 74 |