Trailer Winch
This manual wire rope winch is made from either standard steel or stainless steel, depending on the model chosen and comes with a spur gear drive and forces up to 800 daN.
Call 01384 76961 for price.
This winch is ideal for applications where electricity is not available or cannot be used for safety reasons. This model is perfect for use as a trailer winch.
Key Features of the Trailer Winch:
steel plate housing and rope drum

bush bearings on drum

compact design

Easy mounting to walls, poles, towers etc.

pivotal handle

Automatic load pressure brake to prevent unintentional lowering of the load.

high vis- powder coated finish

Suitable for use in temperatures of between -10 & +50 degrees.
More Details of the Wire Rope Trailer Winc

h




The HW-C is the standard steel version and the HW-CS is a stainless steel version; the latter wire rope winch offers optimum protection against the elements thanks to its stainless corrosion protection qualities and bronze drum bearings.
The spur gear drive provides excellent efficiency and the automatic load pressure brake provides optimum safety whilst enabling the sensitive lowering of the load. This device even offers protection if releasing the brake is unintentional.
This easy to mount winch can be fitted to walls, columns and poles and are ideal for use in wet or dirty areas as well as where power is not available or hazardous. The operating handle can be pivoted for easier use.
Call LGD
If you would like to place an order or need more advice about your choice of wire rope winch then get in touch via phone or the contact form. Online purchasing may also be available if you see the add to cart icon.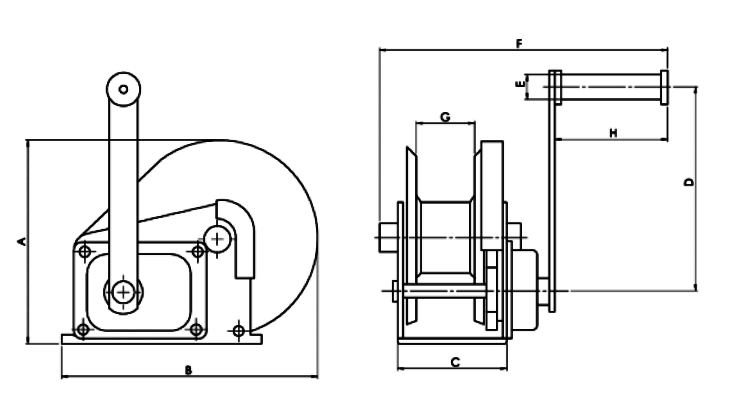 | | | | | |
| --- | --- | --- | --- | --- |
| Reference | HW-C30 | HW-C80 | HW-CS30 | HW-CS80 |
| A | 156 | 216 | 156 | 216 |
| B | 184 | 293 | 184 | 293 |
| C | 88 | 127 | 88 | 127 |
| D | 208 | 319 | 208 | 319 |
| E | 27 | 27 | 27 | 27 |
| F | 273 | 308 | 273 | 308 |
| G | 51 | 63 | 51 | 63 |
| H | 109 | 109 | 109 | 109 |
| | | | | | | | | | |
| --- | --- | --- | --- | --- | --- | --- | --- | --- | --- |
| MODEL | Lifting/pulling Capacity 1st layer | Lifting/pulling capacity top layer | required crank effort 1st layer | Ratio | Recommended Rope Diameter | Minimum breaking load of wire rope | Wire rope storage max. | Number of rope layers max. | Weight without rope |
|   | daN | daN | daN |   | mm | kN | mtr |   | kg |
| HW-C30 | 300 | 120 | 22 | 4.2:1 | 5 | 13.6 | 20 | 9 | 3.8 |
| HW-C80 | 800 | 400 | 20 | 10:01 | 8 | 34.8 | 15 | 7 | 10.1 |
| HW-CS30 | 300 | 120 | 22 | 4.2:1 | 5 | 13.6 | 20 | 9 | 3.8 |
| HW-CS80 | 800 | 400 | 20 | 10:01 | 8 | 34.8 | 15 | 7 | 10.1 |