Stage Winch
This compact wire rope winch has been designed to move loads above people and is fully certified. These winches are ideal for stage use in theatres, TV and film studios and also warehouses.
Call 01384 76961 for price.
The stage winch is a wire rope winch suitable for lifting loads above individuals and conforms to German safety standard BGV C1.
Key Features of the Stage Winch:
At a glance
grooved drum

spring loaded pressure drum for better one layer rope coiling

safety spring double brake system, automatically holds the load in place.
More detail
The stage wince incorporates galvanized side sections for more comfortable and easier handling. The crank handle is fitted with double spring brakes which operate independently of each other to ensure the load is always held safely in all positions.
The drum for the wire rope is grooved with a spring loaded pressure device for smooth, single layer winding. This design will much extend the life of the wire rope which should have a 6mm diameter to work correctly with this winch.
This winch has a spur gear drive for high efficiency and the gear is rated at 2x the nominal load.
Optional extras include a wall bracket and multiple cable grooved drum.
Lifting Gear Direct has many other types of wire rope winches to offer if this particular model in not what you need.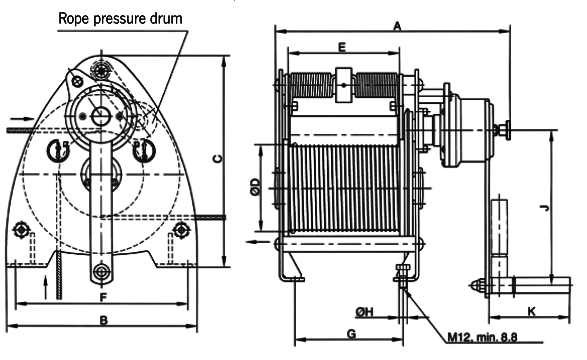 MODEL

SW-K Lambda 300

SW-K Lambda 300

A

379

469

B

310

310

C

340

340

D

Ø

139.4

139.4

E

180

270

F

280

280

G

175

265

H Ø

13

13

J

250

250

K

130

130
Lifting capacity

kg

300

300

Max. Wire rope capacity in 1 layer

m

10

15

Wire rope Ø

mm

6*

6*

Lift per crank rotation

mm

50

50

Weight

kg

30

36

* recommended wire rope: DIN 3060 FE-znk 1770 sZ-spa.

             

?all supplied without wire rope