Wall Mounted Spur Gear Winch
Here we have a wire rope winch ideal for wall mounting, it is well suited to industrial and plant construction as well as agriculture and wholesale applications.
Call 01384 76961 for price.
About the Wall Mounted Winch with Spur gear
This wire rope winch is designed to be used inside and can be easily mounted to a sturdy wall. The self-weight of the winch is relatively low thanks to the aluminium housing which is used on the 2 smallest models. The higher range models are made from steel plate for added durability whilst handling heavier loads.
The spur gears used in this winch enable greater accuracy and the spring brake will safely hold the load in all positions.
The winch incorporates deflection sheaves which guide the wire rope to the necessary suspension point.
Lifting Gear Direct can offer 4 model variations for this wire rope winch with safe working load up to 750kg. If you need a higher capacity winch then browse through our collection or different wire rope winches, there are some with much higher lifting capacities.
A Quick Look at Key Features
external braked safety crank for 300kg to 750kg models
There is a removable hand crank on 125kg model
Aluminium body on the 125kg model
heavy duty steel used for the 300kg to 700kg models.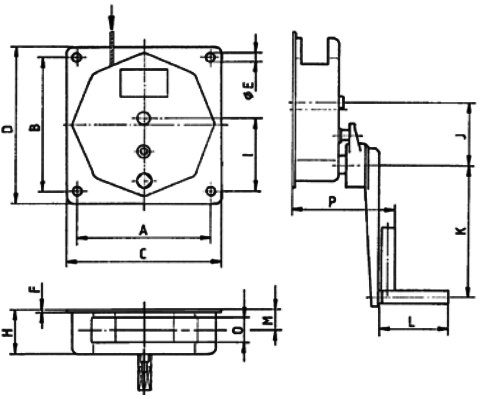 | | | | | | |
| --- | --- | --- | --- | --- | --- |
| Model |   | SW-W 125 | SW-W 300 | SW-W500 | SW-W750 |
| A, | mm | 110 | 250 | 250 | 250 |
| B, | mm | 110 | 250 | 250 | 250 |
| C, | mm | 130 | 290 | 290 | 290 |
| D, | mm | 130 | 290 | 290 | 290 |
| E Ø | mm | 9 | 14.5 | 14.5 | 14.5 |
| F, | mm | 15 | 2 | 2 | 2 |
| H, | mm | 121 | 85 | 85 | 85 |
| I, | mm | 55 | 138 | 138 | 138 |
| J, | mm | – | 117 | 117 | 117 |
| K, | mm | 250 | 250 | 250 | 250 |
| L, | mm | 130 | 130 | 130 | 130 |
| M, | mm | 68 | 39 | 39 | 39 |
| O, | mm | 60 | 50 | 50 | 50 |
| P, | mm | 275 | 192 | 192 | 192 |
| | | | | | | | | | |
| --- | --- | --- | --- | --- | --- | --- | --- | --- | --- |
| MODEL | Capacity 1st layer | capacity top layer | Drum diameter | Rope Diameter | useable rope length 1st layer | useable rope length top layer | lift per crank rotation | required crank effort | weigh without rope |
|   | kg | kg | mm | mm | m | m | mm | daN | kg |
| SW-W125 | 125 | 65 | 40 | 4* | 2 | 12 | 138 | 13 | 3 |
| SW-W300 | 300 | 220 | 108 | 5** | 2.1 | 15 | 68 | 15 | 10 |
| SW-W500 | 500 | 350 | 108 | 6** | 2.4 | 15 | 35 | 13 | 11 |
| SW-W750 | 750 | 550 | 108 | 7** | 2 | 10 | 35 | 20 | 11 |