Heavy Duty Wall Mounted Winch
This heavy duty winch is a wall mountable wire rope winch which is ideal for use in theatres, sports halls and for many industrial applications, it is also a great backup device for a powered appliance or for areas where power is not available or practical.
Call 01384 76961 for price.
About the Heavy Duty Wall Mounted Winch
This wire rope winch is made from robust, fabricated steel plate and is great for heavy duty pulling/winching applications up to 5000kg. Another big benefit is that the wire rope drum, which is also made from steel, is wide and can hold larger capacities of rope whilst boasts two attachment points.
The winch can be easily mounted to a wall for easier operation if required. The worm gear drive and roller bearings also help to ensure smooth operation at all times. The addition of a load pressure brake ensures the load will be held safely.
There are 2 operational speeds to this wire rope winch for the models with a SWL of 200kg and over. The second speed enables smaller loads to be lifted faster but with the lowest possible handle cranking effort required.
Key Features at a Glance:
2 lifting speeds on models over 2000kg

robust steel fabricated frame with a compact design

machine cut worm wheel & shaft, mounted bearings & worm gear drive. 
There are many optional extras available including - grooved drums, multi-compartment drums, drum spooling device, controlled free spooling, air motor & zinc plated.
Visit LGD
If you would like to see more winches to compare then visit our wire rope winches page to see the full line up. Wire rope can also be supplied to your requirements.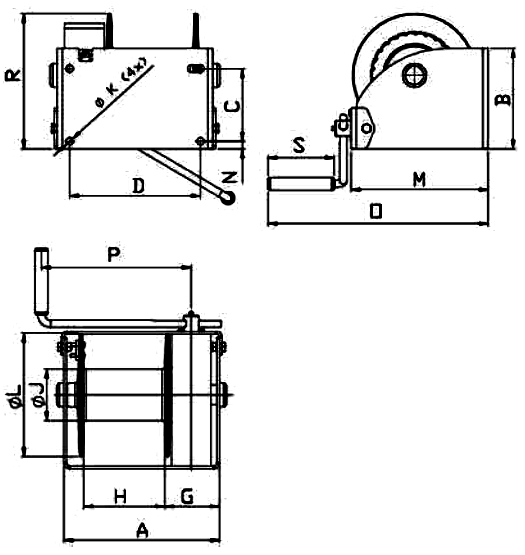 | | | | | | | | | |
| --- | --- | --- | --- | --- | --- | --- | --- | --- |
| Model |   | SGO250 | SGO500 | SGO1000 | SGO1500 | SGO2000 | SGO3000 | SGO5000 |
| A, | mm | 238 | 269 | 302 | 302 | 410 | 436 | 436 |
| B, | mm | 145 | 160 | 195 | 250 | 310 | 365 | 425 |
| C, | mm | 100 | 115 | 141 | 178 | 196 | 251 | 316 |
| D, | mm | 192 | 223 | 254 | 254 | 360 | 386 | 386 |
| G, | mm | 106 | 107 | 110 | 111 | 137 | 137 | 137 |
| H, | mm | 102 | 131 | 160 | 160 | 176 | 204 | 204 |
| J, | mm | 48 | 70 | 102 | 102 | 137 | 165 | 219 |
| K, | mm | 14 | 14 | 17 | 17 | 25 | 25 | 25 |
| L, | mm | 160 | 190 | 240 | 240 | 312 | 376 | 437 |
| M, | mm | 191 | 221 | 266 | 278 | 383 | 443 | 495 |
| N, | mm | 15 | 15 | 15 | 15 | 45 | 47 | 60 |
| O, | mm | 354 | 384 | 429 | 441 | - | - | - |
| P, | mm | 280 | 325 | 350 | 350 | 380 | 380 | 380 |
| R, | mm | 171 | 192 | 264 | 306 | 420 | 427 | 604 |
| S, | mm | 130 | 130 | 130 | 130 | 220 | 220 | 220 |
Model

 

 

SGO250

SGO500

SGO1000

SGO1500

SGO2000

SGO3000

SGO5000

Lifting Capacity

1st layer

kg

250

500

1000

1500

2000

3000

5000

upper layer

kg

100

238

500

850

1100

2000

3300

Wire Rope Ø

 

mm

5*

6*

9*

10*

13*

16*

20*

Wire Rope cap. Upper layer

 

m

44

54

46

38

37

34

33

Lift per crank rotation

 

mm

29

30

21

18

8/16**

7/14**

8/16**

Crank effort - 1st layer

 

daN

6

11

10.6

16

9/18**

12/24**

25.2/50.4**

Weight

 

kg

13

16

26

28

60

78

115