Yale CPA Air Hoist
With a range of lifting capacity and trolley options the Yale CPA Air Hoist could be the perfect lifting hoist for you.
Brand::

YALE

Product Code:

Yale-CPA-Air-Hoist

Availability:

In Stock
Call 01384 76961 for price.
Features of the Yale CPA Air Hoist
The Yale CPA Air Hoist comes in lifting capacities from 125kg up to 980kg. Thee is a heavy duty version available which has lifting capacities of up to 10000kg.
Robust and lightweight for easier transportation with great durability.
Upper and lower limit switches and emergency stop .
Air release brake as standard on CPA-2-31; CPA 5-17 & CPA 10-9.
This pneumatic air hoist operates on 5-7 bar pressures.
The rotating piston motor enables unlimited starts and with a 100% duty rating it is ideal for continuous operation.
The CPA mini incorporates a self adjusting automatic disc brake and with sensitive controls you can precisely position your load.
You must ensure the air supply is filtered and oiled for faultless operation.
Other options include chain containers, manual or powered trolleys, pneumatic trolleys chain controls and Atex rated available on some models.
The Yale CPA mini air hoist can be and is used in many industries including, but not limited to; aircraft, shipyards, off-shore, oil, galvanising plants, paint factories, food industries, paper mills, glass and ceramics and many more.
More Air Hoists & other Hoist Options
Lifting Gear Direct can supply air hoists from other manufacturers such as Red Rooster and JDN (J.D Neuhaus). There are compact models with tool handling options which are great for bench work, high speed air hoists and very heavy duty models with working load limits up to 100 tonne and many models in between so you have a great collection to choose from.
If you haven't got access to an air supply then you would be better with an electric powered hoist. Our range is extensive with models from all the top brand names all at the best prices around. Whats more we also repair, test, inspect and maintain all types of electric hoists.
So whatever your hoisting needs are give us a call on 01384 76961, We can nearly always help.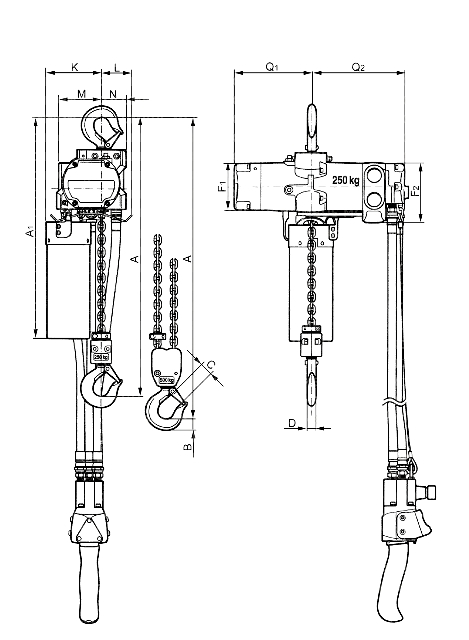 CPA 1-13

CPA 2-10

CPA ATEX 2-31

 

CPA 5-5

CPA ATEX 5-17

CPA 10-9

A (mm)

292

292

457

324

457

457

A1 (mm)

410

410

483

410

483

508

B (mm)

21

21

25

14

25

27

C (mm)

20

20

24

24

24

28

D (mm)

16

16

26

14

26

28

F1 (mm)

90

90

130

90

130

130

F2 (mm)

120

120

180

120

180

180

K (mm)

103

103

146

103

146

165

L (mm)

57

57

102

57

102

83

M (mm)

120

120

114

120

114

135

N (mm)

 

50

54

50

54

25

Q1 (mm)

 

142

162

142

162

162

Q2 (mm)

 

183

181

183

181

181
| | | | | | | |
| --- | --- | --- | --- | --- | --- | --- |
| Model | CPA 2-10 Pneumatic chain hoist | CPA 1-13 Air chain hoist | CPA ATEX 2-31 250kg/1 3m HOL Basic w.PC | CPA 5-5 Pneumatic Chain Hoist | CPA ATEX 5-17 500kg/1 3m HOL Basic w.PC | CPA 10-9 Pneumatic Chain Hoist |
| Description | 250/1 kg 3m HOL | 125/1kg 3m HOL | II 3 GD c IIB T4 | 500/2kg 3m HOL | II 3 GD c IIB T4 | 1000/2kg 3m HOL |
| Number of chain falls | 1 | 1 | 1 | 2 | 1 | 2 |
| Capacity top layer by nominal load (m/min) | 9.8 | 13.1 | 31 | 4.6 | 16.8 | 8.5 |
| Lifting speed without load (m/min) | 17.1 | 17.1 | 52 | 7.9 | 32.3 | 16.2 |
| Lowering speed with rated load (m/min) | 13.7 | 11.3 | 36 | 6.7 | 29.6 | 14.9 |
| Motor power, (kW) | 0,4 | 0,4 | 1,33 | 0,4 | 1,33 | 1,33 |
| Air consumption at nominal load (m3/min) | 0.9 | 0.9 | 1.98 | 0.9 | 1.27 | 1.27 |
| Capacity (kg) | 250 | 125 | 250 | 500 | 500 | 980 |
| Weight at 3 m stroke | 15.4 | 15.4 | 21.8 | 17.2 | 21.8 | 27.7 |