Yale CPV/F 50-4 Electric Hoist with Integrated Trolley
Of all the
CPV/F electric hoists
you can order from Lifting Gear Direct, the 50-4 offers the highest load capacity. The fact that it features an integrated
trolley
is the icing on the cake, letting you optimise your lifting operations immediately.
Brand::

YALE

Product Code:

Yale CPV/F 50-4 Electric Hoist with Integrated Trolley

Availability:

In Stock
Call 01384 76961 for price.
Important info for the CPV/F 50-4 hoist with trolley
To reach the 5000kg capacity that this hoist boasts, Yale has used a total of 4 chainfalls. It can still start and stop smoothly thanks to the well designed internals, while the 2 lifting speeds allow for loads to be shifted at either 4 metres per minute or 1 metre per minute, as the situation dictates.
For the full specifications of this hoist and for details about the performance potential of the integrated beam trolley, use our contact details below to make a request.
A large lifting equipment line up
Lifting Gear Direct does not just deal in electric hoists from Yale; our equipment categories are many and varied, covering everything from custom gantry systems to accessories and beyond.
We also offer material handling products, such as load moving equipment suitable for shifting pallets. You can even encounter height safety kit to keep employees properly protected when they are working in challenging environments.
Find out more about electric hoists
You can get product details, advice and help with any lifting gear query by emailing LGD direct from our website or by giving our sales team a call on 01384 76961. Our advice is friendly, informative and provided quickly and accurately to every customer.
| | |
| --- | --- |
| Model | CPV/CPVF 50-4 |
| A3, mm | 339 |
| A4 (Size I), mm | 631 |
| A4 (Size II), mm | 815 |
| A4 (Size III), mm | 905 |
| A4 (Size IV), mm  | - |
| A5, mm | 656 |
| b, mm | A = 98-180  B = 180-300 |
| H1, mm | 30 |
| H3, mm | 178 |
| H4 (VTG), mm | 149 |
| H4 (VTE), mm | 121 |
| I (Push trolley), mm | 142 |
| I (Geared trolley), mm | 149 |
| L (VTP/VTG), mm | 525 |
| L1, mm | 209 |
| L2 (CPV), mm | 292 |
| L2 (CPVF), mm | 296 |
| L3, mm | 263 |
| L4, mm | 258 |
| O, mm | 125 |
| P, mm | 172 |
| P1, mm | 233 |
| S, mm | b + 70 |
| T, mm | 94 |
| tmax, mm  | 27 |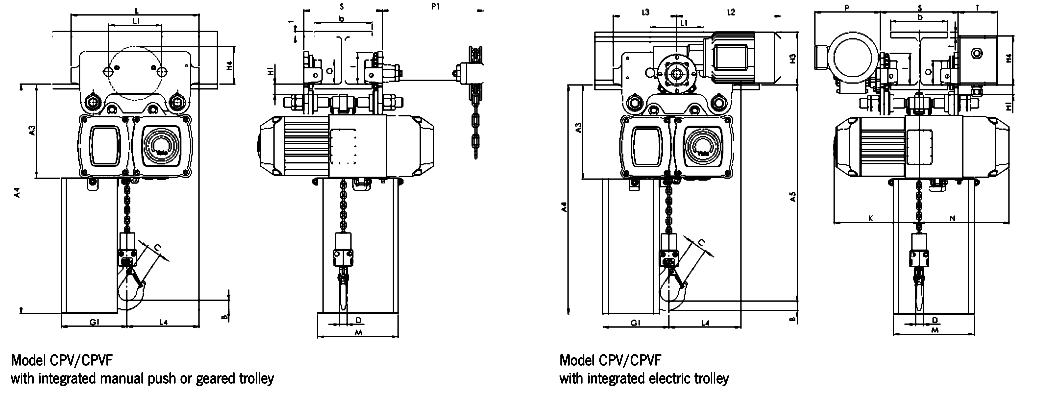 | | | | | | | | | | | |
| --- | --- | --- | --- | --- | --- | --- | --- | --- | --- | --- |
| Model | Capacity in kg/number of chain falls | Chain dimensions d x p (mm) | Classification FEM/ISO | Lifting speed       main lift m/min | Lifting speed fine lift m/min | Hoist Motor (kW) | Motor Rating ED% | Weight suspension lug (KG) | Weight push trolley (KG) | Weight         electric trolley (KG) |
| CPV/F 50-4 | 5000/2 | 11 x 31 | 1Am/M4 | 4 | 1 | 3.6/0.9 | 33/17 |   |   |   |