Yale YCH Double Acting Hollow Cylinders
The YCH by Yale is a double acting hollow hydraulic cylinder with lifting capacities from 33t up to 140tonne.
Brand::

YALE

Product Code:

Yale YCH double acting Hollow Cylinders

Availability:

In Stock
Call 01384 76961 for price.
Hollow centre hole design enables a threaded rod to be inserted to achieve extremely high pulling forces.

MAIN FEATURES of the Yale YCH Double Acting Hollow Cylinders
Hydraulic piston return

2nd oil port

700 bar max operating pressure

large centre hole diameter

interchangable hardened saddle

Inner and outer dirt wipers

hard chromium plated piston

metric mounting threads at cylinder body and inside piston

Oil port thread 3/8 NPT

Carry handles or lifting rings.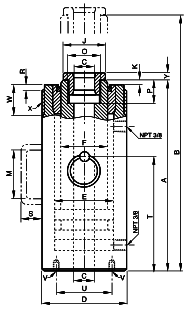 | | | | | | | |
| --- | --- | --- | --- | --- | --- | --- |
| Model | YCH-33/150 | YCH-33/250 | YCH-62/250 | YCH-93/250 | YCH-100/40 | YCH-140/200 |
| A, mm | 300 | 405 | 440 | 450 | 175 | 365 |
| B, mm | 450 | 655 | 690 | 700 | 215 | 565 |
| C, mm | 33 | 33 | 55 | 55 | 55 | 80 |
| D, mm | 114 | 114 | 163 | 193 | 200 | 253 |
| E, mm | 90 | 90 | 130 | 150 | 155 | 195 |
| F, mm | 67 | 67 | 105 | 120 | 125 | 160 |
| J, mm | 62 | 62 | 96 | 110 | 110 | 145 |
| K, mm | 3 | 3 | 5 | 5 | 5 | 5 |
| M, mm | 120 | 120 | – | – | – | – |
| O, mm | M48?x?1.5 | M48?x?1.5 | M78?x?2 | M85?x?2 | M85?x?2 | M115?x?2 |
| P, mm | 30 | 30 | 40 | 45 | 45 | 50 |
| R, mm | 5 | 5 | 5 | 5 | – | – |
| S, mm | 51 | 51 | 24 | 30 | 24 | 30 |
| T, mm | – | – | 290 | 290 | 115 | 240 |
| U, mm | 92 | 92 | 135 | 160 | 165 | 210 |
| V, mm | 4?x?M10 | 4?x?M10 | 4?x?M12 | 4?x?M16 | 4?x?M16 | 4?x?M16 |
| W, mm | 40 | 40 | 50 | 65 | – | – |
| X, mm | M110?x?2 | M110?x?2 | M160?x?3 | M190?x?3 | – | – |
| Y, mm | 10 | 10 | 12 | 15 | 15 | 18 |
Cylinder size (t)

Model

Capacity push (kN)

Capacity pull (kN)

Lift (mm)

Effective plunger area (cm?)

Oil volume max (cm?)

Closed height (mm)

Centre hole diameter (mm)

Cylinder outside diameter (mm)

Weight (KG)

 

33

YCH-33/150

335

180

150

47.9

716

310

33

114

19

33

YCH-33/250

335

180

250

47.9

1200

415

33

114

25

62

YCH-62/250

618

300

250

88.3

2220

452

55

163

55

93

YCH-93/250

930

450

250

133

3320

465

55

193

82

100

YCH-100/40

1000

500

40

143

578

190

55

200

38

140

YCH-140/200

1400

700

200

200.2

4080

383

80

253

115