Yalelift 360 Chain Block
The Yalelift 360 Chain Block is hugely versatile due to the 360 rotating hand chain guide enabling operation from almost any position, including horizontal pulling.
Brand::

YALE

Product Code:

Yalelift 360-Chain Block

Availability:

In Stock
Like all of Yale's other manual chain hoist ranges, it spans a number of different model types, with varied lifting capacities on offer. Read on to get the lowdown on the 360 Chain Block and find out about its key features and benefits, as well as the other kit of this type we sell.
Yalelift 360 Chain Block Design & Capabilities
Useful in confined areas.
The plane between the top & bottom hook must always be in a straight line and deration of the SWL will apply.
Hand wheel cover rotates through 360°
Greater safety due to being able to operate the hoist outside of the danger zone.
The 360 enables you to work from above the load.
Smooth chain operation with great precision.
Available in 7 models, with SWL from 500kg up to 20000kg.
Yalelift 360 Chain Hoist Advantages
The versatility of the 360° hand wheel cover is definitely the main selling point of this chain block range. Lifting equipment safety is a big concern for any business, so being able to put operators out of harm's way during heavy duty manoeuvres makes a major difference. This even applies if they need to be positioned overhead, rather than below the load itself. Almost any hoist configuration is taken into account thanks to this design decision.
The perks of this feature go hand in hand with the overall seamlessness of this hoist's operation. You can be sure that the chain will not snag or stutter, nor the load drop suddenly or tilt erratically. These same benefits will be present whether you pick the entry level 500kg payload 360 chain hoist, or the largest unit with a 20-tonne safe weight limit to its name.
Manual Chain Block Options & Considerations
A chain block like the Yalelift 360 can be an asset for any organisation that is looking to limit workplace injuries. It is just one of many different products we stock in this category, which includes products from Tractel, Tiger, Hacketts and lots of other well known manufacturers. If you need something a little more substantial they taker a look at our range of electric hoists, we have a great range from Yale as well as other leading brands. Air hoists may be another option for you is you have an air power supply.
Talk to us
Its easy to get more help and information from Lifting Gear Direct. You can speak to us directly on 01384 76961 of you may prefer to send us an email with your details and requirements. Emails can be sent either from the contact us page or the rapid enquiry form. Always happy to help!
Model

 

YL500

YL1000

YL2000

YL3000

YL5000

YL10000

YL20000

A min, mm

300

335

395

520

654

825

1065

B,mm

17

22

30

38

45

68

85

C,mm

24

29

35

40

47

68

64

D,mm

133

156

182

220

220

220

303

E,mm

148

175

203

250

250

383

555

F,mm

148

167

194

219

219

219

250

G,mm

139

164

192

225

242

326

391

H,mm

206

242

283

335

352

436

501

I,mm

24

24

31

34

21

136

/

K,mm

61

70

83

95

95

95

396

L,mm

87

97

111

124

124

124

125

M,mm

110

125

156

178

285

401

471

N,mm

 

14

19

22

30

37

50

56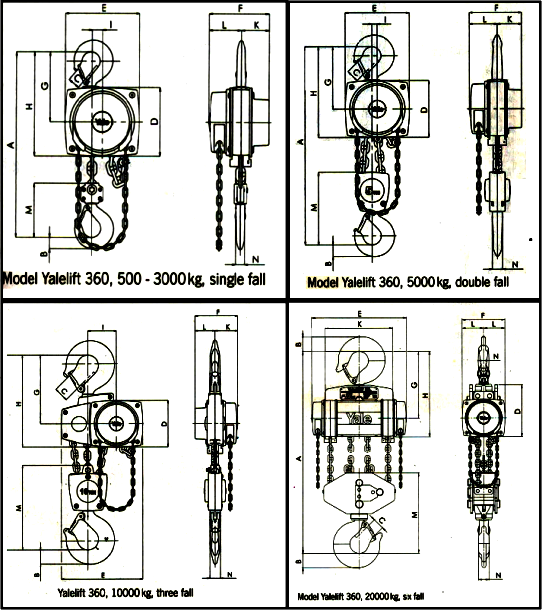 Model

 

Capacity KG

Number of chain falls

 

Chain dimensions d x p mm

Lift per 1m hand chain overhaul mm

 

Pull on hand chain at WLL daN

 

Weight at standard lift (3m) KG

 

YL500

500

1

5 x 15

33

21

9

YL1000

1000

1

6 x 18

20

30

13

YL2000

2000

1

8 x 24

14

32

20

YL3000

3000

1

10 x 30

12

38

29

YL5000

500

2

10 x 30

6

34

38

YL10000

10000

3

10 x 30

4

44

71

YL20000

20000

6

10 x 30

2

2 x 44

196