Yoke Metric Thread Swivel Eye Bolt
Fully rotational with a pivoting anchor ring, the Yoke swivel lifting point offers a means of lifting loads without any evident anchor points.
Brand::

YOKE

Product Code:

Yoke-Metric-thread-Swivel-Eye-Bolt

Availability:

In Stock
Yoke Metric Thread Swivel Eye Bolt Features
Available in 15 models with WLL from 0.3 tonnes up to 20 tonnes
Metric threaded bolts in grade 10.9 alloy (socket head screw to DIN EN ISO 4762)
Incorporating a 90 degree pivoting anchor point and with a full 360 degree rotation all in grade 80 forged alloy steel.
Rated at 100% with an angle of 90 degrees
20,000 cycle fatigue rated to 1.5 x WLL
Magnaflux crack detection = 100%
2.5 x WLL proof loaded

Basics of the Yoke Swivel Eye Bolt

Like all Yoke products these lifting points have been fully tested to ensure top quality and high safety factors. Made and tested to EN1677-1 conformity and certified by DGUV GS-OA 15-04. They also meet ASME B30.26 requirements.

Other testing procedures include proof and fatigue testing to 2.5 and 1.5 x the WLL respectively, giving a safety design factor or 4:1. Magnaflux crack detection has also been completed on this swivel eye bolt to 100%.

Made from individual forged parts and along with the screw cap are all traceable to test certification.

The main body can swivel through the full 360 degrees and the pivoting load ring moves through 90 degrees. This means that many loading angles can be safely achieved with this lifting point, although there may be some amendments to the working load limits required. Please consult the load tables below for complete clarity.

The Yoke swivel eyebolt is particularly suited for use with spreader beams and for lashing point attachments together with lifting slings. They may also be used in mold and die handling situations and also pump and valve handling.

Get in Touch

Should you require some more information or advice you can get in touch with our team at 01384 76961. You can also email us through the contact form. Getting quotes can be done using both methods.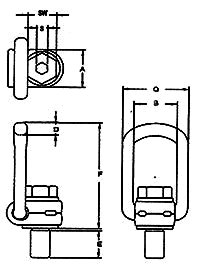 Pa

rt Code

WLL tonnes

B mm

E st. Mm

E ext. Mm

A mm

G mm

D mm

F mm

S mm

SW mm

LGD-211-003

0.3

35

11

76 

30

55

10

85

6

13

LGD-211-006

0.63

35

16

 96

30

55

10

85

8

17

LGD-211-010

1

37

18

 114

33

57

13.5

98

8

19

LGD-211-012

1.2

37

21

 -

33

57

13.5

98

10

24

LGD-211-015

1.5

37

24

 149

33

57

13.5

98

10

24

LGD-211-020

2

54

26

 -

50

82

16.5

140

12

30

LGD-211-025

2.5

54

30

 186

50

82

16.5

140

12

30

LGD-211-040

4

54

36

 221

50

82

16.5

140

14

36

LGD-211-042

4

65

38

 -

60

99

22.5

170

17

41

LGD-211-050

5

65

48

 278

60

99

22.5

170

17

46

LGD-211-070

7

65

54

 -

60

99

22.5

178

22

55

LGD-211-080

8

85

62

 222

77

124

26.5

225

22

55

LGD-211-100

10

85

72

 272

77

124

26.5

225

24

65

LGD-211-150

15

104

63

 264

95

158

36

261

24

65

LGD-211-200

20

104

72

 295

95

158

36

261

27

75
Part Code

WLL tonnes

Torque in Nm

Bolt Size

N.W. KG

 

LGD-211-003

0.3

30

M8 x 1 x 1.25 x 45

0.2

LGD-211-006

0.63

60

M10 x 1.50 x50

0.3

LGD-211-010

1

100

M12 x 1.75 x 60

0.5

LGD-211-012

1.2

120

M14 x 2.00 x 60

0.5

LGD-211-015

1.5

150

M16 x 2.00 x 65

0.5

LGD-211-020

2

200

M18 x 2.00 x 75

1.3

LGD-211-025

2.5

250

M20 x 2.50 x 80

1.3

LGD-211-040

4

400

M24 x 3.00 x 85

1.4

LGD-211-042

4

400

M27 x 3.00 x 110

2.8

LGD-211-050

5

500

M30 x 3.50 x 115

3.1

LGD-211-070

7

700

M36 x 4.00 x 125

3.3

LGD-211-080

8

800

M36 x 4.00 x 140

5.8

LGD-211-100

10

1000

M42 x 4.50 x 150

6.3

LGD-211-150

15

1500

M42 x 4.50 x 160

10.9

LGD-211-200

20

2000

M48 x 5.00 x 170

11.6
WORKING LOAD APPLICATIONS
 

 
 
 
 
 
 
 
 

Number of leg

1

2

1

2

2

2

3-4

3-4

Load Direction

0°

 0°

 90°

 90°

 0-45°

 45-60°

 unsymm.

  0-45°

 45-60°

unsymm.

 LGD-211-003 M8

 0.3

0.6

0.3

0.6

0.42

0.3

0.3

0.63

0.45

 0.3

LGD-211-006 M10

 0.63

 1.26

0.63

1.26

0.88

 0.63

0.63

 1.32

 0.95

 0.63

LGD-211-010 M12

 1.0

2

 1.0

2

 1.4

 1.0

1

 2.1

 1.5

1

LGD-211-012 M14

 1.2

2.4

 1.2

 2.4

1.7

 1.2

1.2

2.5

 1.8

 1.2

LGD-211-015 M16

 1.5

 3.0

 1.5

 3.0

 2.1

 1.5

1.5

 3.1

2.2

1.5

LGD-211-020 M18

 2.0

4

 2.0

4

 2.8

 2.0

2

 4.2

 3.0

 2.0

LGD-211-025 M20

 2.5

 5.0

 2.5

 5.0

 3.5

 2.5

2.5

5.2

 3.7

2.5

LGD-211-040 M24

 4.0

 8.0

 4.0

 8.0

5.6

 4.0

4

8.4

 6.0

4

LGD-211-042 M27

4

 8.0

4

 8.0

 5.6

4

 4.0

 8.4

6

4

LGD-211-050 M30

5

 10.0

 5.0

 10.0

7

 5.0

 5.0

 10.5

7.5

5

LGD-211-070 M36

7

14

7

14

9.8

7

7

14.7

10.5

7

LGD-211-080 M42

8

16

8

16

11.2

8

8

16.8

12

8

LGD-211-100 M42

10

20

10

20

14

10

10

21

15

10

LGD-211-150 M42

15

30

15

30

21

15

15

31.5

22.5

15

LGD-211-200 M48

20

40

20

40

28

20

20

42

30

20