Yoke UNC thread swivel Hoist Ring
The Yoke swivel hoist ring with a UNC thread comes with an alloy steel washer. It rotates fully and includes a pivoting ring for angled loading.
Brand::

YOKE

Product Code:

Yoke UNC thread swivel Hoist Ring

Availability:

In Stock
Yoke UNC thread swivel Hoist Ring features

Available in 10 different WLL. From 800lbs up to 30000lbs
Ideal for heavy loads with multi-directional loading
Full 360◦ rotation
180◦ pivoting drop forged anchor point/ring
Retains 100% capacity at 90◦ angles
Longer shank lengths are available on request.
Easy to install with just 1 tap hole
2.5 x WLL proof loaded + 20,000 cycle fatigue rated at 1.5 x WLL
UNC grade 8 bolt per ASTM A 574
Avoids torsion forces to suspension ring and no friction is transferred to the bolt as it rotates = longer working life.

Yoke UNC Swivel Hoist Ring Basics

The Yoke Swivel hoist ring is a heavy duty attachment point offering great loading flexibility. They are used primarily where no other obvious attachment points are available on the object to be lifted. They are typically used for mold and die handling as well as pump and valve handling scenarios.

This swivel hoist ring has been manufactured to EN1677-1 regulations and has also undergone 100% magnaflux crack detection for high safety levels.

Forged from alloy steel then quenched and tempered for optimum strength you can be confident in this hoist ring's ability.

Other safety checks include being proof tested to 2.5 x the working load limit and fatigue rated to 1.5 x the WLL. It has a 5:1 overall safety factor.

This product is available in a range of thread sizes from 5/16ths to 2 inches, and varying thread lengths. The working load limits range extends right up to 30,000lbs or 13607kg or 13.6 tonnes. The lower part is able to swivel totally at 360 degrees and the ring can pivot through 180 degrees for loading at multiple angles.

Quick and easy to install with just a tapped hole of the required size necessary.

Other eye bolts and Attachment points

We have a vast range of products suitable for use as attachment points. Our range includes collared eye bolts and dynamo eye bolts as well as a full range of swivel fittings. We also sell lifting slings in many varieties including chain slings and components, round slings and webbing slings, all can be made up to suit your task. You can also find our range of other Yoke products in the brand category.

We have a plethora of lifting shackles to choose from to help with connections and we can also supply any type of hoist should you need one.

Get in touch with Lifting Gear Direct today for all your lifting equipment needs.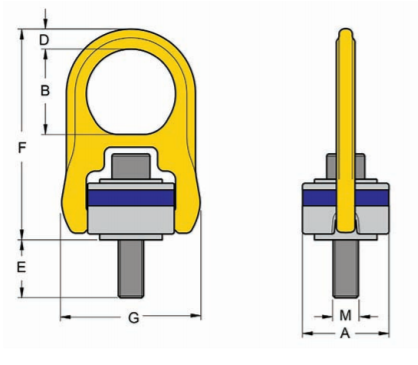 Part code

Dimensions (inch)

 

E

A

B

D

F

G

LGD-204-004

0.7

1.6

1.6

0.4

4.02

2.6

LGD-204-005

0.7

1.6

1.6

0.4

4.02

2.6

LGD-204-010

0.7

2.6

2.3

0.6

6.26

4.1

LGD-204-019

0.7

2.6

2.3

0.6

6.26

4.1

LGD-204-021

0.9

2.6

2.3

0.6

6.26

4.1

LGD-204-042

1.3

3.4

2.9

0.9

8.03

5.3

LGD-204-070

1.3

3.4

2.9

0.9

8.03

5.3

LGD-204-110

2.2

4

3.2

1

8.58

6.3

LGD-204-125

3.2

4.7

4.3

1.4

12.1

8.7

LGD-204-135

3.2

4.7

4.3

1.4

12.1

8.7
Part code

 W.L.L lbs

 Torque Ft-lbs

 Bolt Size

 Weight KG

 

LGD-204-004

800

7

5/16 - 18x2

0.4

LGD-204-005

1000

12

3/8 - 16 x 2

0.5

LGD-204-010

2500

28

1/2 - 13 x 2.5

1.7

LGD-204-019

4000

60

5/8 - 11 x 2.5

1.8

LGD-204-021

5000

100

3/4 - 10 x 2.75

1.9

LGD-204-042

8000

160

7/8 - 9 x 3.5

4.2

LGD-204-070

10000

230

1 - 8 x 3.5

6.7

LGD-204-110

15000

470

1-1/4 - 7 x 4.5

15.5

LGD-204-125

24000

800

1-1/2 - 6 x 6.5

16.5

LGD-204-135

30000

1100

2 - 4.5 x 6.5

16.8
WORKING LOAD APPLICATIONS
 

 
 
 
 
 
 
 
 

Number of leg

1

2

1

2

2

2

3/4

3/4

Load Direction

0°

 0°

 90°

 90°

 0-45°

 45-60°

 unsymm.

  0-45°

 45-60°

unsymm.

 LGD-204-004 5/16"

 800

1600

800

1600

 1120

 800

800

1680

 1200

800

 LGD-204-005 3/8"

 1000

 2000

1000

 2000

1400

1000

1000

2100

 1500

1000

 LGD-204-010 1/2"

 2500

5000

 2500

 5000

 3500

 2500

 2500

 5250

 3750

2500

 LGD-204-019 5/8"

4000

8000

4000

 8000

 5600

4000

4000

 8400

 6000

4000

 LGD-204-021 3/4"

5000

10000

 5000

10000

 7000

5000

5000

10500

 7500

5000

 LGD-204-030 3/4"

 7000

 14000

7000

14000

 9800

7000

 7000

 14700

 10500

7000

 LGD-204-042 7/8"

 8000

 16000

8000

 16000

 11200

 8000

8000

 16800

 12000

 8000

 LGD-204-045 1"

 10000

 20000

 10000

 20000

 14000

 10000

 10000

 21000

 15000

 10000

 LGD-204-070 1-1/4"

15000

 30000

 15000

 30000

 21000

 15000

15000

 31500

 22500

 15000

 LGD-204-125 1-1/2"

24000

 48000

 24000

 48000

 33600

 24000

 24000

50400

 36000

24000

 LGD-204-135 2"

30000

60000

30000

60000

42000

30000

30000

63000

45000

30000