Yoke Metric Thread Swivel Hoist Ring
This is a metric thread swivel hoist ring by the Yoke brand. We also supply this in a UNC threaded version.
Brand::

YOKE

Product Code:

Yoke Metric thread Swivel Hoist Ring

Availability:

In Stock
About the Yoke Metric Thread Swivel Hoist Ring
Available in 10 different models with torques from 10Nm up to 1350Nm; and with various bolt sizes
360 degree swivel action with a 180 degree pivoting anchor ring.
self aligns to loads pull - multi directional.
Extended shanks available.
metric grade 12.9 per DIN EN ISO 4762
Ball bearing construction for smooth rotation.
Proof load tested to 2.5 x WLL plus a 20,000 cycle fatigue rating to 1.5 x WLL
suspension ring avoids torsion forces and no friction is transferred to bolt.

Yoke Swivel Hoist Ring Metric Thread Basics

With full 360 degree rotation and a load ring that pivots through 180 degrees the Yoke swivel hoist ring offers a heavy duty attachment point with good flexibility. It enables lifting operations to be carried out at a wide range of pulling angles although some of these may incur a working load limit reduction.

This usually occurs when you are using more than one hoist ring at opposite ends of the load and the sling legs pull at an angle to a central masterlink. You should always refer to the slinging charts where you will see the maximum safe working loads for each type of lift.

The yoke metric thread hoist ring undergoes stringent testing which includes crack detection )100% magnaflux) and fatigue testing to 1.5 times the WLL. They are also proof tested to two and a half times the safe working load limit giving a 4:1 safety factor rating. Meeting all the relevant requirements you can be certain of high quality and safety.

Sizes Available

Lifting Gear Direct can supply these hoist rings in a range of sizes from M8 to M48 and with varying thread lengths. The largest in the range boasts a maximum safe working load limit of 13.5 tonnes for a 5:1 factor or 16.9 tonnes at a 4:1 factor.

These lifting points are typically used where a load has no apparent points where you might attach a lifting sling. They are relatively simple to fit, all that is needed is a tapped hole to suit the thread size. Follow the manufacturers guide to ensure it is fitted correctly end double check its secure before use.

Contact us is you need any more help.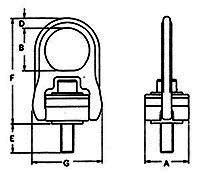 | | | | | | | |
| --- | --- | --- | --- | --- | --- | --- |
| Part code | E mm | A mm | B mm | D mm | F mm | G mm |
| LGD-203-004 | 17 | 40 | 41 | 9 | 102 | 65 |
| LGD-203-005 | 11 | 40 | 41 | 9 | 102 | 65 |
| LGD-203-010 | 15 | 65 | 64 | 15 | 158 | 105 |
| LGD-203-019 | 20 | 65 | 64 | 15 | 158 | 105 |
| LGD-203-021 | 25 | 65 | 64 | 15 | 158 | 105 |
| LGD-203-042 | 26 | 85 | 79 | 19 | 204 | 134 |
| LGD-203-070 | 81 | 100 | 100 | 25 | 241 | 160 |
| LGD-203-110 | 76 | 120 | 111 | 30 | 286 | 194 |
| LGD-203-125 | 95 | 120 | 111 | 30 | 286 | 194 |
| LGD-203-135 | 105 | 120 | 111 | 30 | 286 | 194 |
| | | | |
| --- | --- | --- | --- |
| Part code | Torque Nm | Bolt Size | Mass KG |
| LGD-203-004 | 10 | M8x1.25x50 | 0.4 |
| LGD-203-005 | 16 | M10x1.50x45 | 0.5 |
| LGD-203-010 | 38 | M12x1.75x60 | 1.7 |
| LGD-203-019 | 81 | M16x2.00x65 | 1.8 |
| LGD-203-021 | 136 | M20x2.50x70 | 1.9 |
| LGD-203-042 | 312 | M24x3.00x80 | 4.2 |
| LGD-203-070 | 637 | M30x3.50x135 | 6.7 |
| LGD-203-110 | 1005 | M36x4.00x160 | 15.5 |
| LGD-203-125 | 1005 | M42x4.50x175 | 16.5 |
| LGD-203-135 | 1350 | M48x5.00x190 | 16.8 |
WORKING LOAD APPLICATIONS
 

 
 
 
 
 
 
 
 

Number of leg

1

2

1

2

2

2

3/4

3/4

Load Direction

0°

 0°

 90°

 90°

 0-45°

 45-60°

 unsymm.

  0-45°

 45-60°

unsymm.

LGD-203-004 M8

 0.50

1

0.5

 1.00

 0.70

 0.50

0.5

1.05

 0.75

 0.50

 LGD-203-005 M10

 0.55

 1.10

 0.55

 1.10

 0.77

 0.55

 0.55

 1.16

 0.83

 0.55

 LGD-203-010 M12

 1.30

2.6

 1.30

 2.60

 1.82

 1.30

 1.30

 2.73

 1.95

 1.30

 LGD-203-019 M16

 2.40

 4.80

 2.40

 4.80

 3.36

 2.40

 2.40

 5.04

 3.60

 2.40

 LGD-203-021 M20

 2.70

 5.40

 2.70

 5.40

 3.78

 2.70

 2.70

 5.67

 4.05

 2.70

 LGD-203-042 M24

 5.25

 10.50

 5.25

 10.50

 7.35

 5.25

 5.25

 11.03

 7.88

 5.25

 LGD-203-070 M30

 8.75

 17.50

 8.75

 17.50

 12.25

 8.75

 8.75

 18.38

 13.13

 8.75

 LGD-203-110 M36

 13.75

 27.50

 13.75

 27.50

 19.25

 13.75

 13.75

 28.88

 20.63

 13.75

 LGD-203-125 M42

15.6

 31.20

 15.60

 31.20

 21.84

 15.60

 15.60

 32.76

 23.40

 15.60

 LGD-203-135 M48

16.9

 33.80

 16.90

 33.80

 23.66

 16.90

 16.90

 35.49

 25.35

 16.90