Yoke UNC thread Swivel Eye Bolt
Offering the Swivel eye bolt with UNC thread from our vast range of swivel eye bolts here at Lifting Gear Direct.
Brand::

YOKE

Product Code:

Yoke UNC thread Swivel Eye Bolt

Availability:

In Stock
Yoke UNC thread Swivel Eye Bolt Features
Available in 9 WLL from 2200lbs up to 44000lbs
90◦ pivoting anchor point
360◦ rotation
tempered, forged alloy steel
Bolts are UNC thread - ASME/ANSI B18.3.1M grade 10.9 alloy socket head screw per DIN EN ISO 4762
100% rated at 90◦ angle
Proof loaded to 2.5 x WLL
100% magnaflux crack detection

Yoke UNC Swivel Eye Bolt Basics

These lifting points can be utilized individually for a straighter lift of in multiples for higher load limits or more angled lifting scenarios. You must refer to the manufacturers tables to ensure the safe working load for the type and angle of lift you are using are not exceeded.

Common uses for this swivel lifting point include die handling and handling pumps and valves. They are also suitable for use with a spreader beam and are ideal for use as a lashing point. These are simple to fit with just a tapped hole needed, making sure this is of the right size for the bolt.

Lifting Gear Direct can supply this in a range of sizes with threads starting at 1/2" and going up to 1-1/2". The largest can handle maximum loads of 8 tonnes. The length of the thread will vary between the sizes. You can find out all the technical specifications below.

Yoke swivel lifting points are compliant in all required areas ensuring quality and safety. They have been proof tested to 2.5 x the working load limit and have a design factor of 4:1.

Other Eye Bolts

We can supply a wide range of eye bolts to suit a variety of needs. Our range doesn't just include these swivel eye bolts and lifting points but includes a vast collection of the more standard type, such as collared and dynamo eyebolts. We also have a few special types of eyebolts for more special applications.




Lifting slings of all types and lifting shackles can all be supplied by Lifting Gear Direct to suit your requirements. Should you need any hoisting equipment, we can help there too. So whatever your lifting needs are, get in touch or buy online today, we always have the lowest prices.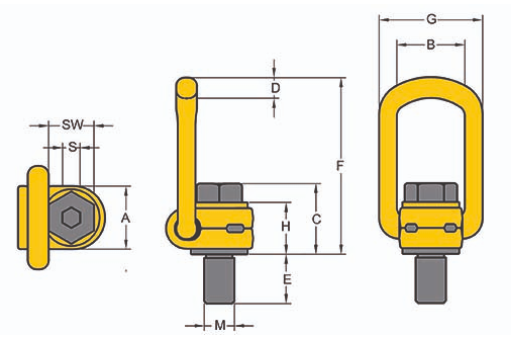 | | | | | | | | | | |
| --- | --- | --- | --- | --- | --- | --- | --- | --- | --- |
| Part Code | WLL lbs | B inch | E inch | A inch | G inch | D inch | F inch | S inch | SW inch |
| LGD-212-010 | 2200 | 1.46 | 0.84 | 1.3 | 2.24 | 0.53 | 3.86 | 3/8 | 3/4 |
| LGD-212-015 | 3300 | 1.46 | 1.02 | 1.3 | 2.24 | 0.53 | 3.86 | 1/2 | 15/16 |
| LGD-212-020 | 5500 | 2.13 | 1.29 | 1.97 | 3.23 | 0.65 | 5.51 | 5/8 | 1.125 |
| LGD-212-025 | 5500 | 2.13 | 1.47 | 1.97 | 3.23 | 0.65 | 5.51 | 3/4 | 1.3125 |
| LGD-212-040 | 8800 | 2.13 | 1.67 | 1.97 | 3.23 | 0.65 | 5.51 | 3/4 | 1.5 |
| LGD-212-050 | 11000 | 2.56 | 1.93 | 2.36 | 3.9 | 0.89 | 6.69 | 7/8 | 1.875 |
| LGD-212-080 | 17000 | 3.35 | 2.26 | 3.03 | 4.88 | 1.04 | 8.86 | 1 | 2.25 |
| LGD-212-150 | 33000 | 4.09 | 2.69 | 3.74 | 6.22 | 1.42 | 10.28 | 1.25 | 2.625 |
| LGD-212-200 | 44000 |  4.09 | 3.28 | 3.74 | 6.22 | 1.42 | 10.28 | 1.5 | 3 |
Part Code

WLL lbs

Torque in Ft-lbs

Bolt Size

N.W. KG

 

LGD-212-010

2200

73

1/2 - 13 x 2.3

0.5

LGD-212-015

3300

110

5/8 - 11 x 2.5

0.5

LGD-212-020

5500

185

3/4 - 10 x 3.0

1.3

LGD-212-025

5500

221

7/8 - 9 x 3.3

1.3

LGD-212-040

8800

295

1 - 8 x 3.5

1.4

LGD-212-050

11000

368

1 1/4 - 7 x 4.5

3.1

LGD-212-080

17000

585

1 1/2 x 6 x 5.5

5.8

LGD-212-150

33000

1107

1 3/4 - 5 x 6.5

10.9

LGD-212-200

44000

1476

2 - 4.5 x 7

11.6
WORKING LOAD APPLICATIONS
 

 
 
 
 
 
 
 
 

Number of leg

1

2

1

2

2

2

3/4

3/4

Load Direction

0°

 0°

 90°

 90°

 0-45°

 45-60°

 unsymm.

  0-45°

 45-60°

unsymm.

 LGD-212-010 1/2"

 2200

4400

2200

4400

 3080

2200

2200

4620

 3300

2200

LGD-212-015 5/8"

 3300

 6600

3300

 6600

4620

3300

3300

6930

 4950

3300

 LGD-212-020 3/4"

 5500

11000

 5500

 11000

 7700

5500

 5500

11550

 8250

5500

 LGD-212-025 7/8"

5500

11000

5500

 11000

 7700

5500

5500

11550

8250

5500

 LGD-212-040 1"

8800

17600

8800

17600

 12320

8800

8800

18480

 13200

8800

 LGD-212-050 1-1/4"

 11000

 22000

11000

22000

 15400

11000

 11000

 23100

 16500

11000

LGD-212-080 1-1/2"

 17000

 34000

17000

 34000

 23800

 17000

17000

35700

 25500

 17600

LGD-212-150 1-3/4"

 33000

 66000

 33000

 66000

 46200

33000

33000

69300

 49500

33000

LGD-212-200 2"

44000

88000

44000

 88000

 61600

44000

44000

 92400

66000

44000