Forklift Jib Arm - Contact FMJ
The FMJ Jib arm has a raised height offering even more height for the lift. Make more use of your forklift truck and buy today at great prices from Lifting Gear Direct.
Brand::

Contact

Product Code:

Contact FMJ

Availability:

In Stock
Call 01384 76961 for price.
One of many forklift jib arms made by the experts at Contact, this range includes nine different models built to suit trucks of specific capacities, ensuring that there is plenty of choice for customers with different operations to complete.
Specifications & benefits of the FMJ Forklift Jib Arm
The beam has a fixed length of 1800mm and it possesses 4 placement holes for anchoring the hook, the first is at 1000mm, then at 1250mm, 1500mm and the last is at 1750mm, offering extremely good versatility.
Incorporating large pockets to allow driving the truck straight in, then using the heel pins to secure in place.
The lifting capacity will largely depend on the capacity of your truck and also the placement of the hook. (the hook nearest the forks can lift higher capacities than the hole at the very end; see table below)
Why use a jib arm on a forklift truck?
With the help of a jib attachment, you can make a forklift truck much more versatile as a piece of material handling equipment.
In the case of the FMJ from Contact, this means you can quickly add a crane-style lifting solution, complete with an integrated hook. This allows it to be attached to loads by a shackle and any other compatible equipment and accessories.
There are several different types of forklift jib arm available on the Lifting Gear Direct site, including models which offer adjustability as well as those like the FMJ which are fixed in place.
Alternatives
The load you need to move with your forklift might not suit a jib arm setup, in which case our other attachments might come into play.
We offer tipping skips as well as hook attachments and even extensions so that no matter the nature of the load, you should be able to accommodate it with our help.
Speak with an expert
LGD has a sales team standing by to deal with queries, questions and requests for quotes, so get in touch with them today by emailing your details or giving us a call on 01384 76961 for all the help you need.
| | | | | | | |
| --- | --- | --- | --- | --- | --- | --- |
| Model | Truck capacity (KG) | A hook height (mm) | Weight (KG) | C of G (mm) | D fork spread (mm) | Max fork section (mm) |
| FMJ 500-0.8 | 1000 | 70 | 102 | 649 | 546 | 150x50 |
| FMJ 500-1 | 1300 | 70 | 102 | 649 | 546 | 150x50 |
| FMJ 500-1.3 | 1500 | 70 | 102 | 649 | 546 | 150x50 |
| FMJ 500-1.8 | 2000 | 70 | 102 | 649 | 546 | 150x50 |
| FMJ 500-2.2 | 2500 | 70 | 102 | 649 | 546 | 150x50 |
| FMJ 500-2.7 | 3000 | 70 | 118 | 693 | 546 | 150x50 |
| FMJ 500-3.1 | 3500 | 70 | 118 | 693 | 546 | 150x50 |
| FMJ 500-3.5 | 4000 | 70 | 118 | 693 | 546 | 150x50 |
| FMJ 500-4.4 | 5000 | 70 | 118 | 693 | 546 | 150x50 |
Model

Capacity (KG) @ load centre (mm)

 

1000

1250

1500

1750

LLJ 500-0.8

500

380

310

230

LLJ 500-1

630

470

390

280

LLJ 500-1.3

680

500

450

380

LLJ 500-1.8

1100

900

720

580

LLJ 500-2.2

1400

1100

1000

850

LLJ 500-2.7

1450

1200

1100

900

LLJ 500-3.1

1900

1500

1200

1000

LLJ 500-3.5

2000

1600

1300

1100

LLJ 500-4.4

2700

2200

1850

1400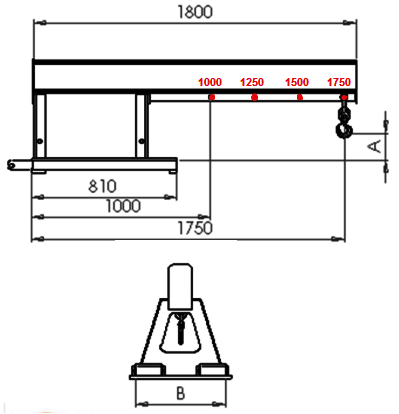 Model

Suitable for minimum truck capacity (KG)

Capacity at first hole (KG)

First & last hole positions (mm)

 

FMJ 500-0.8

1000

500

1000/1750

FMJ 500-1

1300

630

1000/1750

FMJ 500-1.3

1500

680

1000/1750

FMJ 500-1.8

2000

1100

1000/1750

FMJ 500-2.2

2500

1400

1000/1750

FMJ 500-2.7

3000

1450

1000/1750

FMJ 500-3.1

3500

1900

1000/1750

FMJ 500-3.5

4000

2000

1000/1750

FMJ 500-4.4

5000

2700

1000/1750