Contact CMX Extending Jib Arm (carriage mounted)
The CMX is an extending Jib Arm intended for mounting onto the carriage of a forklift truck, meaning the forks will need to be removed.
Brand::

Contact

Product Code:

Contact CMX

Availability:

In Stock
Call 01384 76961 for price.
About the Contact CMX Extending Jib Arm
Carriage mounting means they are ideal if the Jib arm is needed for long periods (and the forks are not)
Extending from 2000mm to 3000mm the longer reach offers more versatile load handling.
Consists of a wide carriage back plate to minimise sideways movement. Carriage mounting enables thr truck to get closer to the load.
SWL rated according to truck capacity, and lidting hook position.
Model

Weight (KG)

C of G min (mm)

C of G max (mm)

 

Model

Capacity (KG) @ load ctrs (mm)

CMX 500-1.8

125

670

870

 

 

500

750

1000

1250

1500

1750

2000

2250

2500

2750

3000

CMX 500-2.2

125

670

870

CMX 500-1.8

1800

1400

1100

900

720

580

500

360

330

260

210

CMX 500-2.7

210

705

905

CMX 500-2.2

2200

1800

1400

1100

1000

850

750

560

440

320

230

CMX 500-3.1

210

705

905

CMX 500-2.7

2700

2050

1450

1200

1100

900

840

670

490

360

270

CMX 500-3.5

212

705

905

CMX 500-3.1

3100

2500

1900

1500

1200

1000

900

730

580

450

370

CMX 500-4.4

 

212

705

905

CMX 500-3.5

3500

2700

2000

1600

1300

1100

1000

820

670

540

460

    

CMX 500-4.4

 

4400

3400

2700

2200

1850

1400

1100

900

750

620

500
Model

Truck capacity (KG)

A hook height (mm)

B closed length (mm)

C open length (mm)

Carriage class

 

D carriage width (mm)

E carriage height (mm)

 

CMX 500-1.8

2000

44

2000

3000

2

400

500

CMX 500-2.2

2000

33

2000

3000

2

400

500

CMX 500-2.7

3000

121

2000

3000

3

500

600

CMX 500-3.1

3500

133

2000

3000

3

500

600

CMX 500-3.5

4000

107

2000

3000

3

500

600

CMX 500-4.4

 

5000

107

2000

3000

3

500

600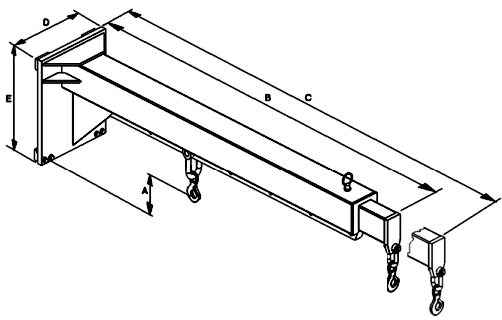 Model

Suitable for min. Truck capacity (KG)

Capacity at first hole (KG)

 

First & last hole positions (mm)

Carriage class

CMX 500-1.8

2000

1800

500/3000

2

CMX 500-2.2

2500

2200

500/3000

2

CMX 500-2.7

3000

2700

500/3000

3

CMX 500-3.1

3500

3100

500/3000

3

CMX 500-3.5

4000

3500

500/3000

3

CMX 500-4.4

 

5000

4400

500/3000

3