Contact ECJ Economy Jib Arm (carriage mounted)
Fit the Contact ECJ Economy Jib Arm to the carriage of your fork lift truck to enable longer reaching lifts.
Brand::

Contact

Product Code:

Contact ECJ

Availability:

In Stock
Call 01384 76961 for price.
About the Forklift Carriage Mounted Contact ECJ Economy Jib Arm 
The ECJ is a basic Jib arm with a single position hook that is mounted to the forklift trucks carriage in place of the forks.
Lifting capacity rated according to truck's capacity.
1250mm fixed beam length and wide back plate for stability.
Ideal for engine removal, tool changing or similar tasks.
Model

Truck capacity (KG)

Carriage class

 

A

B

C

ECJ 500-0.8

1000

2

500mm

400mm

1200mm

ECJ 500-1.3

1500

2

500mm

400mm

1200mm

ECJ 500-1.8

2000

2

500mm

400mm

1200mm

ECJ 500-2.2

2500

2

500mm

400mm

1200mm

ECJ 500-2.7

3000

3

600mm

400mm

1200mm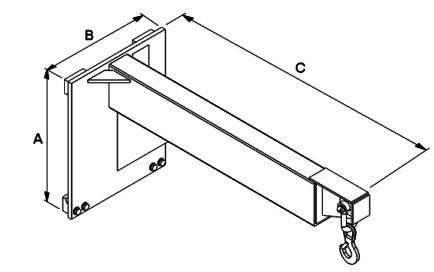 Model

Suitable for min. Truck capacity (KG)

Capacity (KG)

 

Carriage class

ECJ 500-0.8

1000

380

2

ECJ 500-1.3

1500

500

2

ECJ 500-1.8

2000

900

2

ECJ 500-2.2

2500

1100

2

ECJ 500-2.7

3000

1200

3