Contact ERJ Easy Reach Jib Arm (carriage mounted)
Make better use of your fork lift truck with the easy reach Jib arm, lift loads the smart way!
Brand::

Contact

Product Code:

Contact ERJ

Availability:

In Stock
Call 01384 76961 for price.
About the Contact ERJ Carriage Mounted Easy Reach Jib Arm 
The ERJ easy reach jib arm fits directly to the carriage of a forklift truck (replacing the forks)
With a fixed beam length or 1800mm and a low profile design the ERJ is ideal for confined areas.
Many positions along the arm for hook mounting.
Wide back plate for good stability.
Model

Weight (KG)

C of G (mm)

 

Model

Capacity (KG) @ load ctrs (mm)

ERJ 500-0.8

75

450

 

 

500

750

1000

1250

1500

1750

ERJ 500-1

80

450

ERJ 500-0.8

800

650

500

380

310

230

ERJ 500-1.3

83

450

ERJ 500-1

1000

800

630

470

390

280

ERJ 500-1.8

83

602

ERJ 500-1.3

1300

900

680

500

450

380

ERJ 500-2.2

88

602

ERJ 500-1.8

1800

1400

1100

900

720

580

ERJ 500-2.7

95

715

ERJ 500-2.2

2200

1800

1400

1100

1000

850

ERJ 500-3.1

98

730

ERJ 500-2.7

2700

2050

1450

1200

1100

900

ERJ 500-3.5

120

765

ERJ 500-3.1

3100

2500

1900

1500

1200

1000

ERJ 500-4.4

130

920

ERJ 500-3.5

3500

2700

2000

1600

1300

1100

ERJ 500-5

145

970

ERJ 500-4.4

4400

3400

2700

2200

1850

1400

ERJ 500-5.5

150

1070

ERJ 500-5

4400

3400

2700

2200

1850

1400

 

 

ERJ 500-5.5

5500

4050

3250

2750

2400

2050
Model

Truck capacity (KG)

A hook height (mm)

B Last hole (mm)

Carriage class

 

C carriage width (mm)

D carriage height (mm)

 

ERJ 500-0.8

1000

38

1750

2

400

500

ERJ 500-1

1300

38

1750

2

400

500

ERJ 500-1.3

1500

17

1750

2

400

500

ERJ 500-1.8

2000

-2

1750

2

400

500

ERJ 500-2.2

2500

1

1750

2

400

500

ERJ 500-2.7

3000

234

1750

3

500

600

ERJ 500-3.1

3500

221

1750

3

500

600

ERJ 500-3.5

4000

195

1750

3

500

600

ERJ 500-4.4

5000

185

1750

4

500

750

ERJ 500-5

5500

185

1750

4

500

750

ERJ 500-5.5

6000

44

1750

4

500

750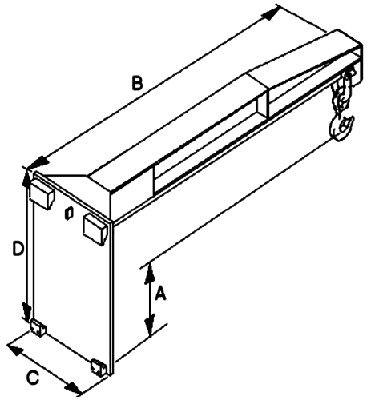 Model

Suitable for min. Truck capacity (KG)

Capacity at first hole (KG)

 

First & last hole positions (mm)

Carriage class

ERJ 500-0.8

1000

800

500/1750

2

ERJ 500-1

1300

1000

500/1750

2

ERJ 500-1.3

1500

1300

500/1750

2

ERJ 500-1.8

2000

1800

500/1750

2

ERJ 500-2.2

2500

2200

500/1750

2

ERJ 500-2.7

3000

2700

500/1750

3

ERJ 500-3.1

3500

3100

500/1750

3

ERJ 500-3.5

4000

3500

500/1750

3

ERJ 500-4.4

5000

4400

500/1750

3

ERJ 600-5

5500

5000

500/1750

4

ERJ 600-5.5

6000

5500

500/1750

4

ERJ 600-6.5

7000

6500

500/1750

4

ERJ 600-7.4

8000

7400

500/1750

4