Extending Forklift Jib Arm - Contact FMX
The FMX forklift mounted Jib arm is raised and also extendable offering great versatility. Enhance the versatility of your fork lift truck with a jib arm attachment.
Brand::

Contact

Product Code:

Contact FMX

Availability:

In Stock
Call 01384 76961 for price.
Facts &

figures for the

Extending Forklift Jib Arm

The raised height gives the operator better viewing and the manually extending arm gives up to 1000mm extra length - 2000mm reach when closed and 3000mm reach when fully extended.

The lifting capacity depends on the capacity of the truck, and also which lifting position is used, there are 9 to pick from located along the arms. In order to comply with safe lifting advice when using a forklift and this attachment, adherence to capacity limits is key.

Easy drive-in fork pockets and heel retaining pin for securing.

2 hooks and shackles included.
More jib arms available
The Contact FMX is just one of the forklift attachments we offer in this category, with many other products from the same manufacturer lined up for your consideration.
Fixed carriage options like the Contact ERJ allow you to lift and lower loads weighing between 1 and 8 tonnes without having to worry about adjustability, if this is not a feature that is necessary.
The CMX offers similar flexibility in terms of its adjustments to the FMX but is also carriage mounted, meaning it sits in place of the forks rather than being affixed directly to them.
Our extensive equipment line up
Ordering lifting equipment and material handling products from LGD makes a lot of sense because of the extensive amount of choice that is available to you as a customer.
We offer load moving gear including pallet trucks, for example. We also produce own brand assemblies that are customisable and just as high quality as the alternatives.
Get advice & place orders
You can call 01384 76961 or email our team if you need to learn more about the Contact FMX extending forklift jib arm or the other products on our site.
Model

Truck Capacity (KG)

 

A hook height mm

B closed length mm

C

  open length mm

D fork spread mm

F fork width mm

E fork thickness mm

 

FMX 500-1.8

2000

191

2000

3000

496

125

50

FMX 500-2.2

2500

193

2000

3000

496

125

50

FMX 500-2.7

3000

176

2000

3000

546

125

50

FMX 500-3.1

3500

163

2000

3000

546

125

50

FMX 500-3.5

4000

137

2000

3000

546

125

50

FMX 500-4.4

5000

128

2000

3000

546

125

50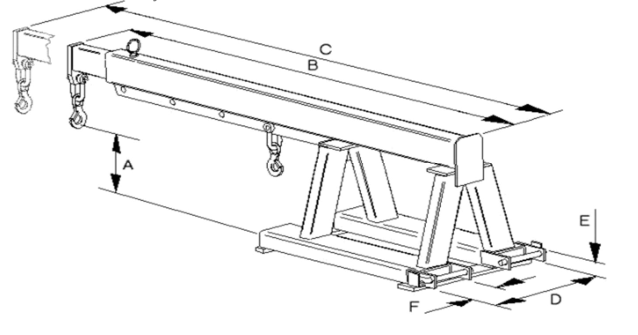 Model

Weight KG

C of G min (mm)

C of G max (mm)

 

Model

Capacity (KG) @ load ctr (mm)

 

FMX 500-1.8

117

835

1032

 

 

1000

1250

1500

1750

2000

2250

2500

2750

3000

FMX 500-2.2

122

835

1032

FMX 500-1.8

1100

900

720

580

500

360

330

260

210

FMX 500-2.7

210

828

1010

FMX 500-2.2

1400

1100

1000

850

750

560

440

320

230

FMX 500-3.1

225

828

1010

FMX 500-2.7

1450

1200

1100

900

840

670

490

360

270

FMX 500-3.5

236

828

1010

FMX 500-3.1

1900

1500

1200

1000

900

730

580

450

370

FMX 500-4.4

246

828

1010

FMX 500-3.5

2000

1600

1300

1100

1000

820

670

540

460

 

FMX 500-4.4

2700

2200

1850

1400

1100

900

750

620

500