Contact FML Maxi Fork Mounted Jib Arm
This long reach Jib arm for mounting to your fork lift truck offers multiple anchor points.
Brand::

Contact

Product Code:

Contact FML

Availability:

In Stock
Call 01384 76961 for price.
About the Maxi Jib Arm
The FML maxi Jib arm offers a longer reach with larger lifting capacities at each of the 4 or 5 anchor points located along the length of the arm.
Each anchor point location will have a different lifting capacity, refer to tables below.
Ensure your forklift truck is the correct capacity.
Heel retaining pins secure the jib, whilst the larger pockets enable you to drive right into place.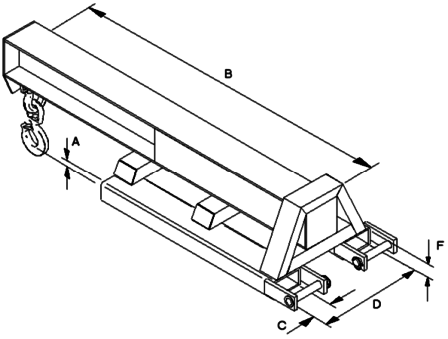 Model

Truck Capacity (KG)

 

A mm

B mm

C mm

D mm

F mm

FML 600-5.5

6000

329

2000

150

650

65

FML 600-6.5

7000

329

2000

150

650

65

FML 600-7.4

8000

314

2500

150

650

70

FML 600-9.2

10000

349

2500

200

800

75
Model

Capacity (KG) @ load ctr (mm)

 

 

Model

Weight KG

C of G (mm)

 

1250

1500

1750

2000

2250

2500

 

FML 600-5.5

386

845

FML 600-5.5

2750

2400

2050

1650

 

 

FML 600-6.5

386

845

FML 600-6.5

3300

2900

2400

2100

 

 

FML 600-7.4

454

1042

FML 600-7.4

 

3315

2750

2475

2000

1750

FML 600-9.2

482

1016

FML 600-9.2

 

3730

3100

2790

2370

1900