GT Grade 80 Swivel Hoist Ring
If you need a cost effective hoist ring that swivels then you can purchase it here from Lifting Gear Direct at keen prices.
Product Code:

GT Grade 80 Swivel Hoist Ring

Availability:

In Stock
About the GT Cobra Grade 80 Swivel Hoist Ring
With a painted red finish this grade 80 alloy steel eye bolt is stamped with all the necessary identification marks; CE, WLL, Material grade and manufacturers ID, as well as the size. If you need certification documents then please ask, we can provide them for you.
This swivel eye bolt will ensure the safe lifting of heavy loads thanks to having a minimum breaking load strength of 4 times the safe working load limit stated.
With a full 360 swivelling action this hoist ring can be easily positioned for optimal pulling angles. But please note that this product is not suitable for swivelling when it is under load.
Lifting Gear Direct can supply the GT grade 80 swivel hoist ring in a wide range of safe working loads ranging from 0.3 tonne up to20 tonne. You can find out all the technical details and dimensions in the specifications tab and dimensions tab above. You should always refer to the manufacturers loading charts to ensure any reduced capacities are applied should you need to for your lift type.
Additional Equipment and other Eye Bolts
If you don't need an eye bolt with the swivel function then check out our standard eye bolt range with collared and dynamo options as well as long shank varieties and stainless steel options. This type of equipment typically requires additional equipment to complete a lifting task. So if you need items like lifting slings and lifting shackles to complete your lifting kit then we can supply those too. Slings can be custom made so they are most suitable for your requirements. Hoisting equipment as well as gantry cranes, Jib cranes and beam trolleys are also available should you need the full kit.
Contacting LGD
01384 76961 is the number to call if you need help or advice. Quotes and ordering can also be completed over the phone if you do not wish to purchase online. You can also email us your enquiry through the rapid form or contact us page.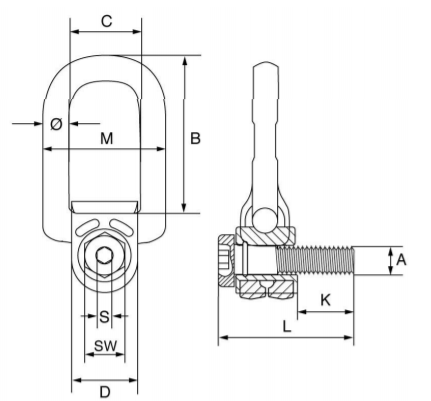 | | | | | | | | | | | | | | |
| --- | --- | --- | --- | --- | --- | --- | --- | --- | --- | --- | --- | --- | --- |
| Product Code | Part No. | W.L.L. | A | B | D | K | L | M | S | SW | diameter o | Torque | Weight |
| | | t | mm | mm | mm | mm | mm | mm | mm | mm | mm | Nm | kgs |
| G80SHR8 | SLR-173-M8 | 0.3 | 35 | 52.5 | 30 | 11 | 46 | 55 | 6 | 13 | 14 | 01/10/15 | 0.36 |
| G80SHR10 | SLR-173-M10 | 0.63 | 35 | 52.5 | 30 | 16 | 52 | 55 | 6 | 17 | 14 | 01/10/15 | 0.38 |
| G80SHR12 | SLR-173-M12 | 1 | 40 | 54 | 36 | 18 | 62 | 68 | 8 | 19 | 18 | 01/10/15 | 0.71 |
| G80SHR14 | SLR-173-M14 | 1.2 | 40 | 54 | 36 | 21 | 66 | 68 | 8 | 22 | 18 | 20-30 | 0.72 |
| G80SHR16 | SLR-173-M16 | 1.5 | 40 | 54 | 36 | 24 | 70 | 68 | 8 | 24 | 18 | 20-30 | 0.74 |
| G80SHR20 | SLR-173-M20 | 2.5 | 54 | 80 | 50 | 30 | 88 | 83 | 12 | 30 | 16 | 50-70 | 1.19 |
| G80SHR24 | SLR-173-M24 | 4 | 54 | 94 | 50 | 36 | 100 | 83 | 14 | 36 | 18 | 130-160 | 1.38 |
| G80SHR27 | SLR-173-M27 | 4 | 73 | 106 | 68 | 38 | 120 | 120 | 17 | 41 | 27 | 180-220 | 4.18 |
| G80SHR30 | SLR-173-M30 | 5 | 73 | 106 | 68 | 48 | 132 | 120 | 17 | 41 | 27 | 200-250 | 4.4 |
| G80SHR36 | SLR-173-M36 | 8 | 94 | 140.5 | 86 | 62 | 163 | 156 | 22 | 55 | 31 | 280-400 | 7.6 |
| G80SHR42 | SLR-173-M42 | 15 | 104 | 155 | 95 | 74 | 194 | 176 | 24 | 65 | 40 | 500-600 | 12.4 |
| G80SHR48 | SLR-173-M48 | 20 | 104 | 155 | 95 | 74 | 194 | 176 | 27 | 75 | 40 | 500-650 | 20 |