Hydraulic Ergonomic Drum Handler Raptor DT400
The DT400 is a drum handling truck with a higher lifting range than the more standard drum trucks. Hydraulic operation makes it easy to operate and perfect for lifting, stacking, loading and un-loading 55 0r 85 gallon steel drums.
Brand::

RAPTOR

Product Code:

Raptor DT400

Availability:

In Stock
More about the DT400 Hydraulic Drum Handler
If you need to load, un-load or re-position drums on different sized pallets then you can do so quite easily with the DT400 drum handler. The straddle legs can be positioned around the edges of a pallet and the width can be adjusted to accommodate various sizes. The spans go from 720mm up to 1390mm (these measurements are taken from the centre of the legs).
The drum handler can handle loads up to 400kgs, and is ideal for transporting drums around your facility and loading onto or off pallets. Stacking drums can also be completed with the DT400. The maximum lifting height is 1070mm for this piece of drum handling equipment.
This hydraulic drum handling truck grips the drum from the top rim with a spring loaded jaw grab. There is a foot pedal/lever which is used for raising the chassis to the desired height. A joystick type lever is used to lower the drum back to the ground by turning it anti-clockwise.
The four castors make transportation easy and changing direction is smooth thanks to all 4 wheels being of the swivelling variety.
Drum Handling Equipment Types
If the DT400 is not quite the right product for your needs, then take a look at our vast collection of other drum handling equipment. Here you will find many types of drum trucks, crane slung drum tongs and grabs and fork lift truck drum handling equipment. Lifting Gear Direct can also supply any other lifting equipment you may need, whether it is just a couple of shackles, a hoisting device or a mobile lifting gantry.
Contacting Us
Need a question answering? Give us a call or email us. You can find all the details on the contact us page. You may also use the request a quote button if you would like a quick quotation, or the rapid enquiry form which is available on all the main category pages.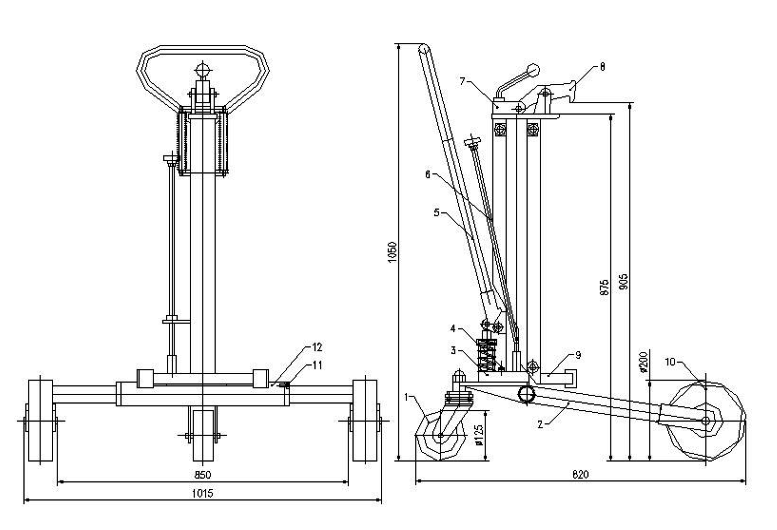 Model

DT400

Lifting Capacity (KG)

400

Lifting Height (mm)

1070

Front wheel dia (mm)

200

Rear wheel dia (mm)

880

Length (mm)

L1

1105

L2

1000

Height (mm)

H

1810

H1

880

H2

1950

Weight (mm)

W1

720

W2

1390

Lifting per stroke (mm)

11.6

Drum size (gallon)

55 or 85

Net weight (KG)

100

Overall size

1105x1390x1810
| | | | | |
| --- | --- | --- | --- | --- |
| Model | Capacity (Kgs) | Dimensions Lift Height | Dimensions Drum Size | Weight |
| DT400 | 400 | 1070mm | 55 or 85 Gallon | 100Kgs |