GT Grade 80 Swivel Eye Bolt with Ring
This swivel eye bolt comes with a pivoting ring and is made from grade 80 steel. Buy today at great prices from Lifting Gear Direct.
Brand::

George Taylor

Product Code:

GT Grade 80 Swivel Eye Bolt with Ring

Availability:

In Stock
About the GT Cobra Grade 80 Swivel Eye Bolt With Ring
Manufactured from quenched and tempered alloy steel this grade 80 swivel eye bolt performs well as a lifting point. There are numerous models available with a choice of safe working load limits up to 24 tonnes for a straight lift and 15 tonnes for a 90 degree, angled load. And with a minimum breaking load of 4 x the stated working load limit you can b assured of a safe lift.
With a complete rotation in the body and a pivoting load ring this swivel eye bolt can be used at a good range of angles. The load angle chart should be referred to for reduced load capacities at different angles.
It is worth noting that you should not rotate this eye bolt whilst it is under load.
The G80SLP is CE marked and is also stamped with the manufacturers ID, material grade and working load limit for easy identification. Full certification is available on request.
Other Eye Bolts and Associated Equipment
Here at Lifting Gear Direct we have an excellent choice of lifting points ranging from the more standard variety which don't swivel such as collared eye bolts, dynamo eye bolts and long shank eye bolts, there are also some special types available. In our swivel eye bolt range you will find many variations to choose from, including eyebolts from Yoke, Rud, Cartec and more.
To compliment your eye bolts we can also supply any type of lifting sling, so whether you need a chain sling or webbing sling, we can help, making up your chosen sling to perfectly suit your task. If you require any hoisting equipment we can sort that out for you too, we pride ourselves on our extensive range of lifting equipment all at some of the lowest prices around.
Getting In Touch
Should you need some advice, require a quote on multiple products or have a query then simply call us on 01384 76961 and speak to us directly. You can also place your order online or over the phone if you prefer. Email us via the contact form if you would rather get in touch this way.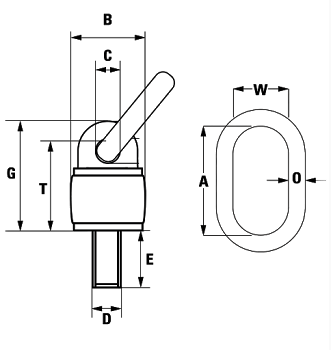 | | | | | | | | | | | | | | |
| --- | --- | --- | --- | --- | --- | --- | --- | --- | --- | --- | --- | --- | --- |
| Product Code | Part No. | W.L.L 0° | W.L.L 90° | D x E | B | C | G | T | A | W | O | Torque | Weight |
| | | t | t | mm | mm | mm | mm | mm | mm | mm | mm | Nm | kgs |
| G80SLP813 | SLR303-M8 | 0.6 | 0.3 | M8 x 13 | 36 | 16.5 | 51 | 41 | 55 | 30 | 14 | 01/10/15 | 0.45 |
| G80SLP1018 | SLR303-M10 | 1 | 0.5 | M10 x 18 | 36 | 16.5 | 51 | 41 | 55 | 30 | 14 | 01/10/15 | 0.45 |
| G80SLP1090 | SLR303-M10x90 | 1 | 0.5 | M10 x 90 | 36 | 16.5 | 51 | 41 | 55 | 30 | 14 | 01/10/15 | 0.5 |
| G80SLP1218 | SLR303-M12 | 1 | 0.5 | M12 x 18 | 36 | 16.5 | 51 | 41 | 55 | 30 | 14 | 01/10/15 | 0.46 |
| G80SLP12110 | SLR303-M12x110 | 1 | 0.5 | M12 x 110 | 36 | 16.5 | 51 | 41 | 55 | 30 | 14 | 01/10/15 | 0.54 |
| G80SLP1620 | SLR303-M16 | 2.24 | 1.12 | M16 x 20 | 36 | 16.5 | 52 | 42 | 55 | 30 | 14 | 20-30 | 0.47 |
| G80SLP16120 | SLR303-M16x120 | 2.24 | 1.12 | M16 x 120 | 36 | 16.5 | 52 | 42 | 55 | 30 | 14 | 20-30 | 0.63 |
| G80SLP2030 | SLR303-M20 | 4 | 2 | M20 x 30 | 49.5 | 19 | 68 | 56 | 70 | 35 | 16 | 50-70 | 0.99 |
| G80SLP20120 | SLR303-M20x120 | 4 | 2 | M20 x 120 | 49.5 | 19 | 68 | 56 | 70 | 35 | 16 | 50-70 | 1.12 |
| G80SLP2440 | SLR303-M24 | 6.3 | 3.15 | M24 x 40 | 57 | 22 | 78 | 65.5 | 85 | 40 | 18 | 130-160 | 1.36 |
| G80SLP24120 | SLR303-M24x120 | 6.3 | 3.15 | M24 x 120 | 57 | 22 | 78 | 65.5 | 85 | 40 | 18 | 130-160 | 1.65 |
| G80SLP3045 | SLR303-M30 | 10.6 | 5.3 | M30 x 45 | 66 | 23.5 | 96.5 | 80.5 | 85 | 40 | 22 | 200-250 | 2.36 |
| G80SLP30120 | SLR303-M30x120 | 10.6 | 5.3 | M30 x 120 | 66 | 23.5 | 96.5 | 80.5 | 85 | 40 | 22 | 200-250 | 2.77 |
| G80SLP3650 | SLR303-M36 | 12.8 | 8 | M36 x 50 | 80 | 27 | 109 | 89.5 | 115 | 50 | 22 | 280-400 | 3.88 |
| G80SLP36140 | SLR303-M36x140 | 12.8 | 8 | M36 x 140 | 80 | 27 | 109 | 89.5 | 115 | 50 | 22 | 280-400 | 4.6 |
| G80SLP4260 | SLR303-M42 | 16 | 10 | M42 x 60 | 80 | 27 | 109 | 89.5 | 115 | 50 | 25 | 500-600 | 4.56 |
| G80SLP42160 | SLR303-M42x160 | 16 | 10 | M42 x 160 | 80 | 27 | 109 | 89.5 | 115 | 50 | 25 | 500-600 | 5.65 |
| G80SLP4560 | SLR303-M45 | 16 | 10 | M45 x 60 | 80 | 27 | 109 | 89.5 | 115 | 50 | 25 | 500-600 | 4.7 |
| G80SLP4872 | SLR303-M48 | 16 | 10 | M48 x 72 | 80 | 27 | 109 | 89.5 | 115 | 50 | 25 | 500-650 | 4.9 |
| G80SLP48160 | SLR303-M48x160 | 16 | 10 | M48 x 160 | 80 | 27 | 109 | 89.5 | 115 | 50 | 25 | 500-650 | 6.18 |
| G80SLP5684 | SLR303-M56 | 24 | 15 | M56 x 84 | 117 | 42 | 246 | 214 | 152 | 70 | 32 | 600-900 | 11.8 |
| G80SLP6495 | SLR303-M64 | 24 | 15 | M64 x 95 | 117 | 42 | 257 | 225 | 152 | 70 | 32 | 600-900 | 12.5 |