JDN Profi 25TI - 100TI Air Hoists
The JDN Profi air hoist series is now available to buy from Lifting Gear Direct
Brand::

J-D-NEUHAUS

Product Code:

JDN-Profi-25TI - 100TI-Air-Hoists

Availability:

In Stock
Call 01384 76961 for price.
About the JDN Profi 25TI - 100TI Air Hoist
The largest range of air hoists from the JDN Profi series.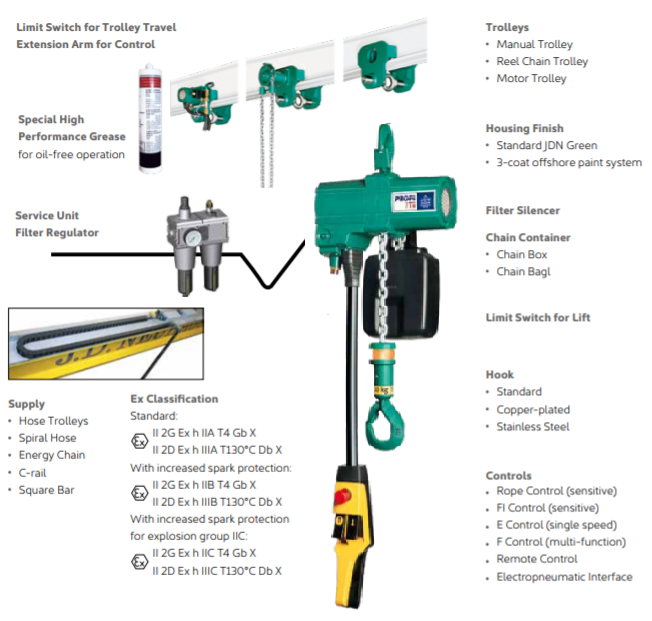 25tonne up to 100 tonne capacities available. With 4 to 6 bar pressure required for operation.
Different types of control panels, including, radio, multi function, rope, single speed and sensitive.
Suitable for oil free operation, these hoists are robust, reliable and almost silent. They are used across many industries where hazardous conditions are found. These include oil, chemical, paint, aerospace, refineries, auto industries and many more.
These air hoists are easy to maintain thanks to its modular system and comes with a choice of trolley's, finishes, chain containers, hooks and controls.
Other key features include; fail safe starting, planetary gearbox, high quality load chain and hooks, overload protection, 100% duty rating, low headroom, low maintenance, sound absorption, insensitive to dust, humidity etc.
More Hoisting Options
There are many other types of hoisting equipment on the market and each have their own niche. Air hoists have a very specific set of requirements such as a compressed air supply, whilst electric hoists need electricity in a variety of power supply's. Then there are the manual hoists where no power is needed at all. So consider your options and browse our extensive hoist range to determine which type of hoist is best for your operation.
Call us if you need any guidance.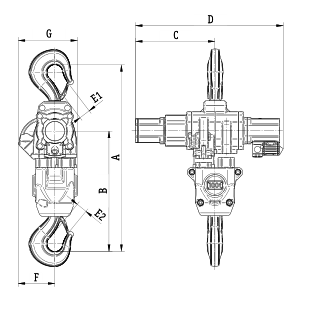 25 TI

30 TI

37 TI

40 TI

50 TI

60 TI

75 TI

100 TI

A

1

mm

1260

1470

1485

1930

B

mm

827

935

950

1250

C

mm

450

540

825

D

mm

900

1080

1535

E1

mm

70

100

120

E2

mm

70

100

120

F

mm

270

285

405

365

G

mm

445

450

430

600
Type

 

25 TI

30 TI

37 TI

40 TI

50 TI

60 TI

75 TI

100 TI

Air pressure

bar

6

Carrying capacity

t

25

30

37,5

40

50

60

75

100

Number of chain strands

 

2

3

4

3

4

Engine output

kW

6,3

9

Lifting speed at full load

m/min

1,25

1

0,75

0,7

0,55

0,45

0,53

0,4

Lifting speed without load

m/min

2,4

1,7

1,3

1,33

1

Lowering speed at full load

m/min

2,8

2,0

1,6

1,25

0,95

Air consumption at full load - lifting

m³/min

6,5

7,6

Air consumption at full load - lowering

m³/min

2,9

6

Air connection

 

G 1½

Hose dimension (Ø inside)

mm

35

Weight at standard, rope control

kg

550

850

940

1800

2000

Chain dimension

mm

23,5 x 66

32 x 90

Weight of 1 m chain

kg

12,2

21,3

Standard lift

m

3

Lenght of control at standard lift

m

2

Sound level at full load - lifting

1

dB(A)

78

77

Sound level at full load - lowering

1

dB(A)

82

83