JDN Air Hoist M Series
Buy the The JDN "M" series air hoist from Lifting Gear Direct to get the best deals.
Brand::

J-D-NEUHAUS

Product Code:

JDN-Air-Hoist-M-Series

Availability:

In Stock
Call 01384 76961 for price.
About the JDN Air Hoist M Series
The JDN "M" series air hoists are ideal for underground operations and many industrial areas with only 4 bar pressure.
This series of air powered hoists comes in a choice of models ranging from 1 tonne up to 6 tonne capacities.
They have all the main features of the Profi hoist range but with the 4 bar requirements.
They can be used in hazardous areas as they have explosion protection. Making them great in foundries, chemical plants, mining, oil, paint factories and more.
There are 2 falls of chain and are suited to horizontal pulling.
There are 2 control options for the M series; The DS controller is a two handed device which has a built in pressure regulator. It has an oiler to automatically stop oil flow when the hoist stops. There is a spring loaded hand lever which also serves as an emergency stop.
The PS controller is for single handed use. Push buttons actuate the control pistons of the motor and return to zero position automatically on release.. There is an integrated oiler for good lubrication.
More Hoisting & Lifting Equipment
Many types of air hoists can be found on our website from leading manufacturers like JDN, Red Rooster and Yale. Lifting Gear Direct can also supply electric chain hoists and wire rope hoists as an alternative to air hoists. The power supply changes with these of course so will be entirely dependant on your needs and available power; compressed air or electric! We also have a good range of Atex rated equipment for hazardous areas.
Lifting slings and shackles for load securing and attachment are always available at low prices at Lifting Gear Direct. We can also manufacture many types of cranes, custom made to ensure they will meet your specific requirements.
Call us if you need more information or help on 01384 76961.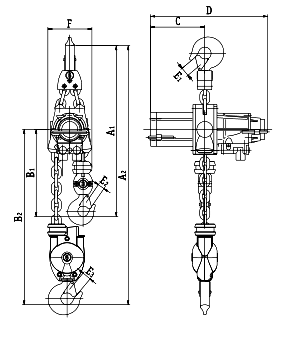 M 64

M 63 D

A1 (smallest headroom with 1/1 chain strands)

mm

603

750

A2 (smallest headroom with 1/2 chain strands)

mm

660

870

B1 (with 1/1 chain strands)

mm

313

370

B2 (with 1/2 chain strands)

mm

370

490

C

mm

175

237

D

mm

375

507

E1 (Hook opening)

mm

30

40

E2 (Hook opening)

mm

30

40

E3 (Hook opening)

mm

30

F (biggest width)

mm

144

195
Type

 

M 64

M 63 D

Air pressure

bar

4

Carrying capacity

t

1/1

1/2

3/3

3/6

Number of chain strands

 

1/1

1/2

1/1

1/2

Engine output

kW

0,77

1,3

Lifting speed at full load

m/min

3

3/1,5

2,2

2,2/1,1

Lifting speed without load

m/min

8

8/4

5

5/2,5

Lowering speed at full load

m/min

12,5

12,5/6,5

6

6/3

Air consumption at full load - lifting

m³/min

1,0

2,2

Air consumption at full load - lowering

m³/min

2,0

3,2

Air connection

 

Rd 32x1/8"

Hose dimension (Ø inside)

mm

19

Weight with standard lift (3 m) and 2 m length of control

kg

56

60

80

100

Weight without chain, without control

kg

31

51

Chain dimension

mm

9 x 27

13 x 36

Weight of 1 m chain

kg

1,8

3,8

Standard lift

m

5

5/2,5

5

5/2,5

Lenght of control at standard lift

m

2

Sound level at full load with standard silencer

1

dB(A)

75 - 84

79 - 83