JDN PROFI 3TI - 20TI Air Hoists
We have a great selection of models in the JDN PROFI 3TI - 20TI Air Hoist range here at Lifting Gear Direct.
Brand::

J-D-NEUHAUS

Product Code:

JDN-PROFI-3TI - 20TI-Air-Hoists

Availability:

In Stock
Call 01384 76961 for price.
About the JDN PROFI 3TI - 20TI Air Hoist
SWL's from 3t up to 20 tonne are offered by this mid range from the JDN Profi air hoist series.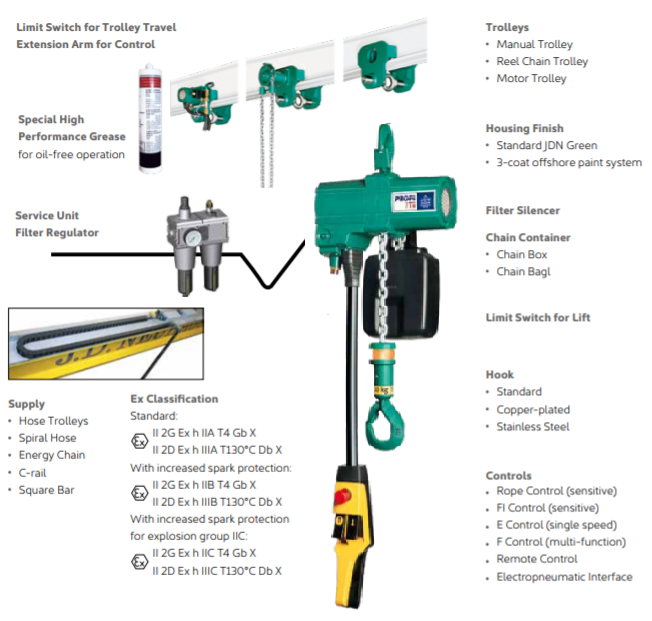 Many options are available including extra sensitive controls, as well as rope; multi function; single speed and even radio controls. There are 3 trolley options of manual, reeled and motor should you need one, as well as special finishes for off shore applications.
This mid range of air hoists has really good lifting and lowering speeds even when fully loaded, the 3 tonne model for example lifts loaded at 8.2 m/min at 4 bar pressure or better still 16.4m/min at 6 bar. You can find all the model differences in the specifications table.
Three metres height of lift comes as standard, more options may be available on request. So together with its low headroom design, lifting heights are great with the Profi series.
Key Features;
Oil free operation
sound absorption, quiet in operation
low maintenance
variable speeds and sensitive controls for precision lifts
100% duty rating, unlimited duty cycles
overload protection
fail-safe starting
high and efficient performance.
Patented motor brake
Other Lifting Gear you may Need
As with most types of lifting hoists there is often additional equipment required to complete your lift. This may be a lifting sling; we can supply custom chain slings and webbing slings to order. Lifting shackles are also commonly used to facilitate connections; we supply d shackles and bow shackles to suit your needs. We have a variety of lifting clamps and magnets should you need those. Additionally we manufacture Jib cranes and lifting gantry systems, custom made to your requirements.
So when you have decided what you need just give us a call on 01384 76961.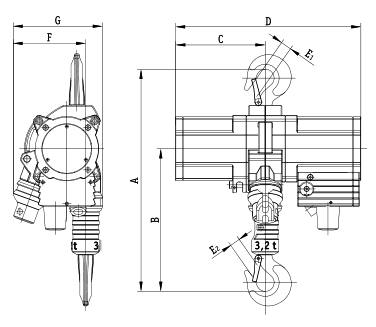 3 TI / 2

3 TI

6 TI

10 TI

16 TI

20 TI

A smallest headroom

1

mm

544

593

674

813

898

1030

B

mm

356

373

454

548

598

670

C

mm

200

233

308

382

D

mm

412

483

575

692

E1

mm

28

40

44

53

70

E2

mm

28

30

40

44

53

70

F up to hook center

mm

140

187

154

197

199

180

G biggest width

mm

215

233

306

308

315
Type

 

3 TI / 2

3 TI

6 TI

10 TI

16 TI

20 TI

Air pressure

bar

04-Jun

4

6

4

6

4

6

4

6

4

6

Carrying capacity

t

3,2

6,3

10

16

20

Number of chain strands

 

2

1

2

3

4

Engine output

kW

1,3-2

1,8

3,5

1,8

3,5

1,8

3,5

1,8

3,5

1,8

3,5

Lifting speed at full load

m/min

02-Mar

2,5

5

1,2

2,5

0,8

1,6

0,5

1

0,4

0,7

Lifting speed without load

m/min

4,2-5

6

10

3

5

2

3,2

1,3

2

1,0

1,4

Lowering speed at full load

m/min

5,5-6

7,5

10,8

3,6

5,4

2,5

3,4

1,6

2,1

1,2

1,6

Air consumption at full load - lifting

m³/min

1,5-2,6

2

4

2

4

2

4

2

4

2

4

Air consumption at full load - lowering

m³/min

2,2-3,6

3,5

5,5

3,5

5,5

3,5

5,5

3,5

5,5

3,5

5,5

Air connection

 

G ¾

Hose dimension (Ø inside)

mm

19

Weight at standard, rope control

kg

66

86

110

156

240

285

Chain dimension

mm

9 x 27

13 x 36

16 x 45

Weight of 1 m chain

kg

1,8

3,8

5,8

Standard lift

m

3

Lenght of control at standard lift

m

2

Sound level at full load - lifting

1

dB(A)

73-77

74

78

74

78

74

78

74

78

Sound level at full load - lowering

1

dB(A)

78-80

79

80

79

80

79

80

79

80